All of us must be aware of the web pages we access within an app, and I'm not talking about the web pages we view on a specific browser. An Android system webview is a system component in an Android operating system that helps us to view web pages in android apps, without tentatively opening a specific browser. To put it in even more simpler words, the Android system webview is a sort of built-in web browser that enables us to view content from the web without launching an actual browser.
Generally, an Android system WebView is installed on your smartphone by default. You don't have to separately install it on your device. But it is also likely that older models might not have it installed by default, so you might need to install it on your smartphone.
Now it is likely that many of you might be wondering, do we really need an Android System WebView? Right, let's get to it then!
Do you really need Android System WebView?
In order to answer that question, firstly let's talk about how easy it is for the developers that Google has made it so much more convenient to view web content on Gmail, Twitter, or Reddit Apps.
Google has made it convenient because if the android developers did not have google as a sort of interface then it would've been a hectic and lengthy job for them to write code from scratch. The code could have been of a thousand lines or even more, but because they now have google, they only need to include a few lines of code to render WebView library code, and that has made it a lot more easier in terms of developer's efforts. Coding from scratch will no doubt take a lot of time and effort, so it is just so much easier to insert the WebView library.
Now rounding back to the actual question, do we need the android system WebView? The answer is undeniably yes! You do need it on your Android smartphone. Every single one of us has encountered links that we open in certain apps and we don't even need to open any browser manually. Well, that is all Android system WebView's work.
There have been many instances where many applications crash without any specific reason. In android devices, it is observed that uninstalling Android system WebView can help with the crashing of those apps. Unfortunately, you cannot entirely get rid of the application. Since it is a system software and is available on android devices by default, it cannot be terminated from the device entirely however, you can uninstall the updates of the application.
Though the updates are given to right the wrongs on the previous versions of the app, that to be specific is fixing the bugs and the overall performance of the app. But the crashing of the apps can be stopped if you uninstall its updates.
If you are looking for disabling system WebView, it may not be a good idea if you are using anything older than Nougat. If you are a user of Nougat then you may easily disable it without really facing any consequences, the apps on your device may still work perfectly fine. But if you are a user of anything older than Nougat then disabling it is not a good idea because it may cause the apps on your phone to not work correctly.
If you have any other browser except google chrome then also it might cause a problem because google chrome also offers a few System WebView features. So make sure that your default browser is set to be Google Chrome, this is only in case you are disabling the Android System WebView app.
After disabling the app if you don't notice any kind of hindrance or difficulties or issues, then you are good enough to go on without it as long as there isn't any issue with the functioning of the applications on your device.
Uninstall updates
You can do that by following the steps mentioned below;
Go and launch the google play store on your device.
Go to the "Manage apps and device" option on your play store app.
Scroll and find the Android system Webview app.
Open it and click on the uninstall button that appears on the screen just like shown in the picture below.
Click on the confirmation to get the process kicking.
Wait for it to uninstall and then the crashing of the apps must stop.
Doing this will unfortunately not terminate the app from your smartphone entirely but this should be good enough to curb the constant app crashes.
If this method is not working out for you then you can use another way in which you will be able to uninstall updates through your device settings. Let's follow the steps mentioned below to understand how we can do that.
Open your device and search for the settings app on your phone.
Scroll on the screen and you will find the app manager, you will have to click on it.
After the new screen appears, scroll till you find Android system WebView.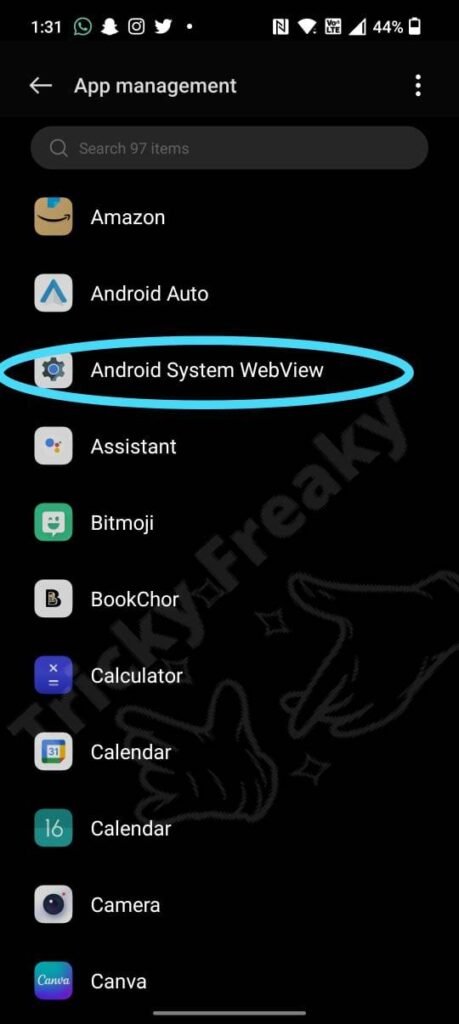 Once you find it click on it.
After doing that on the screen you will be able to see the "disable" option. All you have to do is click on it.
When you click on it a confirmation message will appear, click on "disable app" and you are good to go.
Fortunately for us, Google has acknowledged this issue of constant crashing of apps due to WebView and has put out the word that they are currently working on fixing the bug and also bringing out the app to be better than it ever has been before.
Updating to the newest version
If you are looking to update your app then don't worry and just follow the instructions given under;
Go and launch the google play store on your device.
Go to the "Manage apps and device" option on your play store app.
Scroll and find the Android system Webview app.
Click on the update option that appears on the screen to get the latest update of the app.
Wait for the app to update, the screen will seem like shown in the following screenshot.
It is also highly likely that not all of the apps are compatible with every version of Android System WebView. It can be compatible with some apps but not be compatible with other apps that you may have on your device. So it is essential that we keep on updating it to the newest version. That is because as every version is launched, the faults or bugs, or even shortcomings are fixed in the new versions. That is why it is suggested to keep updating the app as the new updates are launched.
Read Also: How to delete cookies on windows 10
Conclusion
The bottom line that we learned after this article is that without really opening a dedicated browser Android system WebView allows us to view data from all around the world. It is obviously built for our convenience.
It is best for us to be cautious of what is on our device and that we are familiar with what each and every single app is supposed to do. It is also very necessary that we update our apps from time to time, it helps us to get rid of the bugs that were present in the previous version of the app that we have been using. All of the information that you might possibly need has been mentioned in this article so if you get stuck anywhere just follow the instructions and you will be good to go.
FAQs
Is Android system WebView harmful?
No Android System WebView is not exactly harmful. Though it can sometimes cause some of your apps to crash, it is not harmful to your device whatsoever. 
Some applications which use the Android System WebView.
Some of the very common apps that many of us use on a daily basis are G-Mail, Twitter, LinkedIn, Instagram, and Reddit all of the aforementioned applications use Android system WebView. 
Does Facebook use Android System WebView?
 Yes, Facebook or as recently known as Meta does use the Android system WebView. 
Is Android system WebView spyware?
No Android system WebView is not a spyware or even a bloatware for that matter. Since that is not the case there is no need to be worried about the safety of your device, again, only if your apps arent crashing. 
What can I do if my Android system WebView is not updating?
You can do the following suggestions in case your Android system WebView is not updating;
1)Reboot or restart your device
2)Check your internet connectivity.
3)Clear cache data.
4)Reinstall Android system WebView on your device. 
You can try the aforementioned ways to get Android system WebView to start updating again. You can also try removing all apps from the auto-update. It is also possible that you don't have enough storage capacity to update the Android system WebView app, so in order to update it, you will have to clear up sufficient space on your device.