This is a question concerning the Android trash folder that was recently asked by one of our community's Android users. However, a lot of other Android users regularly have the same questions. If you've been using your Android phone for a time, you may be experiencing space issues and searching on how to empty trash on android. Android does not have a central area where all the garbage is collected, unlike Windows or Mac. Users must thus make an additional effort to remove trash files from their phones. This post will show you how to effortlessly access Android's trash and remove various files.
Some Basic Info Regarding the Trash/Recycling Bins in Android
Does Android Have a Recycle Bin or Trash?
No, an Android smartphone does not have a Recycle Bin or Trash folder as a Windows or Mac computer does. This is due to the fact that the majority of smartphones only have a little amount of storage, which may be anywhere from 8 GB and 256 GB. Therefore, it is not practical to have a special folder simply for gathering garbage from everywhere. However, certain applications, such as Photos, include a separate folder (for Recently Deleted Photos) where the deleted objects may be kept for a set amount of time.
So, in order to delete junk files from Android, you must first search for and remove each piece of useless data from each program.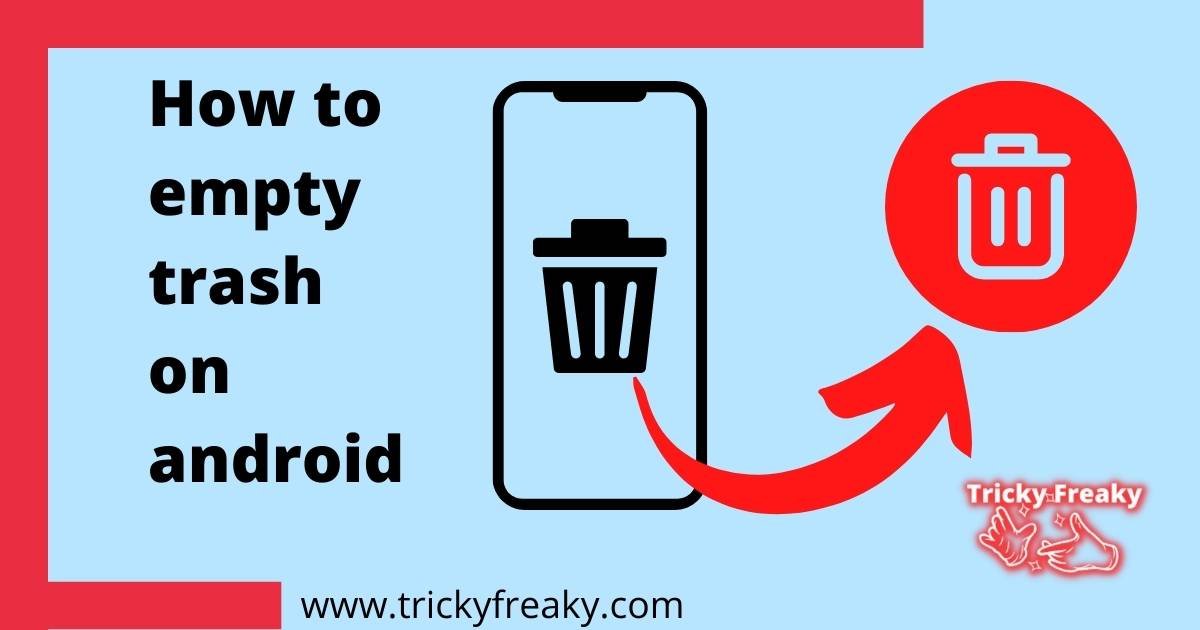 How to Use Android Trash?
As you are aware, there isn't a specific trash folder like the Recycle Bin on Android that we can use to remove garbage files all at once. To clear up space on Android, you may visit specific applications and remove garbage files connected to them.
Google Pictures
Google created Google Photos as an Android-specific native app. With it, you may manage your images in a variety of ways and make a backup of them. The item gets sent to a Trash folder when it is deleted from Google Photos. You must go to the trash folder on Android if you want to erase these deleted images.
First, open the Google Photos app on your smartphone and press the hamburger button at the top to access its settings.
Select "Trash" from the list of accessible folders by tapping it. This will show every image that has been removed from Google Photos.
Tap the trash/delete symbol next to the photographs you want to permanently delete to do so.
Gmail
In the same way that Google Photos can, so can Gmail. Emails we delete don't immediately vanish from existence. It is instead transferred to the Trash folder, where it remains for the next 30 days. You may go to the Trash folder and delete any unnecessary emails there to free up more space on your Gmail account.
On your phone, open the Gmail app, and then hit the hamburger symbol in the upper left corner.
This will provide a list of the different Gmail categories and folders. From here, go to the "Trash" folder.
Simply choose the emails you want to remove and hit the delete symbol on the toolbar to do so.
Additionally, you may choose every email in the trash folder at once and touch the "Empty Trash Now" button to remove every unwanted file from the trash folder.
Dropbox
Dropbox is a free cloud-based application that enables us to manage and backup our files simultaneously. It is advised to periodically clean garbage files on your Android's Dropbox application since the free edition only offers 2 GB of capacity.
Visit the Trash folder by launching the Dropbox program and going to its default location. Simply touch the toolbox's trash icon.
This will provide a list of all the data on Dropbox that has been erased. From the Trash folder, choose the files and folders you want to remove, then touch the Delete button once more.
Simply confirm your selection at the end, then wait a bit while the chosen files are erased.
The recycling app
There is a tonne of third-party applications available as well to assist you in deleting random files from your smartphone and cleaning up your Android trash. For instance, you may manage and retrieve deleted items on your phone with the Recycle Bin app. To access the Android trash folder, download the Recycle Bin app from the appropriate source and then follow these instructions.
Install the Recycle Bin app, accept the terms and conditions, and give it the required permissions on your Android smartphone.
After installation, you may access the attached SD card or the local file system. Visit any option to browse the store, simply.
You can see every item that has been removed from your Android trash here. To delete unnecessary files, make the necessary choices and touch the trash icon.
8 Ways to empty trash on android
Remove Cache Data
Apps save intermediate data as cache data to provide users with a quicker and more personalized experience. Although it might improve your app experience, it can also have a negative impact on the device's storage. In order to increase the storage space on your phone, you need periodically clear the cache. This is a simple way to empty trash/junk on android.
App Cache Cleaning
Select any app from the list under Settings > Apps on your smartphone to remove the cache data for that particular app. Go to the storage settings and remove the cache for that specific app. The same procedure may be used to empty trash/junk/cache for other android applications.
Remove all cached data
You may also instantly remove all of the cached info if you'd like. Simply choose the cache data option under the storage options on your device. Select the option to erase the full cache data from here and then confirm your selection.
Get rid of downloaded files
We download too much unnecessary stuff from the internet all the time. Therefore, have a look in the Downloads folder on your device as well as attempt to delete garbage files to empty trash on android. Simply browse the Downloads folder or the Download History in the File Manager. You may access the downloaded files here and remove any you no longer need.
Get Rid of Duplicate Pictures
All of us take multiple images while on the road using our smartphones' cameras. But sometimes it might build up a lot of storage and take up unnecessary space on our smartphones. You may attempt to discover duplicate photographs and delete the ones you no longer need to prevent this. You may do it manually if you'd like by going to the Gallery on your phone.
Third-party applications are also easily accessible and may assist you in doing the same. For instance, Duplicate File Fixer is a well-known program that scans your device's storage for duplicate files, documents, movies, and other types of stuff. This will speed up the process of automatically getting rid of duplicate photographs.
Control Music Downloads
Your gadget may depend on music, therefore there's a good possibility you've downloaded a lot of tunes. Consider checking your playlist in the Music app on your phone if you want to free up space on Android. From this point, you may easily delete music that you don't want. Additionally, avoid saving songs offline if you use a music streaming software like Spotify or Google Music since this will take up more space on your smartphone.
Disable the Less Used Apps
The programs that we use on our mobile devices might take up a significant amount of storage space. To get rid of certain data that is no longer required, you should delete the apps that you are no longer utilizing. On an Android device, removing apps may be done in a number of different ways. From the home screen, you may do this by holding down an app icon for a few seconds and tapping the button labeled "Delete." You also have the option of selecting the program you want to delete by navigating to the Settings menu on the device and selecting the Apps option. Launch the app's settings, choose "Uninstall," and then click the "Confirm" button to finalize your choice.
Use intelligent storage
The most current capability, which is known as Smart Storage, was introduced with Android 8 for the first time. It gives us the ability to delete any data that is both superfluous and redundant from the storage of the phone, even if it has already been backed up to the cloud. Simply activate the Smart Storage Manager by heading to the Settings menu on your phone and selecting the Storage option. It will continue to function in the background and will eliminate files and information automatically that are deemed to be unneeded.
Use an SD Card
If the amount of storage on your smartphone is quite low, you may want to consider purchasing an SD card so that you can expand its capacity. Since almost all Android devices include an SD card connection, it is much simpler for us to organize and handle the data we collect. After you have attached an SD card to the phone, you will have the ability to simply transfer all of your contacts, photographs, music, and other items from the phone's internal storage to the card. Not only that, but you can also open the app's settings to copy the app's data to an SD card. This is in addition to the previously mentioned feature. This functionality is supported by at least some of today's most popular apps.
Store Backups in a Different Location
In conclusion, before erasing the information on your phone, you may simply back it up in a different safe location first. You may, for instance, use your linked phone and personal computer in order to send data. to make a copy of the data it has stored, to retrieve the data, and to transfer the data to the storage of your system. It's possible that you'll ultimately find yourself needing to remove duplicate files and files that aren't being utilized from your Android device.
How Can I Get My Deleted Files Back on My Android SD Card?
You may mistakenly delete anything when adjusting the storage on your Android smartphone. You may use the Recoverit Data Recovery program in this situation. It is a very sophisticated program that may assist you in recovering lost, destroyed, or inaccessible material from your SD card in a variety of situations. This covers SD card formatting, unintentional deletion, malware attack, and more. The program is renowned for its high rate of data recovery and user-friendly layout.
Step 1: Choose a Location
The program will provide a list of the accessible places to scan after it detects the attached SD card (including your SD card). Choose your SD card's location from here to begin the data scanning.
Step 2: Examine the Area
An all-encompassing scan will begin with Recoverit. You will be able to see certain files after it is finished. You may already filter and choose options throughout the scanning process, like utilizing the File Path or File Type to look for missing data. If you ever locate your data, you may also halt or end the scanning procedure.
Step 3: examine and recover the files
You may preview each retrieved email when the scan is finished. Click the "Recover" button after choosing the files you wish to save.
There are two main scanning options offered by Recoverit: regular and deep. You may also carry out a deep scan if the first scan is unable to meet your demands. To achieve this, choose "All-around Recovery" from the menu. You may recover all types of data from your SD card with the aid of this longer and more thorough scan.
Read Also: Android Cookies Background
Frequently Asked Questions(FAQ)
What happens when you empty your Trash on android?
Your data is not completely erased from your computer when you delete a file and empty the Recycle Bin. A copy of the file remains on your hard disc even if you can't find it where it used to be and your operating system no longer recognizes it.
Where Is the Trash Can on My Android?
Technically speaking, Android OS lacks a garbage bin. There isn't a single trash can where deleted files are saved temporarily as on your PC or Mac. Instead, based on their design, Android applications have distinct garbage bins. The locations of the trash can are often identical in file management software like File Manager, Dropbox, and Google Photos.
Does the Recycle Bin automatically empty?
When you choose a maximum size, the recycling bin will automatically empty itself. Well, you could always establish a recycling bin size restriction. The recycle bin will automatically destroy the oldest files whenever the combined size of your deleted items reaches the limit.