Everyone has used Android Devices once in their life But you have been fooled by it Because you know only 50% of Android Features, and the rest Best options are hidden in your Smartphone. No No you don't need any magician to find out this secret. How to make android faster with developer options? Just believe in Yourself and automatically you will get it (keeping Jokes aside). Android has Numerous things in-built to do anything with your smartphone. if you somehow get to know how to Correctly use the Developer option then you are the next Thriving programmer one day. This option is hidden by default in your phone due to its advanced level of interaction and is only meant to be used by professionals to test apps on your phone.
Several countless things are there in advance. This mode is generally used to find out about your device's top function. My device is always stuck with bad performance so, one day I was looking for a solution and have done a random cleanup on my phone. I had deleted apps, files, videos, and caches but in the end, I was disappointed with it.
Now I am desperate to Fix it, then somehow I got to know about the developer function in an android and was Curious to find out about it, so I just opened my web browser and searched for this. I found Too much content related to this and didn't know what to see at first. Then I researched about this and found good content related to it. But I will share it with you, no need to worry about it just sorting everything about this particular topic to provide you with the best of it.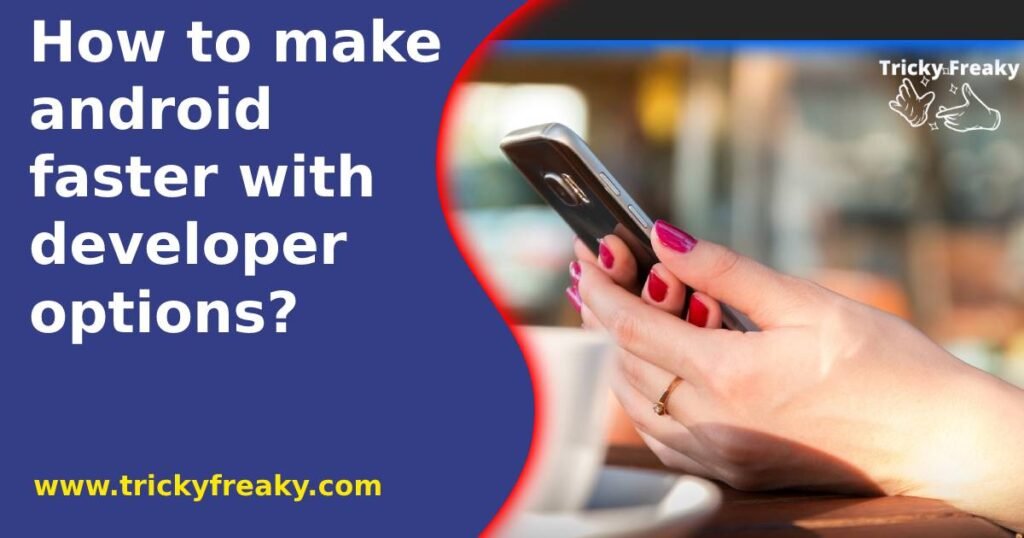 How can you turn on the developer Button?
The first step is to enable the option from the setting of your Device and your android version will vary from one phone to another then the method will also change slightly But as usual I am with you and explain everything about it.
Listing some of the best-known android smartphones to find out.
Tip1: Enable the Developer option in Stock Android Device
Stock Android Device: These types of devices are generally Google, Motorola, Sony, and Nokia.
Go to Settings on your phone.
Now Click on the About option on it.
You will find Build Number there, you have to continuously tap on that option until the developer option will appear.
Eventually, the developer option will be on by itself.
Close that about option and scroll down in the setting, then you will find the developer option and click on it.
Tip 2: Enable this mode on Samsung devices
Similarly, open about device option in setting
The software option will show, just tap on it
Now Build Number will appear to click on it
If it asked for the password then give it
Developer option will appear in the setting now click on it to change the setting
Methods to make android faster with developer options
Every device has different specifications and limits. Through this function, we Can improve the performance and can do what we want but limits are specified and beyond the limit, nothing can be achieved. So, our focus should be to increase the phone performance but in the correct and useful manner. These options are difficult to understand for a normal user in day-to-day life because they are not used regularly. While making changes to this option you need to be very careful and have to remember everything to undo the changes. This is not recommended to everyone to enable this. Now I will teach you how to improve your smartphone experience.
Improve your device performance by limiting background apps
When you go through the developer option you will get to know about the Background process limit setting in it. It helps you to pick the total number of apps that are running in the background on your smart device. This is very useful if your background apps are consuming more memory and troubling you to use your phone. When you click on that option you will find many sub-options like that, No background process, at least 1 process, etc. So, according to your need, choose the best pick for you.
Method 1: USB Debugging Tool
In android version 4.1 and lower, this screen is visible by default. In the rest of the version, you have to enable it manually. To use the debugger and different other tools. First, enable the USB Debugging option in it. This is the main tool for any device because it allows you to use Android Studio and different other SDK tools for your use. If you know anything about software development then this is the main kit which is used in it. Connect a USB device to use this option first. Ok, let's use this tool, Go to the settings and then click on the developer option, and you will find a word known as USB Debugging so click on it and you are ready to use it.
For different android versions, this tool is located in a different location, I will some of it below
For Android 9 and higher :- Setting > system > Advance developer option > USB Debugging
Android 8 :- Setting > System > Developer option > USB Debugging
Method 2: General Functions
In different Android Versions Mainly higher than 8.1 you can add the Selected developer option to your quick Setting Developer tiles. Open the quick setting and tap on the pencil button to edit.
More general options are listed below
Memory – In Memory, you have many things to select like Memory stats, Average use of memory, Performance, Available memory on the device, Used memory, Apps memory usage. So, it shows you everything for your use.
Bug report – Device logs are a type of file that can be shared with someone for reporting a bug. Click on the bug report and it will be downloaded automatically. Tap on the notification to share it with someone.
System UI Demo mode – This Makes it more accurate or simple to capture a clear and visible screenshot by a generic display that does not show a notification at all or lower battery status. This process allows you to change the status bar plainly by using some ADB commands. This may not work on all devices.
Method 3: System Animation or Twerk Animation
Animation makes every task easy to understand either in the real world or on devices and Google like animation as well. But this trick did not Make your device superfast. This is the way to enhance your mind's thinking and made you look like your device is fast.
Obviously, this method will consume more battery power to run. With the help of this trick, you can tweak the animation playback speed. Either choose to increase or decrease the window scale or even you can disable the device animation to get away with the transition effect while doing a task. As a result, your device will become quicker and smoother with this trick. There are 3 animation scales available in the developer option Like window animation, Transition animation, and Animator duration scale. An old Phone can be able to handle these features so it's better to disable this function for better use of the device.
Method 4: Frame rate (FPS) in real-time
Frame rates are the frequency at which your videos play. This rate can be different depending on your device. Its full form is Frames per second. Some standard frames are 24fps,3.fps,60fps and 120fps. 24 fps is considered the best rate for videos. Frame rates are also used in video games if you find it difficult in playing games then your fps is more on your device. In the developer option, there is an FPS setting that can help you to get rid of fps drops on smartphones. Go to your device setting and scroll down till the end to reach the developer option. Now turn on the Show refresh rate in that option. It will display the current graphic frame rate on top of your screen. If your fps is dropping below 60 fps in mobile games then it will be considered a good fps to play games.
Method 5: Running Services in developer option
Have you ever seen Task Manager on your Laptop or computer screen? Task manager manages your day-to-day Likewise the Running services in the developer options is a task manager for your android devices. It allows you to see different tasks running on your smartphone With a single tap. In that choice, you will see about Memory uses per service and which app is using it as well. Even when you click on an app in the service you can see the specified process it is using to identify the proper Ram usage. If you are not using any app then you can end that task in your running services to release unwanted Ram usage. Its effect can be negative as well because it could crash your app as well.
Method 6: Mock Location or a Fake GPS
I told you your device has a lot of potentials to do the best thing and I have found one for you Mock Location. This is used to fool your location to the server or to download a particular app that is not available in your region. Sometimes when you open a video on youtube and it shows that this is not available in your region. With this tool, every problem like this can be resolved. Firstly pick an app that you want then go to the developer button and select the mock location icon. it should display the spoof app which you have installed then select it and open and transport it anytime. It is also possible that this function will not be available on every device.
Method 7: USB default configuration setting
Did you use your cable to connect the internet to another device or to transfer a file? If yes, then this method is for you all because this process will make it easier to connect to other devices using a USB configuration. Eventually, we did not get the notification for some time then this developer options is the easiest way of doing it on android. Go to your setting and find the developer option in that option you will find the Default USB Configuration and click on it after that you will find so many alternatives then click on any of these two options which are MIDI or PTP as a default. This is one of the best methods how to making android faster with developer options.
Method 8: Stay Awake option while charging your device
This Trick helps you to keep your screen on every time you charge your smartphone. This is a good option for those who use their phones frequently. New Notification you get to see while plugging in your device. If you are a cricket lover or a football enthusiast then it will be useful to see live scores or Commentary while charging.
Conclusion
All these methods are very useful to make your android device faster with the use of the Developer option. As you know these options can harm your device as well if you don't know about it and randomly try on every option. First, you have to learn about it through this article to find the right thing about it. Developer options are the easy method to make your android fast but this is not a reliable method it requires a lot of understanding of programming and logic.
Even when you turn on any option that you don't need then it will affect your phone performance and battery life. Every developer option is not good for your device. Even the best option does have a negative effect on the device. A phone older than 2 years is good to try the developer option to increase its longevity. These Functions can improve your gaming experience, and Fake Gps location. It gives you all the power to do whatever you want to do with it. Did you heard about rooting your device, this method can help in this also.
FAQ
Making your Android Fast is a good option with the help of a Developer tool?
First of all, you need to understand that giving an additional boost to your device. Always is not a good option all the time. Especially, if we think about that for a second you get to know about it. Making it fast always will decrease your phone optimizing power and increase battery optimization as well. Use your phone Naturally always from The first day itself. This Function uses will make your smartphone lazy to do the task, Always use this option in older phones to make it fast. At last as per my observation. We do not have to use this option until needed.
Why is the Developer option hidden in your Smartphone?
This feature is advanced,  and it is made for the purpose of developing, Implementing and testing. As a user, you don't need to rely on this feature for long time. As far as a short period is concerned you can use this tool. Reason of hiding This feature is to make you aware of general setting importance and this feature can Also, harm your device in the long run and in the end, you will buy a new one because Of this. A smartphone is always good if you are using it for good work. This invention is Brilliant.
Are Rooting and Developer options the Same?
These two are different things and have different purposes. Rooting your device gives your access to internal system settings but rooting is not a good option for any type of device. Your device system can crash and some important the phone can malfunction and on another side, the developer option is used to gain access to a particular advanced function that helps in boosting your phone performance.