Lost your text messages accidentally or deleted them unknowingly on your Samsung phone? Worrying about lost important texts and more. Searching for some right ways over the web to get a proper answer on how to recover them? Hold on, don't worry anymore, I have your grip. Here, we will discuss various methods on 'how to retrieve deleted texts on Samsung phones'. And will also discuss various methods to prevent your messages to get deleted in the future. So, stop worrying anymore, take a deep breath of cool air and start reading this article. As some ways might not work for all the users and are also not applicable too sometimes. Thus, this article includes various methods for you to retrieve your texts on Samsung. Therefore, the readers are requested to read the article till the very end to get your answer.
Note: Firstly, you should know that when you realize that you accidentally deleted those messages, immediately stop using your phone. Don't download/ install any new data in it as it overwrites any data over the deleted data space. Because it won't allow retrieving the deleted text anymore.
In this blog, the methods will be divided into two divisions: with backup or without backup. They are as follows: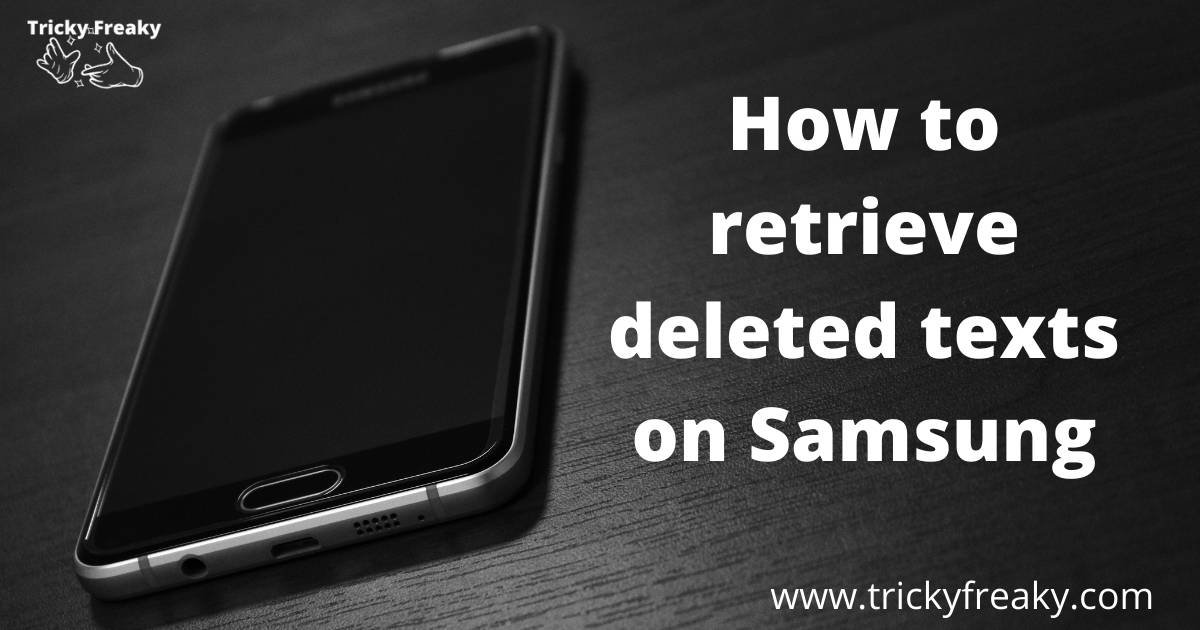 WITH BACKUP:
If you have Backed up your text messages and you are having trouble retrieving them, Follow the below methods.
Method 1- How to Retrieve deleted text messages on Samsung from cloud drive storage:
If you are a regular user of Samsung devices and have an account on the Samsung cloud. Then your data will automatically be synced with the cloud drive or any other cloud storage services like Google Drive or Microsoft OneDrive. These cloud storages have all our data like call logs, text messages, media files, etc. backed up already. We just need to find the required data and restore them back to our device.
It's very simple to get deleted data back from Google Drive/OneDrive as they are pre-installed apps in Samsung phones. So, we will discuss restoring them from the Samsung Cloud and follow the below steps for the same:
Step 1: Open the 'Settings' option on your Samsung phone. It is present generally in the apps section or also in the notification's navigation bar.
Step 2: Search for or find and directly go to the option of 'Cloud and Account'. Or, maybe 'Accounts and backup' according to your device model.
Step 3: Select 'Samsung Cloud' from various options.
Step 4: Choose 'Restore Data.
Step 5: Then choose the latest backup available on your device.
Step 6: Select the checkbox of text messages.
Step 7: Then tap on 'Restore'.
Note: As per your current software update, there could be a 'Trash' option available within the cloud backup. You need to select the same before the Restore option in that case.
Method 2- Restore deleted messages using third-party apps/software.
Being a Samsung user, you must be known to the "Galaxy store". Now, there are many third-party apps present in that inbuilt app store, or you can also use 'Google Play store'. You can search for any backup and restore app present there. After the app is downloaded, you just need to tap backup in the app before any kind of data loss. It is suggested that you start using it as soon as possible. These are very easy-to-use and ready-to-go apps. You just need to follow whatever the instructions provided by the on-screen prompts.
These apps are kind of indirect answers on how to retrieve deleted texts on Samsung. As they allow you to store the backup in phone local storage or Gmail account or even your Sim Card. After backing up your data successfully, you can directly go to the app for your help. As the apps get opened, there are different options shown in the User Interface like: 'Backup', 'Restore', 'Transfer', 'Share', etc. You just need to tap on 'Restore' and it will automatically choose the download directory. Or, you can also browse and direct it to a specified folder to store the downloaded data. Though it is advised to just follow the instructions given by the app and use the directory mentioned by the app.
Some of the backup and restore apps and their user ratings are the following:
SMS Backup and Restore (4.5)
Titanium Backup (4.6)
Super Backup & Restore (4.0)
SMS Backup+ (3.8), etc
Method 3- Restore Messages using the Samsung Smart Switch feature:
Smart Switch is another feature by Samsung for smartphones with Android 4.3 or above or iOS 4.2.1 or above. It's an easy-to-use app used to transfer files and the device settings from your old device to your new device. But we'll only focus on only that feature of Smart Switch which helps us to retrieve deleted texts back on Samsung. If you have already made a backup to your PC, Mac, or another smartphone. Then this app makes them very easy to restore for you.
There are 3 ways here available for you to connect both the devices.
Using Wi-Fi: Switch on Wi-Fi on the device you want to receive the data. Switch on the hotspot on the device where you have the backed-up data and want to transfer it from.
Using Bluetooth: This method is used to transfer between your android and PC. Switch on Bluetooth on both the devices and connect them accordingly.
Using a USB cable: With the help of a USB cable, you can connect any two devices according to your requirement.
After you have completed connecting both the devices, you need to select the option of 'Backup and restore' on your own device. Now as you have already connected a source device to gather data from. Now tap 'Receive Data' and it will guide you through the steps required to quickly restore those lost data.
As mentioned, these steps are applicable only if you have backed-up data in the cloud, phone storage, or other devices. Now, let's discuss how to retrieve deleted texts on Samsung when you have never backed up your data. And this is the case with most of the users.
WITHOUT BACKUP:
If you don't have any backup then you can follow the below steps to retrieve you texts by using many different tools.
Method 4- Restore deleted texts using the Samsung Data Recovery tool.
This may be a bit boring to understand this geeky stuff. But, we need to understand the analogy of your phone's database management system before knowing how to restore it.
So, when we receive texts or messages, it is saved in the 'Inbox' folder located in the internal storage. But what about the deleted ones? When we delete any messages from our Samsung device, it is not immediately wiped off from our system's memory. Rather, it is located in a database flagged for overwriting. And this is why you should not use your phone once the messages are deleted. Since using it any further will allow other data to overwrite our deleted messages database. Now, this location will vary on different devices based on our device model.
Now, let's come back to our method i.e., the 'Samsung Data Recovery Tool'. This is a professional software that needs to be downloaded on your PC if you want to restore your data. With this software, you can restore your SMS, call logs, contacts, media files, documents, and also some temporary files. And yes, along with the deleted data from your internal storage or SD card.
After completely downloading the software on your PC, we should discuss the various steps to retrieve the deleted texts. If it seems easy and doable to you then it's completely fine otherwise, you can refer to the steps below:
Step 1: Launch your software and connect your Samsung Galaxy with the PC via a USB cable. The software will take some time to recognize your device. It will then show you a prompt to check the kinds of data you need to retrieve. Just follow as mentioned as shown on the screen and click "Next".
Step 2: Now go to the 'Messages' option and click on the checkbox of all the texts and conversations that were deleted and which you want to recover.
Step 3: After you have completed the selection, you can tap on the 'Recover' option. It will then ask you to choose a directory to store the restored SMS. You can either go along as suggested by the on-screen prompt. Or, you can choose as per your choice and choose a location on your device.
That's it, your texts are restored. If you were contemplating how to retrieve deleted texts on Samsung, then use this tool right away. But, it also has some cons which we will discuss near the end of the article.
Method 5- Recover deleted texts from your Service Providers:
Well, while using your phone and a SIM card, you must know something. The service provider companies store the user's text messages, call logs, and other data for almost half a year. If you are using an American service provider viz. AT & T, Verizon, or any other major carrier service. Then, there is more probability for you to recover your deleted messages as they have a dedicated solution for it. As, they have this feature namely, AT & T Backup and Sync. And if you use that, it can back up your data to the cloud.
You can access the AT & T Messages Portal to sync your SMS across devices and restore them. They are also safe when considering privacy and don't charge any extra cost for the same.
But, if you use any other service provider, then you can directly contact them via their Customer Support. But you need to keep in mind that it might cost you extra for restoring those messages. And that too without ensuring complete backup.
Things to avoid while retrieving deleted texts on Samsung?
Above in the article, we discussed many third-party programs and a Samsung Data Recovery Tool, right? But the worst part about these software/apps is that they root your Samsung phone open to much rooting malware.
Now, rooting is a feature that allows the app to attain root access to the Android operating system code. If used positively, it is used to modify the software to install other apps that the manufacturer doesn't recommend. But, if done negatively, can cause potential problems.
So, you might end up having malware on your Android or PC while trying to just recover some lost messages. That's why you should avoid using any random apps present on the web. Some software or services are also paid for you to retrieve those deleted data. Well, some of them are genuine while others don't even guarantee complete restoration.
Therefore, you should refrain yourself from using such suspicious apps, software, or services. And if you do, it must be after complete research on that provider.
Conclusion: How to not lose your data again?
Hence, that was a clear roadmap on how to retrieve deleted texts on Samsung. So, you must have realized to avoid data loss and not to use any third-party software to recover it. You need to have a backup necessarily. Fortunately, Google, Microsoft, and Samsung have Cloud services available that easily backup your data every-day with just one tap. While using these services, you need to mention various details like backup frequency. And you also need to select what files need to be backed up.
Hence, you are advised to sync all your data even the sensitive ones to your most trusted Cloud Service Providers. Also, choose a daily frequency so that our day-to-day activity remains synced with the web. If you have another android device instead of Samsung, you can read Retrieve deleted messages on Android without computer-7.
FAQS:
Q.1- Are my deleted texts on Samsung permanently lost permanently?
Ans- Well, there is no clear-cut answer to it. It depends on your device model. But most probably, it is sure that they are located in a hidden database in your internal storage.
Q.2- Are third-party apps safe to retrieve deleted texts on Samsung?
Ans- Third-party apps are not completely safe as they root your phone open to malware and various bugs.
Q.3- How can I backup my texts on Samsung?
Ans- You can create your Samsung Cloud account in your settings menu or use other genuine cloud services.
Q.4- How to retrieve texts back on Samsung?
Ans- Go to your Cloud Storage and search for text messages. Select the messages you want to retrieve and then restore them.
Q.5- Do network carrier providers have my texts backup?

Ans- There is a high chance that your carrier service provider has your call logs and texts backed up. You can contact them through Customer Care.
Q.6- Do I have to pay to retrieve my texts back on Samsung?
Ans-  It is not always required for you to pay to retrieve texts back on Samsung. However, you have to pay some charges in case your carrier service provider asks you to. Also, there might be some paid software to retrieve deleted texts back.
Q.7- How can I further avoid data loss?
Ans- To avoid data loss, you need to frequently keep your files synced with your Cloud Storage or PC. Otherwise, you can also have a backup once a week/month as per your choice.