Nowadays people getting busy with their work they need smart work instead of hard work they want to save their time and money. Recently I had a small housewarming party at my place I have lots of work to do. Arrange the home, order food, invite guests then I realize if I call every person it consumes all my time and my other preparation won't get complete. Then I go for an idea of how to send group text on android.
So I decided to do smart work instead of hard work. These days many android phones provide the feature of a group text. But we actually didn't know how to send a group text or how to make a group or how to add our contact, and how to create a family group different and a work group different.
It is necessary to create a family group and work group differently because of our communication in the family group. We talk informally because there are our loved one's friends and family. But if we create a family and work group together. It gets unethical because we can't use informal language in the workplace so to avoid this. We may create both group text separately.
Similarly, group texts are the easier quick, and more authentic method to send the same message to various people concurrently so for my housewarming party. I used to send group texts for two different groups like my family group and workgroup. It saves my time and my phone bill also and most importantly it reduces my tension of inviting guests.
Want to send a message to various people at the same time on android? Don't worry you are in the right place this article explains to you every step in detail of how to send group text on android.
How to send group text on android?
So very firstly Congratulations you have saved your time and money also here I am going to tell you how to send a group text on android. So there is a variety of android phones present in the market so there is a tremendous way to send group texts on android let's explore them all.
Group text is nothing but sending the same SMS to many people togetherly.
We have a messaging app on our android phone, android messages are super quick and highly recommended text messaging apps. Text messaging apps are inbuilt application present on any android device so let's see how to send group messages using the messaging app. It is also known as google messenger if you don't have this app installed on your phone you can install it. For group text, the most important and necessary parts are a messenger and your contact you both have this inbuilt app present on your android.
Open your android phone and click on contacts first.
Go to the three dots on the top right corner of your phone, tap on the group and click on create. We need to create a group first.
Name the group whatever you want
Press the + sign to include contact present on android
Put a checkmark on every single contact you want to include in your list
As I mentioned above there are various android phones present in the market. So there are various ways to send group texts on different android. There are different limits for different android for group members some android phones allow a maximum of 20 contacts in each group likewise some android phones provide up to  25 contacts in each group. 
Press has done and save
Now you have to go to messages
Click on create a new message icon
Now you have to go to groups and search for your group name
Click on your group, and press compose.
Type the message which you would like to send, Click on send.
You can always modify your contact present in the group if you want. In your type box, one more option of the paperclip is present simply you have to tap on that clip if you want to attach or include a picture or something
But remember one thing picture messaging requires an active internet connection. Or mobile data because some providers do not provide picture messaging through wifi. If it doesn't work for some reason remove your sim card for a minute and reboot your phone. Put the sim card back and it works properly without any problem.
How to create a group and send group text on Xiaomi phones
Group messaging allows you to send a single text message to multiple phone numbers. And have the replies shown in a single conversation We have seen in general how to send group text messages to everyone but now let's see this for redmi phones.
Tap on the message
Tap on start chat
Tap on create a group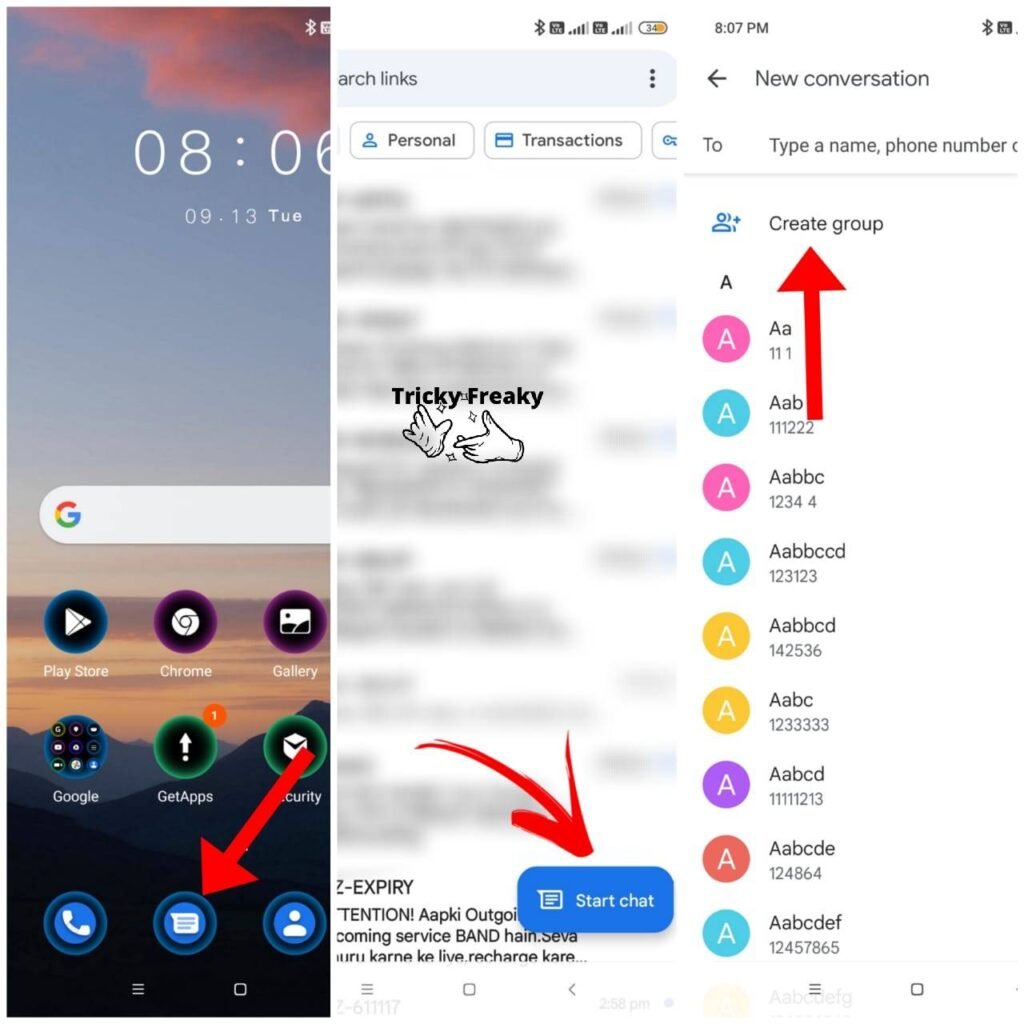 Select the contacts/recipients.
Tap on next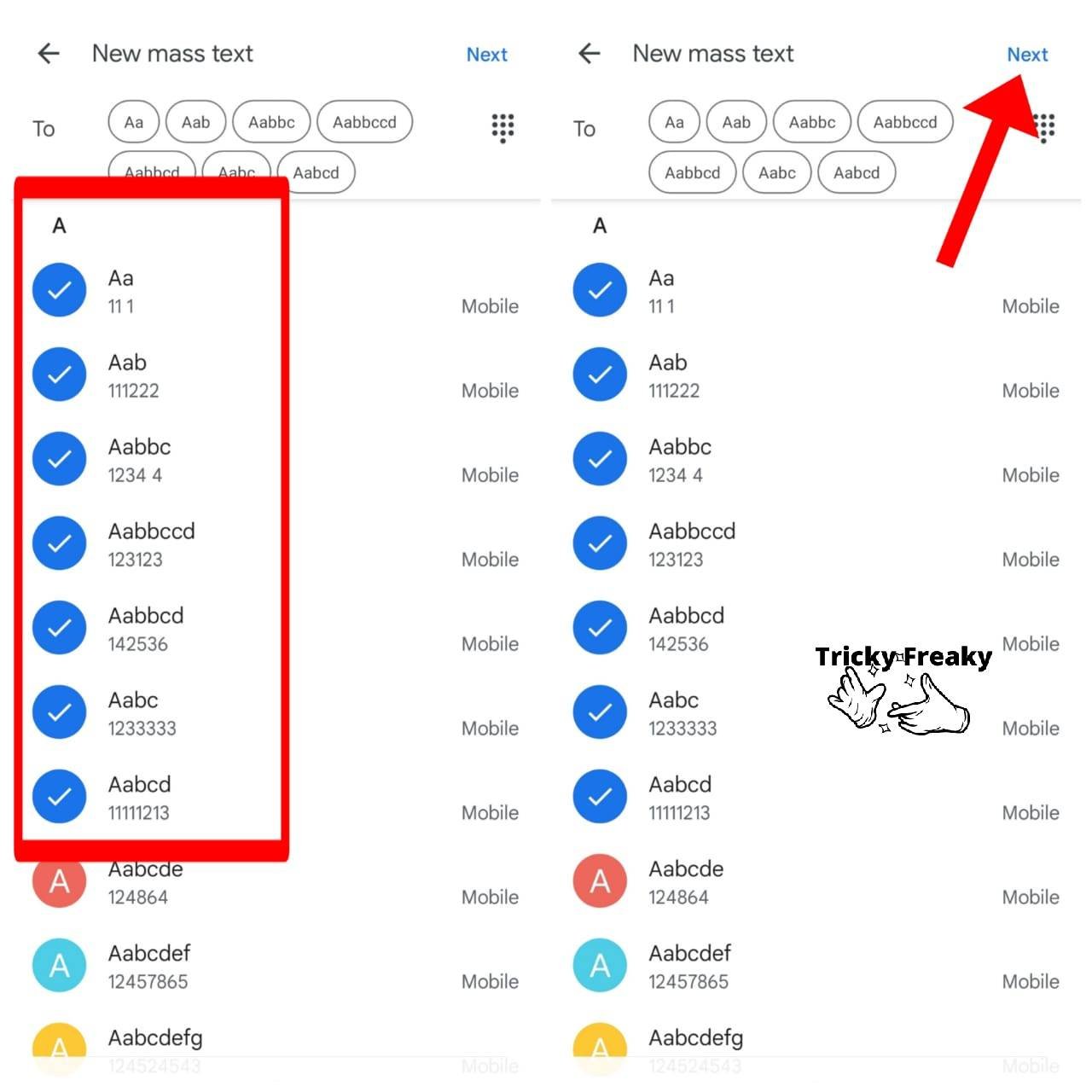 Add a group name and tap next
Type a message and tap on SMS.
There is one more option in messaging app which is MMS without MMS our group text doesn't work. We have to enable the MMS option to run group text smoothly. For this, we have to open our message app and tap on the three dots present in the right corner, and select setting. Tap on the setting and go to advanced tap and enable the MMS option under the group messaging.
We create a group and add all members but sometimes what happens is the group members send messages and notification continuously appears on our screen. Sometimes we are outside, in the office that time we think about why I created this group. And you wish you could delete that group! But, I have a solution you don't have to delete the group you just have to turn on auto retrieve option that removes all irritating notification when a member of the group's replies. 
Enabling MMS also helps to deliver all messages of the individual recipients to all the recipients.
Not only google messenger but also many other messages applications provide group text on android apps like Multi SMS Sender, Group messaging, and Bulk SMS Plan also provides group text on android.
Conclusion:
Doing group text on android with our friends and family is quite enjoyable and easy. And it is also easy to create a group text. Making group text is simple easy and less time-consuming. By making group text we can easily send invitations to many people at the same time. It reduces our time and money also. We can add and remove recipients whenever we want. It's not like that after we send invitations to members group gets deleted it is still present and we can chat whenever we want.
Group chat can connect people with each other. we can easily communicate with our loved ones whenever we want. From group chat, we can also share images pictures, etc but on some android devices, it needs mobile data. When we create group chat we don't have to message everyone personally we just have to drop one message and everyone gets that. There is various advantage of group chat from which we can communicate with family friends work. It's not like we can only communicate with our family and friends. But also, we can communicate with our colleagues in short group chat is for everyone for the family or friends for work. On our android phone, we can easily create and start group text without any problem.
FAQ
Q.1 Is group texting useful today?
Absolutely yes group texting saves our time and money and also connects to people. It also keeps our private life and professional life separate group texting connects us to our friends and family. Group texting helps us to send messages to everyone at the same time also we can send images or pictures.
Q.2 In group texting can we share messages only?
No, in group texting we can not only share messages but also share images pictures, etc but there is a condition that we should have an active internet connection on our cellphone.
Q.3 If you add members to a group, can we add or remove members whenever we want.?
Yes of course we can add or remove members whenever we want. We only have to add or remove participants present in the group and recreate the group.