I am sure all of us have a very special place for our mobile phones in our hearts. After all none of us can even imagine living without phones today as it has become an integral and important part of our day-to-day lives. And this sense of love and dependency toward mobile devices ensures that we look after our devices in every way possible. But One day, I was stuck on my phone's power button! I have searched a lot about how to turn off android phone without power button?
But unfortunately, as time passes by, the performance and experience of our mobile phones start to deteriorate and it happens to be with both the software and the hardware. This gradual decline of one's device affects the productivity and experience of the user.
Most of you might have noticed that when our devices get a little older the power button starts to become a bit shaky and eventually after considerable time it breaks off from the device. This happens because of using it very frequently. In a touch screen mobile phone, every time you turn on or off your device, wake up your screen, or close it you are required to use the power button. The power button is also used for performing various other functions too, this repeated use is the reason why after a certain amount of time it comes off the mobile device and creates a problem for the users.
Do not miss: How to power off iPhone 13 -Various best possible ways
In this article, we are going to teach you how to turn off android phone without power button so that you can reduce the use of it and prevent it from breaking. So, make sure you read this till the end.
Method 1: Turn off directly from the settings
You can simply turn off your android phone without the power button directly from the settings of your mobile phone.
Open settings and find the Power Off option. You can also use the search tab for this. It may be available with different names on different devices, for example, Switch Off, Shut Down, Turn Off, etc.
After you get this option click on it to turn your phone off.
This option may not be available on all android devices but nothing to worry about as there are various other methods to perform this task.
Android devices come with an accessibility menu, which shows a menu of easy-to-reach buttons that let you replace hard keys, gestures, and other common interactions. This feature is intended to help users to perform some selected important actions that are used very often from a simple on-screen menu. One of all the actions that we can perform through the accessibility on-screen menu is turning off a device without actually using the physical power button. So now we will see how to turn off android phone without power button using the accessibility feature.
If you are using mobile devices that belong to the companies like Xiaomi, Vivo, Oppo, OnePlus, Realme, or Huawei you need to follow these below mentioned steps:
Go to the settings of your device and tap on Additional settings, you will see an Accessibility option under this, select it. If you are not able to find this manually then just type Accessibility on the search tab and you will get it.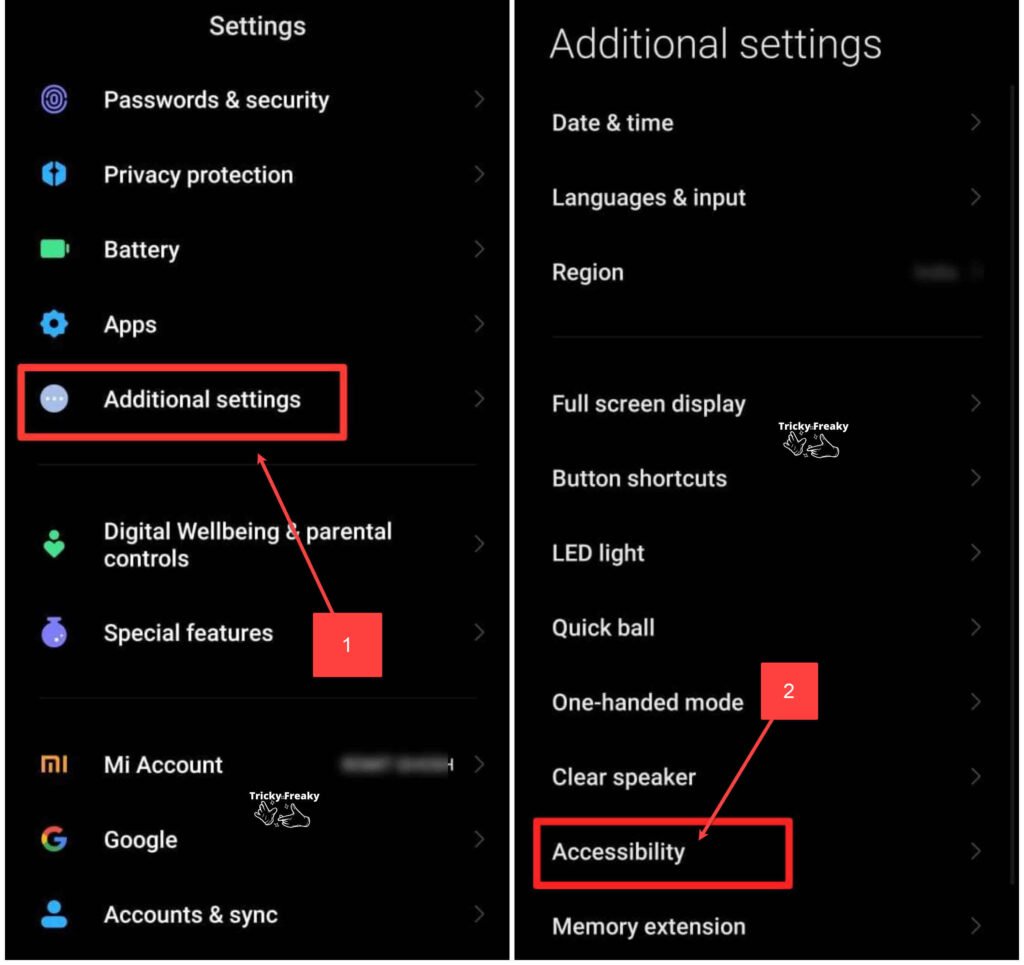 After selecting Accessibility you need to click on the Accessibility menu option and then turn it on.
On turning the Accessibility menu on you will be asked to allow this feature to perform some particular actions.
As soon as you allow the permission you will notice that an accessibility menu icon has appeared on the navigation bar of your phone.
Touch the icon to view the on-screen shortcut buttons for various functions.
Now you just need to tap the power button shortcut and you will be able to switch off your mobile device without actually having to use the physical power button.
You can also use this on-screen Accessibility feature to do other tasks like taking screenshots, accessing Google Assistant, making your phone screen sleep off, managing the volume of your device, and so on.
There is one important thing you need to keep in mind, this accessibility menu icon only appears on your navigation bar. So you need to make sure that the navigation bar is enabled on your device.
Method 3: Using third party applications
Like almost every other task you can also find apps for turning off your phone. Not one, not two, not three but you can find hundreds of applications that allow you to turn off android phone without power button. However, not all apps are able to provide a simple and seamless experience to perform this task. Some apps may even require your device to be root. To make your job easy we have selected the most popular, most rated, and most easy-to-use apps for you.
Power Menu: Software Power Button
Phone Lock + Volume (OFF+)
Assistive Touch for Android
Power Menu: Software Power Button
This app opens the system default power menu on your device, it uses bind accessibility service permission for opening the power menu. It is a very fast, lightweight app and does not require a device to have root privilege. Let us now understand how to use this app.
You will get this app in the Google Play Store, install it from there.
On opening the app you will see an instruction "Please enable Accessibility permission for Power Menu to show the power menu".
Just below the instruction, there will be an option to redirect you to the accessibility settings. Tap on it.
After it takes you to the accessibility settings interface you are required to grant the app some permissions.
Once you have done that go back to the Power Menu app. Now click on the Open Power Menu option to power off your phone.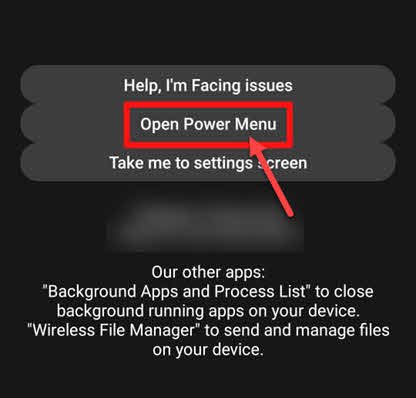 Phone Lock + Volume (OFF+)
This is another lightweight, easy-to-use app which allows you to turn off your phone without using the power key.
Install the app from Google Play Store and launch it.
When you launch the app for the first time it will ask you to choose one option between Legacy Mode and Accessibility Mode.
Choose the Accessibility Mode option and grant permission required for the app to do its task.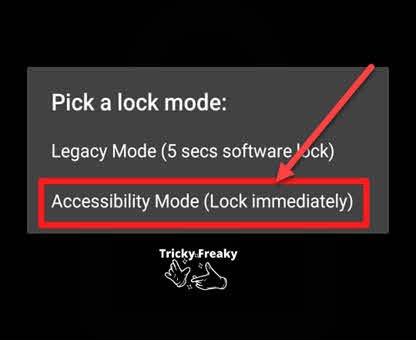 Now to turn your phone off you just need to tap and hold the app icon and you will get to see the Power Menu option. Whereas if you only tap the app icon it will close only your mobile screen.
Assistive Touch for Android
It is an app that provides you with an assistive touch on your android phone just like the one that you get to see on iPhones. We can use this assistive touch for our purpose to switch off a mobile device.
Install it and grant all the permissions that it asks when you launch it for the first time.
You will notice a floating assistive icon on your mobile screen. Tap on it.
Initially, you may not see the Power option in the menu but you can easily add it from the Custom Menu setting inside the app.
Method 4: Through Quick Settings
Some mobile phone companies like Samsung provide a power menu button on their quick setting panel. You may not find this on devices of every company.
Swipe down on your mobile screen to view the quick settings panel.
On top of your screen, you will notice a Power icon.
Now just tap it to view all the options available and press Power off.
Method 5: Using ADB Command
ADB stands for Android Debug Bridge. It is a tool that is used for debugging android devices by allowing us to connect android devices with computers. Users need to type in ADB commands on their computers in order to debug or perform some tasks on their mobile phones through their PC. Here we will discuss how to use ADB commands to turn off our device.
First of all, to apply the ADB commands you require to enable USB Debugging settings on your android phone.
You will also require to install ADB & Fastboot drivers on your computer.
Next, connect your phone and computer. Also grant debugging authorization on the phone.
Open the command (CMD) window of your PC and type "adb devices" for Windows or "/ .adb devices" if you use a Mac. This command will show if your phone has been successfully connected to the computer or not. Once it shows your device ID you are good to go with the next steps.
Now just type the command "adb shell reboot -p". This command will initiate the process to turn off your android device.
Method 6: Schedule Power On/Off
As many of you might know about this feature, it lets us turn off our mobile phones automatically just by setting the time for power on or off once in the beginning. This feature comes along with many android devices. Follow these steps to use this feature:
Go to Settings and search by typing "schedule" on the search bar.
A list of various tasks that can be scheduled on your phone will be displayed.
From the list select the Schedule power on/off option. Next, you will be asked to set the time and frequency when you would want your device to switch off automatically without you having to do anything manually.
Did you know that you could remap the hard keys of your phone to perform a different function of some other button? This trick could come to your use if you are one of those who have their power button broken already and are ready to replace its function with any of the other buttons. For doing this you need to:
Install the Buttons Remapper app. Grant it the permissions it requires and open it.
After opening the app, enable the Service option that appears on the screen.
At the bottom, there will be a + icon, click it and select the key you want to remap. Let us choose the volume down button as an example.
Then select the Power menu option under the Action section and press Ok.
Now, whenever you press the volume down button the Power menu will come up.
Now for those who own Samsung devices, the process is a bit different. So come let us see how to use this extremely handy feature on Samsung Galaxy phones.
Using Accessibility
Open Settings and like in the case of other phones look for Accessibility. You can use the search tab to find it as always.
Then select Interaction and dexterity inside the Accessibility option.
You will see the Assistant menu option, turn it on. A floating menu icon will come over your screen which will allow you to access the power off menu to turn off your phone.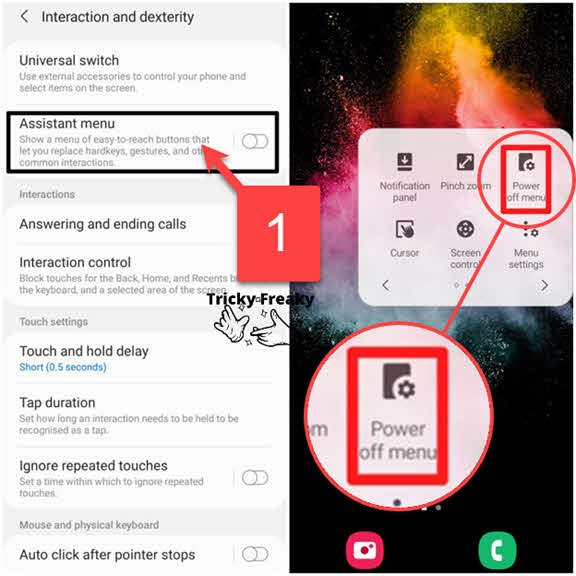 If you seriously want to reduce your interaction with the hard keys then it is recommended that you use this accessibility menu feature not only for switching off your phone but for the other tasks too.
Using the Bixby virtual assistant (Samsung devices only):
Nowadays every smartphone comes with a virtual assistant like the Google Assistant, Bixby for Samsung devices, and Siri for iPhones. And you can use these virtual assistants to turn off your phone just by giving a voice command. Unfortunately, this particular action cannot be executed on the devices that have Google Assistant. So we will show you how to use the Bixby virtual assistant on Samsung devices to switch your phone off. Let us look at the steps:
Make sure you have Bixby already set up on your phone. Now launch it.
After it is launched, command it by saying "Turn off the phone" or "Power off the phone".
Bixby will open the power menu for you then just tap on Power off to turn off your android phone without using the power button.
Conclusion
As promised we have discussed with you multiple ways to turn off android phone without power button. You can follow any of these methods according to your convenience. This article will also come in handy for people who already have broken the power button on their devices and want to continue using their phones just like before without feeling the need to fix it.
I hope you find this article helpful and thank you for connecting with us. Keep following Gossipfunda for more interesting and insightful technical topics.