The RootPA app is one such pre-built application that comes with your android device. You do not install it from the Google Play Store, but you see it hanging out in your applications list. Well don't worry, this article has got you covered.
Sometimes you just scroll through the list of apps on your android phone and come across some strange applications that you did not download from the Google Play Store. You worry about it, whether it is a virus or bloatware. However, we assure you that every such app is not bloatware. Several applications come pre-installed with android smartphones, which are related to the proper functioning of apps and other software. There are a lot of packages that are named in the form com.android.XYZ, which serves different purposes. Several apps come under these built-in packages.
We will discuss everything about the RootPA app on your android device, starting with what it is, its functionalities, and some common errors that it causes. This article will give you valuable insights on how to fix some frustrating errors that may occur due to the RootPA app. So, without any delay, let's get started.
What is ARM architecture?
Before we start discussing RootPA, let us gain some knowledge about ARM architecture. In simple words, architecture is the base of a machine that specifies how the hardware will interact with the software. ARM architecture postulates a set of instructions that specify how the hardware responds when an instruction is executed. There are a set of rules in the ARM specifications, and the Arm-based processor or chipset will execute any instructions from software that is written to conform with the same. The arm is a CPU architecture providing security features, compatibility features, and so on.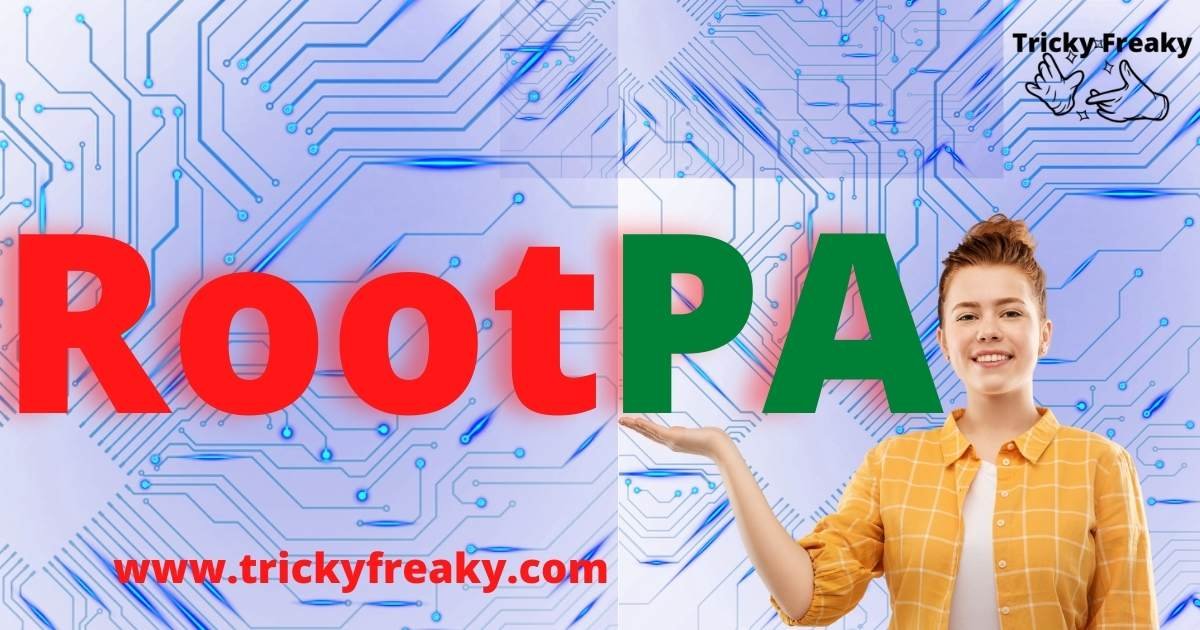 What is the RootPA app on Android?
Now that we know the basics of ARM architecture, it will be easier for us to know what is RootPA. The RootPA app is software that is developed to work on ARM architecture. It looks into the security measures for access logs, which are done through networks that are not much complex to monitor. Not only that, but the RootPA app also looks into the security of your device storage, which is specifically saved to handle sensitive files, records, and data for the system.
The RootPA app comes pre-installed on your device and it plays a vital role in serving the aforementioned functions. You will especially find the app pre-installed on Samsung devices.
What permissions does the RootPA app have on your android phone?
It is very important to know about the permissions that are granted to the RootPA app by default. It may have the following permissions on your device:
Network Permission
The RootPA app requires updating itself from time to time to keep its services up to date. The updates are downloaded from the internet, and RootPA has network permission granted for that purpose otherwise Permission denied. This means that it can exchange data with the cloud or hardware provider (like Samsung) through your network.
Run in the background
Some system apps load by default when your android device is booted. RootPA, being a system app, loads automatically – it does not need you to manually click on it. It hence has the permission of running in the background. So, it consumes a certain amount of RAM on your device. This decreases the total amount of RAM available for your usage. So, in a Samsung device with 2GB RAM or less, this app is one of the main reasons for slow phone functioning and freezing, because it uses RAM when it runs in the background.
Ignore Battery Saver
Every pre-installed app that has the permission to run in the background has this permission granted too. The Battery saver mode in android restricts apps from running in the background to save battery so that your phone can last longer. However, some system apps are ignored by the battery saver and hence they are not restricted from running in the background. They even run when the phone backlight is off. Ever wondered why the charge of your phone is decreasing faster even though you are doing nothing on it? Such kind of applications running in the background is why!
What are the functions of the RootPA app?
Let us look at the functionalities of the RootPA app in great detail.
In short, the RootPA app provides security services, namely, Secure Storage and assistance in security for other software. Following are some of the functions of the RootPA app.
It provides secure access to logs and monitoring on your android device.
It provides the ability to control the charging process of your device.
It provides security assistance for other android apps on your phone.
It helps in terminating various processes that are glitching or throwing errors.
It provides secure storage – a space for vital system files.
It lets the user gain complete control of the kernel, like enabling overclocking and underclocking of the CPU or GPU.
It helps in the removal of bloatware and lets the user have full app control including full backup.
It provides the ability of downgrading apps directly. Hence, you don't need to uninstall the app and lose all your app data.
What are the disadvantages of the RootPA app?
Everything that comes with advantages, comes with disadvantages too. In the case of RootPA though, the set of advantages is more than that of disadvantages. Since we have already discussed the advantages and the functions of the RootPA app, let us go through its disadvantages now.
The main disadvantage of the RootPA app is that it continuously runs in the background. Putting your phone on battery saver does not kill it either. This is because it is in the list of the system apps which are ignored by the battery saver mode. Sometimes it may cause some critical and unwanted errors. This results in various frustrating problems, as listed below.
Shortage of RAM for usage by other applications
The RootPA app sometimes consumes too much RAM to perform, which is why the available RAM for other apps decreases by a considerable amount.
Fast battery drainage
If the RootPA app consumes too much battery when it runs in the background, you may experience abnormal battery drainage. 
Slow charging of your phone
Due to the above-mentioned reason, your phone may temporarily lose its capability to hold a sufficient amount of charge for a longer time. Hence, it begins to charge slowly as well.
Popup error
Every misbehaving pre-built android app can give this wearisome error: "Unfortunately, XYZ has stopped." The RootPA app may be no exception to that. Due to internal system glitches, or incompatible updates, this popup error occurs. It prohibits you from doing any other task.
How to fix the error "Unfortunately, RootPA has stopped"
Many android users have been reporting this error. This article provides you with some methods that can potentially fix the 'RootPA has stopped' error.
Force Stop the RootPA app
Since the RootPA app runs in the background, you may consider 'force stopping' it. When you 'force stop' it, it is prohibited from running in the background for a certain amount of time. During this time, any glitches that occur within the app might get resolved. Hence, when the app gets booted up again, you will stop facing the 'RootPA has stopped' error. This not only helps you out of the error situation but also helps when the app starts consuming too much battery to run. So, it might as well fix the fast battery drainage or slow charging issue on your phone. Follow the steps below to force stop the RootPA app on your android device.
Go to Settings on your phone.
Scroll down and click on 'Apps.' This will open a list of all applications on your phone.
Click on 'All apps' to see the downloaded apps as well as the system and running apps.
Keep scrolling until you find RootPA. Click on it to open it.
Click on Force Stop. This will force stop the RootPA app for some time until it starts again by itself.
Please note that you may not want to disable the RootPA app here. This is because it is a system app and it is not recommended to disable a system app. It causes other functions of your device to show errors.
Factory data reset
Since RootPA is an essential core system app, you cannot uninstall, disable, or clear cache and data to try to fix the error. The only option is to try force-stopping it, and if it does not work, then perform a factory data reset. This is usually the last fix to any such common android errors. It will fix the issue successfully for sure but at the cost of all your important data. Follow the steps below to perform a factory data reset on your android device to get rid of the error.
Caution: Factory data reset deletes all data from your device, including all downloaded apps, accounts, media files, and documents. Make sure you have backed up your important data before proceeding to perform a factory data reset. Also, the process takes a considerable amount of time to finish, so make sure you have ample charge on your device. For extra safety, you can plug in your device to the charger during the process.
Open the Settings app on your android device.
Go to 'General Settings' or 'System', whichever option your phone shows.
Scroll down and find 'Reset options' or 'Backup and Reset.'
Click on it, and tap 'Erase all data' or 'factory data reset.'
Finally, confirm that you want to erase all your data. Then, wait for the process to complete.
The problem caused by the RootPA app should be fixed after your phone reboots. Note that after a factory reset, the system apps are not removed from your device. So, the RootPA app will still be present if you look it up on your apps list.
Conclusion
So, in this article, we have discussed everything about the RootPA app in complete detail. We started with what is RootPA, then went on looking at its permissions, functionalities, advantages, and disadvantages. Also, We discussed how to fix the critical error 'RootPA has stopped' and how it affects your android phone. We have also discussed some vital facts about whether it is a virus or not, and about the package of RootPA. We got you covered on every detail of the RootPA app on your device.
FAQs
Can I disable or uninstall the RootPA app on my device?
No, it is not possible to disable or uninstall the RootPA app from your android device. This is because it is an essential system application that takes care of the security of data processing. Although some smartphones allow you to temporarily disable the RootPA app, you can definitely not uninstall it. It is not recommended to disable or uninstall the app since it is a system app handling vital stuff. Disabling or uninstalling it may cause unwanted glitches and errors and cause an anomaly in the normal functioning of your phone.
2. Is RootPA a virus?
No, the RootPA app on your device is not malware, spyware, bloatware, or trojan. It is just a pre-installed system app accountable for secure data processing. It does not collect your data while running in the background and sell it or rather lets some hacker know about it.
3. Can I download the RootPA apk from the internet?
The RootPA app comes pre-installed on Samsung smartphones. Although RootPA apk is available on multiple online websites for you to download, you should not download it. All online websites are not genuine and hence cannot be trusted. They may make you download malicious applications or viruses under the veil of the RootPA app. Hence, always attempt to download the RootPA apk only if you have a trusted antivirus protection on your device. It is generally not required to download the RootPA apk. This is because even if the RootPA app is missing on your device, there is some other system app that takes its place and does its job.
4. What is com.gd.mobicore.pa?
As you know, every system app on android comes under a specific package. The package names are unique. Com.gd.mobicore.pa is the package of the RootPA app.