Today, life would be unimaginable without smartphones. Whether you own a primary phone or a smartphone, it must be necessary for your daily life. Since the introduction of new mobile devices, much freeware has been created. Great phones are produced by several firms. Samsung, however, is one of the top mobile phone manufacturers in the current market. Samsung phones are used by a lot of people around the world. Additionally, a sizable selection of Samsung products is available in every price range.
Samsung cellphones are incredibly individualized gadgets. The newest Samsung devices include a modified version of Google's standard Android operating system known as One UI. The Samsung smartphone has a lot of modern features. Additionally, Samsung offers its consumers USSD secret codes in addition to its user interface. Because these codes are complex and are used to test the phone's most advanced features, very few Samsung consumers know them. We go into great detail about every Samsung mobile USSD secret code in this post.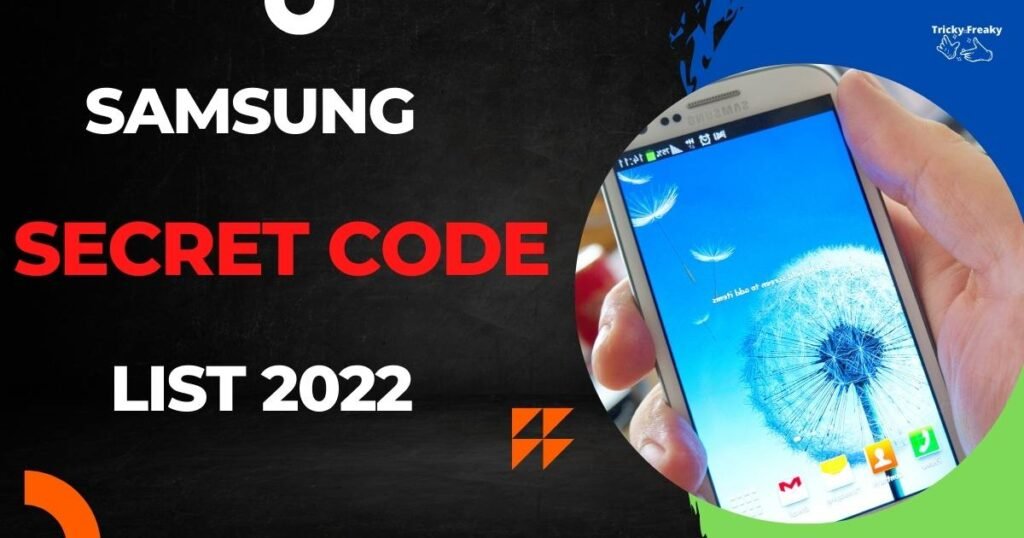 Therefore, if you own a Samsung, here are some tips. This page provides a comprehensive list of Samsung's secret codes. These codes act as back doors to settings and functions that are kept hidden. Software developers and designers can access hidden settings and functionality by using Samsung secret codes. So check out the whole list provided below if you're interested in Samsung hidden codes for your smartphone.
Why do Android phones have secret codes?
Each electronic product processed by manufacturers must go through a quality check where gadgets are checked and assessed. This is done to ensure the goods meet the quality standards established by customers, businesses, or manufacturers. That's not all, though. Android devices, particularly smartphones and tablets, perform several performance tests to ensure that the product is functional and free of problems. The drawback is If they don't have any unique testing tools, it will take a lot of time and resources. The "Android Secret Codes" were created specifically for this reason. You may direct your Android phone to perform specific actions using these or Hidden Menus. Additionally, you may use these Codes to check various device-related details.
What exactly are USSD and MMI codes?
Samsung codes that begin with the pound or hash characters are known as USSD and MMI codes. Each time Android introduces a new version, these symbols are modified. The USSD and MMI codes used by some smartphone manufacturers are also unique.
Used (Unstructured Supplementary Service Data) codes are frequently employed to communicate with a smartphone and a mobile network provider. You must, therefore, always have a connection to your carrier if you want USSD codes to function.
On the contrary hand, MMI (Man Machine Interface) codes provide you access to intriguing data about your smartphone, including the IMEI number, concealed menu, repair facilities, and much more.
Samsung secret code
There are several Samsung secret codes. However, we have briefly discussed the most popular ones below. Some of these codes are compatible with all Android mobile devices.
IMEI check code for Samsung
The gadget is uniquely identified by its 15-digit International Mobile Equipment Identity (IMEI) number. The GSM Association organization has set the first 14 numbers as guidelines.
The SIM card and IMEI are connected. If your mobile device has two SIM cards, it has two IMEI numbers. Dialing *#06# is the quickest method for obtaining a smartphone's IMEI number.
Hardware & software version code for Samsung
This unique code indicates the device's hardware and software versions. Engineers can use this code to start the recovery process. So the secret code for this process is *#12580*369#.
Samsung USB configuration code
The USB setting code can be used to set your mobile device's standard USB settings. You can configure the default USB settings when connecting your smartphone to a PC.
You can choose two settings: MTP and (RNDIS+ACM+DM) USB broadband. After, You can easily access your files and photos on your PC when connected if MTP is chosen as the default protocol.
You can access your smartphone's data straight from your PC if you've configured (RNDIS+ACM+DM) USB ethernet. However, you can enable this option by selecting USB tethering from your mobile device's Hotspot menu. So the secret code is *#0808#.
Samsung Test code
All of the hardware components in the cell phone are tested using the Samsung test code. You may test Samsung phones in a straightforward and fun method.
Because phone technicians utilize test code exclusively to diagnose smartphone issues, it is sometimes called engineering mode code.
The physical components of your phone, including the display, microphone, lens, sensors, audio, Bluetooth, vibration sensor, WiFi, and more, may all be tested for serviceability using the Samsung engineering code.
In some Samsung smartphone models, the *#0*# code functions as the Samsung test code, whereas the *#0011# code functions as the engineering mode.
So that you can ultimately access test mode on your Samsung phone, we have shared both of these codes.
Samsung mobile battery health check code
Your Samsung phone's battery life is relatively poor. You then wish to swap your battery with a brand-new original one. Don't forget to examine the battery in your Samsung phone before swapping out your old one for a new one because there are mainly two causes for less battery backup.
Battery drain on mobile devices is a high consumption concern.
The efficiency of the battery has dropped.
Using the Samsung mobile battery health check code, you can determine whether you need to replace your battery or whether your Samsung phone needs to be optimized for battery performance. You can use the code *#0228# to check battery health.
Check the Samsung model number.
If you purchase a brand-new phone from an offline retailer and wish to confirm the precise model number of the Samsung phone, you can call the short code *#1234#.
Samsung mobile check code
Test mode code is another name for the Samsung mobile check code. The Samsucalledk code *#0*# is quite helpful since it allows you to examine each feature of your Samsung smartphone.
Screen touch, microphone, display color, Bluetooth, battery, sensor, camera, speaker, network, and other features may all be checked.
This code is crucial for you if you're purchasing a used smartphone because you want to test every feature.
Samsung secret code for One UI
| | |
| --- | --- |
| Code | function |
| *#34971539# | view the menu for the camera's firmware |
| *43# [dial] | switch on call waiting for |
| #43#[dial] | Disable call waiting |
| *#43#[dial] | Display call waiting for status |
| *135#[dial] | Requesting your phone number occasionally doesn't work. |
| *#2663# | Check TSP and TSK firmware upgrade |
| *#272IMEI#* | Verify Product Code |
| *#272*IMEI# | Verify buyer code |
| *#0283# | Review the Audio Loopback Control. |
| *#1111# | software version check |
| *#9900# | Check Dump mode. |
| *#34971539# | firmware update for cameras |
| #7465625*638*# | Check the Network Lock Keycode |
| *#9090# | Verify the diagnostic settings. |
| *#2222# | Hardware version check |
| *#0011# | View the GSM status report |
| **04*[old Pin]*[new Pin]*[new Pin]# | Change the device's PIN. Replace the old and new PINs on your Samsung device. |
| *#004*[number]# | Calls can be diverted to a specific number. "[number]" should be replaced with a phone number. |
| *#004# | Inquire about the status of call diversion. |
| #004# | Turn off call diversion. |
| ##004# | Eliminate call diversion. |
| *#0001# | The Serial Number |
| *#9998*523# | LCD Contrast |
| *#8999*782# | Display Date And Alarm Clock |
| *2767*2878# | Customized Reset |
| #*3888# | Bluetooth test mode |
Conclusion
The Samsung secret code can assist you in troubleshooting your smartphone, whether you need to check the manufacturing date of your Samsung device, enter Samsung technical mode, test the connectivity or unlock your SIM. Additionally, you may be sure that your phone or tablet is authentic if these codes operate.
FAQ
Q1. How can I know if the secret Android codes are working?
Ans. If the secret codes you entered on your phone's default dialer were successful, you will either be presented with a modal or informed by the phone. The phone does not support the code if nothing occurs in the alternative.
Q2.Can I use a code to check the IR Blaster on my phone?
Ans. No, there really is no secret code to check the IR blaster on your phone. By installing the IR Blaster app, you may verify your phone's IR blaster, though.Once installed, a second phone with a front camera is required. Point the IR Blaster of your first phone at the front camera of your second phone. Look at the second phone's display. Your phone's IR Blaster is operating if the display changes color.
Q3. What is the secret Android code for testing the touch screen?
Ans. To check the touch screen on your Android mobile, open the dial pad and dial *#*#2664#*#* as you would any other phone number.
Q4. How do I enter secret codes on an Android?
Ans. Call the code on your phone's dialer app to input any of the hidden Android codes.
Q5. Why does the secret code for Android not work on my phone?
Ans. Not every Android phone will recognize every secret code. Some codes are universal, whereas others are not.