Let's assume you are a Samsung User; thus, you are here to enquire about the mobile installer. You must have seen weird notifications from this app called the Mobile Installer. It might have said regarding processing requests which you don't have any idea about. What is the processing request about? What is this Mobile Installer after all? We are here to discuss the same and clear your doubts. Thus, the readers are requested to follow the article till the end. Thus, they can get some helpful insight into What is Mobile installer?
Basically, the mobile installer is an inbuilt app on Samsung phones that manages third-party apps. It is better to say bloatware apps and not third-party apps. This installer app downloads these apps in the background such that the user has no remembrance of them. Now that we are into bloatware apps, we shall also discuss them and what are those actually. We will also discuss whether this mobile installer is safe or not. And if required, methods to uninstall it.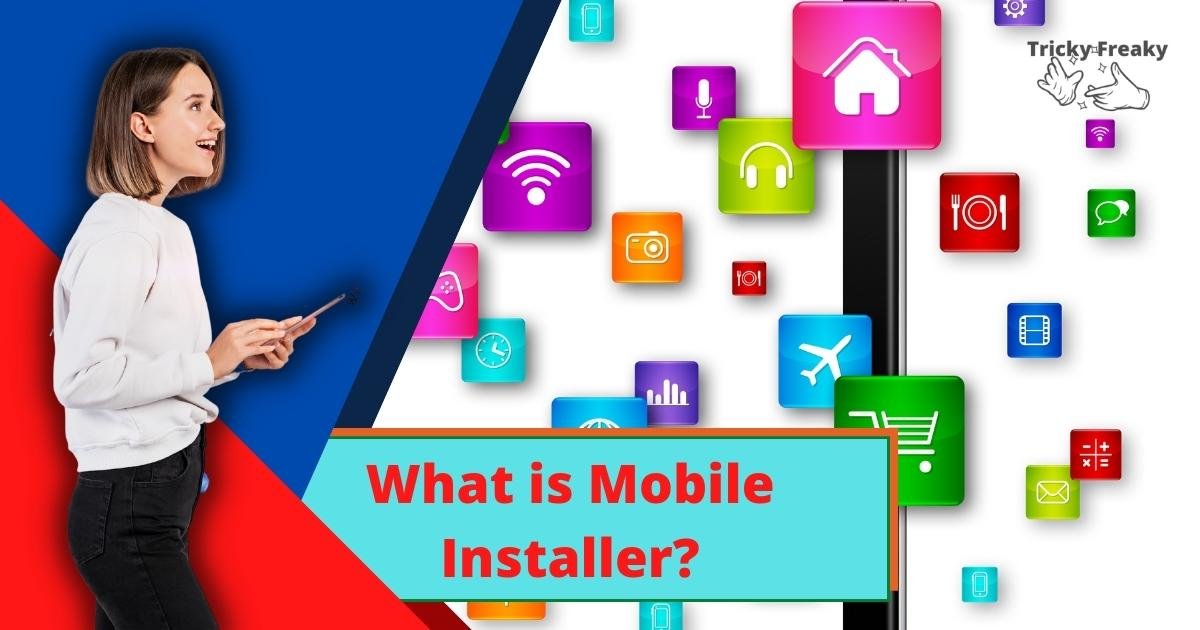 Bloatware:
Bloatware refers to the apps that are downloaded in the background by the installers. Also, these are the apps that come in pre-installed by the manufacturer and are of no use primarily to the user. You might wonder for an instance why would manufacturers pre-install apps that are of no use to the user in any shape or form? The answer is a pure advertisement. The bloatware apps are installed with the purpose of advertisement. These may vary in size but they often take up a lot of space on your phone. They are also difficult to remove.
You need to root your phone which is already very dangerous to your phone regarding malware. Otherwise, you need to bring in third-party apps for your rescue. Bloatware apps run in the background thus, you can force stop them in your app manager. But performing force stops affects the performance of other apps. Thus, it is better suggested to remove them as soon as possible. 
What is Mobile Installer?:
As been discussed previously, the mobile installer is a built-in application in Samsung phones specially in the Sprint model. It is not at all important for your phone to run usually. It is just a step of an advertisement from the app developer and the device manufacturer. And the most important fact is that all this happens without the acknowledgment of the user. For example, if you have ever been notified 'Processing request' from your system's installer. Then your phone has a mobile installer pre-installed on it.
However, the notification is nothing but just the installer downloading an app in the background. Although it is harmless to your phone still why add unnecessary stuff to your phone? As android users must always keep some space in hand to download and install software updates. Now that we know that these apps are not safe and need to be removed. Let us also discuss is this mobile installer safe or not.
Is Mobile Installer Safe?:
Yes, the mobile installer application is entirely safe. Although the app doesn't align with the user's agreements it is not hazardous to keep on your phone. You need to keep in mind that the app is pre-installed and has been in-built by the company Samsung itself. The company would not incorporate any kind of malware into its own device to be sure. And the task that the mobile installer does is just to install bloatware apps without the user's permission. Thus, it is not that it could leak your information anywhere. Though these unconditional installations will fill up the device's space. But other than that, this application doesn't meddle with the user experience. Thereby, the mobile installer is not harmful and is safe to keep.
Now that we have discussed its safety. And though it seems safe, no user would want to keep such an application that will affect the device's storage and user's permittivity. As most of the users are regular people. And they don't have either time or knowledge to keep checking their phones for disallowed installations. Thus, let us discuss whether we can uninstall the mobile installer. And the ways by which we can do so.
Though the mobile installer app cannot be uninstalled directly from your device. But it can be removed by using some out-of-the-way tactics. If you open your Settings and navigate to Application Manager→All Apps→ and then search for Mobile Installer. You can notice that the option to uninstall is greyed out and thus you cannot use it. This indicates that the Sprint carrier of your Samsung device won't allow uninstalling the app directly. And we know it is because the mobile installer is a pre-installed application. Just because the device is running on Stock-ROM which is unrooted, thus we cannot uninstall any pre-installed app. Now that we cannot uninstall it directly, let us discuss if we can disable it.
Can Mobile Installer be Disabled?:
As the mobile installer is an inbuilt app on Samsung's Sprint carrier. Thus, it cannot be disabled. But you can force stop it in the Settings. But if you try to force stop the mobile installer, that is not going to affect the device's integrity much. As it is a pre-installed app and it will start running in the background even after it is force-stopped. Also, on the other hand, if you force stops any app, it also affects the performance of other apps that are useful in your daily life.
Also, there is a possibility that force stopping the mobile installer app, will to some extent affect those apps installed via it. Obviously, that won't be an issue if you are using those apps. Now, you need to keep in mind that since it is a built-in app, thus it will still run in the background even if you try to force stop it.
Anything doesn't seem viable to remove the mobile installer, you must be thinking about what could you do. Now, you can try using third-party apps or rooting your phone to gain administrative access to install or uninstall anything.
How to Uninstall the Mobile Installer application?:
As discussed earlier, you need to root your phone, if you want to uninstall it. Rooting your phone increases the customization of your phone's Settings. And once it is rooted, installing or uninstalling any app is way easier. As soon as the phone is rooted, you have two options to carry out i.e., using NoBloat Free or ADB.
Using the NoBloat Free app:
Firstly, let's discuss how to uninstall Mobile Installer using NoBloatFree:
Step 1: Open the Google Play store on your phone and search for the NoBloat Free app, which is available under TVK development.
Step 2: After reviewing the permission requests displayed on the on-screen prompts, agree to them and grant all the permissions required.
Step 3: Select "Accept" to continue.
Step 4: After successfully downloading the app, open the app on your Samsung device.
Step 5: A specific 'Super User request' appears on the screen. Confirm them by selecting 'Grant'.
Step 6: As soon as you grant the permission, you get access to the home screen of the NoBloat Free app. The home screen includes 4 various functions but we shall mainly work with Backup and Delete & Delete without Backup.
Step 7: Go to 'System Apps', then navigate to 'Mobile Installer' and select it.
Step 8: Now you have two options or choices to select from.
Step 9: If you select 'Backup and Delete' then you can recover back Mobile Installer. On the other hand, if you choose 'Delete without Backup' then it will remove the app permanently.
Step 10: Confirm the selection which will eventually delete the Mobile Installer permanently.
There you go, this was the method by which you can uninstall the app from your device successfully. However, there is an alternate way too to delete the app.
Read Also: How to turn off Android Auto?
Using ADB:
ADB which means Android Debugging is another way to achieve the same. You can use ADB along with a few commands to delete the Installer from your Samsung device. Though this method should not be the alternate one and rather the primary method. As the former method includes rooting your phone which is very risky. Also, no user would want to root his/her phone that too if it's within the span of the warranty. For this method, you need to download ADB on your PC as it is a prerequisite. After you have successfully downloaded the software and it's ready to run then launch it and follow the steps below:
Step 1: Firstly, enable the USB debugging feature on your phone. To do this, Go to Settings→more additional settings→Developer options.
Step 2: Use a USB cable to connect your PC and phone. A pop-up will appear in the notification panel asking for preferences. Choose the preference as "File Transfer (MTP)".
Step 3: Go to the folder where the extracted ADB tool is present. There, you need to click and hold the shift plus right key on the directory name. This will open a drop-down menu, then choose "Open command/PowerShell window here".
Step 4: Now, you need to enter the 'ADB devices' command which will open the ADB drop-down menu which shows your device name on the screen. (It might ask you to grant permission on the phone to authorize the Settings.
Step 5: Now, type in adb shell in the command prompt and press Enter. Then you need to type in again the command "pm list packages | grep '<OEM/Carrier/AppName>' to the list of OEM and carrier apps. Directly copy the package name of the mobile installer and paste it into the notepad.
Step 6: Then type in the command "pm uninstall -k -user 0 <name of package>" and then press Enter. Now, replace the <name of package> with the name in the notepad.
Here you go, the application Mobile Installer is now uninstalled.
Conclusion:
The Mobile Installer is a pre-installed app on Samsung devices in the Sprint versions. It is pre-downloaded by the manufacturer and the app developer for the purpose of advertisement. Its only purpose is to auto download bloatware apps that too without the user's permission. The apps downloaded don't have any previous relation to the user's data or download history. They are just some apps downloaded for the advertisement of the app developer community. Though this is an inbuilt app, it is not a system app. It won't affect the working of the device if it's removed.
This is not malware or spyware, but can surely send some data related to that particular app. It is safe to use by the way. You cannot uninstall or disable or force stop the app as it is a built-in app and will remain unaffected. However, you can only get rid of it by uninstalling it that too via rooting or programming. You need to root your phone to use an app called the NoBloat Free app which can easily delete the app from the system. Or, you can also download ADB on your PC which will then be used to type in some commands to remove the app.
FAQs:
Q.1: What is this mobile installer app?
Ans: Mobile Installer app is an inbuilt app provided by Samsung's Sprint version devices in collaboration with the app developers that carry out auto-downloads of bloatware apps. 
Q.2: Is mobile installer app malware?
Ans: No, the mobile installer app is pre-installed which means it is provided by the company Samsung itself. Thus, it cannot be malware.
Q.3: Is it safe to use the Mobile Installer app?
Ans: The mobile installer app is surely safe to use as it only downloads some bloatware apps and tracks ad-data usage for that particular app. There is nothing harmful in this app.
Q.4: What happens if I force-stop the mobile installer app?
Ans: If you force stop the mobile installer app, then it will still run in the background. Though it is an inbuilt app, it cannot be treated as a system app.
Q.5: Can I uninstall the mobile installer app and how?
Ans: Yes, you can surely uninstall the mobile installer app. But you cannot achieve this normally. You need to root your device that will help you to install or uninstall any app or software. Now, you can use the NoBloat Free app from the Google Play store, which can easily delete the app from the device if you select and remove it. Or, you can try the less risky way i.e. using ADB software. Through which you only need to write some commands and your job is done.