There are many pre-installed apps on every smartphone. You should use these apps because the company that made your smartphone wants you to use them for the proficiency of your device. You might think that some of them are vital, but what about the installed apps that you never use? Because the majority of these unwanted Android apps can't be deleted using the standard uninstallation procedure, they are referred to as "bloatware." Android security researchers have previously been unaware of the dangers posed by preloaded applications. Pre-installed apps have long been viewed by consumers as an annoyance on their smartphones. This article is based on one such pre-installed app known as wssyncmldm. This is a kind of pre-installed app that runs in the background on a Samsung device.
com.wssyncmldm Android App
It is a secure system app that runs in the background, responsible for the functioning of system updates. It always keeps a check on the working of your operating system and software updates. Your Android phone comes with com.wssyncmldm pre-installed, ensuring that you never miss out on software upgrades that enhance speed and security. But you can still turn it off if you find it annoying, as do the majority of people. Your programs won't automatically update if you have disabled this app. It won't even let you know when a new update is available. You must check the Play Store for updates to the app at a regular interval and update it. You can locate this app in the app manager of your Samsung device, most of you have also seen it.
Myths regarding com.wssyncmldm Android app
Most of Samsung android users consider this app malware or insecure for their devices. Let's just break this ongoing myth and know what exactly the truth is. It is not a kind of bloatware that may affect your phone. In fact, it increases the efficiency of your smartphone by auto-updating the apps and system. This pre-installed app is not a topic of major concern.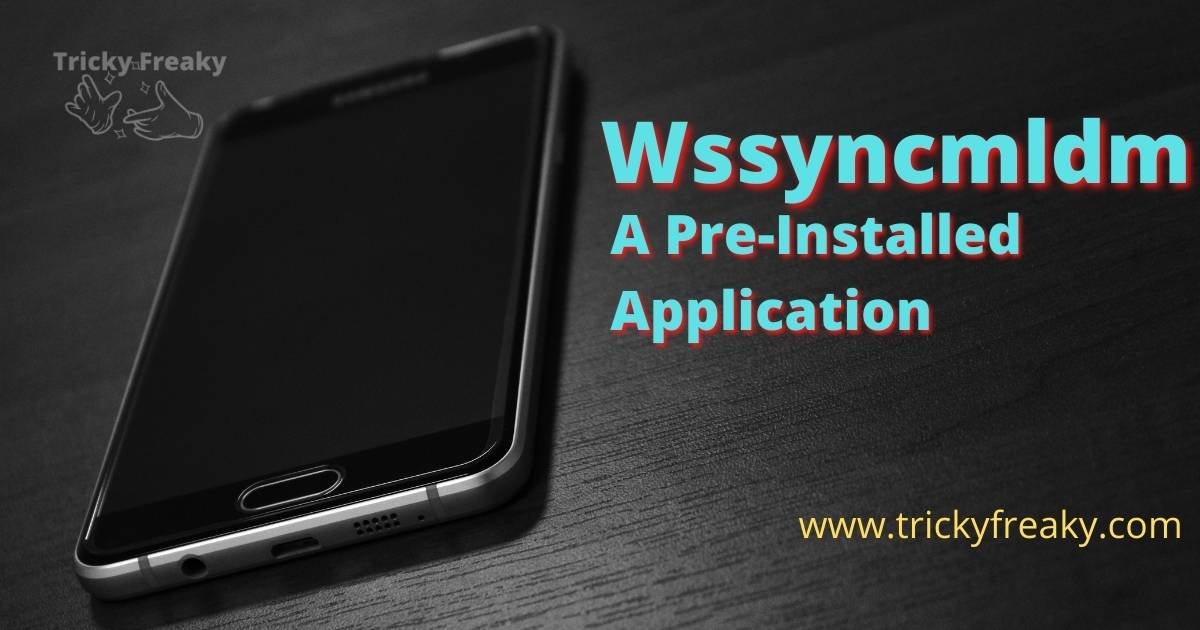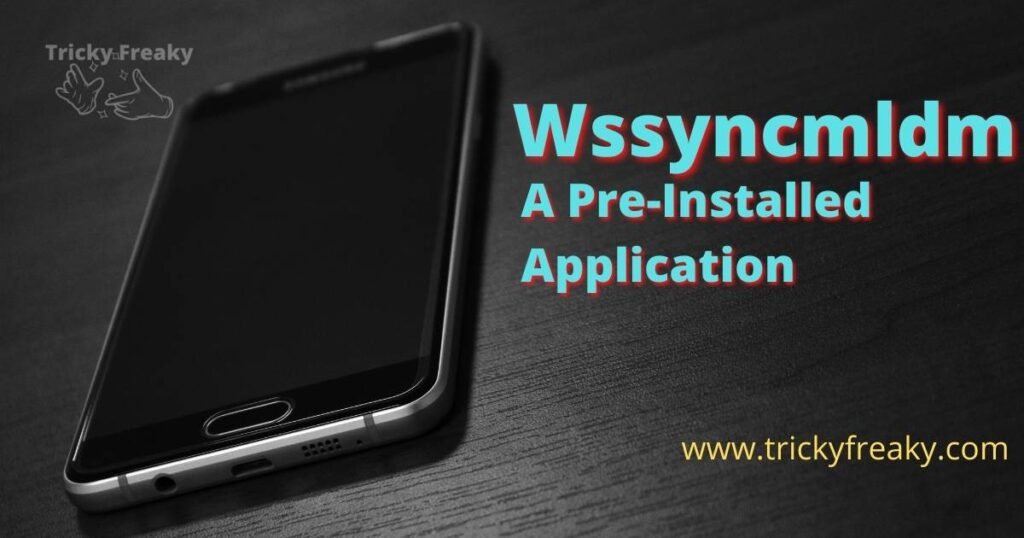 Malfunctioning of com.wssyncmldm app
Generally, the errors in this app occur least often. But once you receive a notification that this app has stopped working unexpectedly, u get a little worried. There's a potential you won't be able to use your device correctly. Dear user, don't get panic as these errors can be fixed. But before moving on to the ways to fix this problem, it is important to know what are the possible source that causes this problem. The possible error sources are faults in other apps or cache issues. You receive notifications again and again, which makes you feel annoyed. Some of you might restart the phone and this solution works. But it's not a permanent solution to fix the errors in com.wssyncmldm. You will surely get into the same problem in the future. So let's look at some other solutions to resolve this error.
Error fixation in com.wssyncmldm app
Force restart: Force restarting is a smart move whenever there is a software issue. All currently operating applications and processes would be abruptly terminated by doing this. The majority of small mistakes and bugs would be fixed. Models and manufacturers may have different methods for forcing restart. Most often, mobile devices like Samsung work the same way, so put your finger on the Power and Volume Down buttons at the same time. When the startup screen comes, let them go.
Force stop the app: There might be bugs or small glitches within the same app. In that case, force-stopping the app might help. How to stop the functioning of com.wssyncmldm;
Go to Settings > All Apps on your phone.
The three vertical dots should be clicked, which are on the right corner.
Choose the Show System Apps option
Look for the package com.wssyncmldm.
Force Stop can be accessed by clicking it.
Tap on the App Storage button.
Click on the clear cache and data option
Restart your smartphone
Titanium backup app: For a while now, Titanium Backup has been among the most well-liked applications available, and for good reason. You can try this app, but your existing files won't be saved. Basically, this app stops the working of the selected app (here com.wssyncmldm). Here is the procedure to use this app;
Get the Titanium Backup application.
Open it and select Freeze after finding com.wssyncmldm in the list.
Update operating system: Updates to your operating system correct potential bugs and security holes and remove out-of-date software that might be causing your device to run slowly. To safeguard your devices and data from cybersecurity threats, make sure that your computer, smartphone, or tablet is running the most recent version of its operating system. Use the below-mentioned method to update your operating system;
Navigate to Settings > About Phone.
Choose "Software Update"
Restart your device
Android debug bridge: You can interface with a smartphone using this flexible command-line tool also called Android Debug Bridge (ADB). This debugging app allows performing various device operations including installing and troubleshooting apps and seeks access to a Unix shell, so you may issue a wide range of commands on your device.
There are three parts to this client-server program:
a client that transmits commands to Your development machine is where it runs. An ADB command can be used to launch a client from a command-line terminal.
A device's daemon (ABDB), executes commands. On every device, it functions as a background process.
The daemon and client's communication is handled by a server. The server operates on your development PC in the background.
How to use this app to disable the com.wssyncmldm app:
(There are a few prerequisites in order to use this fixation method which includes a PC or laptop, an ADB tool, and a data cable)
Go to the Settings option on the device, find out and choose select System, under the selection option go for selecting About Phone.
Tap seven times to activate Developer Options.
Select Developer Options once again after returning to the default settings.
As soon as you locate it, tap on USB Debugging.
On your PC, install ADB.
After extracting the contents of the provided zip file, move the contents to a new folder.
In the new folder containing the extracts, right-click while holding down the Shift key and selecting an empty area.
Tap on the Open PowerShell Window Here option to start the PowerShell window. If you have an older version of your windows, then you must open a command window.
Make sure the USB mode is set to File Transfer before using a USB cable to connect your phone to your computer.
In order to get the final result, write ADB devices in the window.
You will notice a popup for USB debugging on the screen of your phone. Press OK to access the final execution.
Then write the required command as ADB devices in the window. The PowerShell Window ought to now display the device's serial number.
Enter the ADB shell pm disable-user -user 0 com.wssyncmldm command in the l window to execute the process of uninstallation of the com.wssyncmldm app from your device. Hopefully, you will not receive any kind of error from this app.
Droidkit app: Our smartphones do occasionally experience issues, such as apps that constantly crash, touch screens that abruptly stop working, phones that won't charge, etc. You could always attempt to address these issues yourself, but one of the benefits of DroidKit is its capacity to do so in a matter of minutes. It is a tool used for repairing system apps. You can make use of this tool to fix errors in com.wssyncmldm android app in the following ways;
visit the Droid Kit webpage.
Locate the download button on the display.
After clicking it, wait for the software installation to finish.
Start it
To your PC, attach your Samsung phone.
Select "Fix System" from the menu.
From all the available options, select Start.
You need to switch to download mode by following the protocols given during the process
Install the firmware file shown on the screen of your smartphone.
Dr.fone tool: it is a one-click android repair tool that fixes the system bugs and other issues in the apps. You may quickly and easily solve all types of Android system issues with this system repair app and restore your device to working order. The most crucial thing is that you can take care of it on your own in less than 10 minutes. Here is you can fix the error with this tool;
Check out the Dr. Fone website.
On the display, look for the download button and tap it
Await the application installation
Connect your smartphone to your computer.
Select "System Repair" from the menu.
Re-tap Repair to confirm.
In order to enter Download Mode on your smartphone, follow the onscreen prompts.
The firmware file that displays, and downloads it
Rooting your device
You can completely gain access to all the files and data on your smartphone once you root your device. To remove any sort of malfunctioning pre-installed applications, you must choose this method. If a user decides to root their phone, this implies that their user privilege is increased, giving them the ability to change any files, and it's even possible that they may accidentally delete highly crucial system files. Smartphones are not rootable by default due to this.
Is it possible to uninstall com.wssyncmldm?
No, it is not possible to permanently remove this app from your device. It is one of the system apps and functions differently from the rest of the apps, but you can disable this app if you have root access. Yes, if your Android device is rooted, you can disable com.wssyncmldm using the Android Debug Bridge, which is explained earlier in this article. You can also take the help of a package disabled. But since the operating system uses this software for automatic updates, as was previously explained, we do not advise disabling it. Your device won't be able to check for automatic software updates if you freeze or uninstall the app, so you'll have to use the manual checking method instead.
Read Also: All about Carrier hub processing requests
Conclusion 
Com.wssyncmldm is helpful for ensuring that your device receives the right updates. Apps that aren't updated will eventually stop functioning properly if you keep using them. Therefore, always update your apps. Any issues with the com.wssyncmldm app on your phone should be resolved. Using the aforementioned techniques, you can quickly fix the application's faults without having to get in touch with the developers.
Q1. What is wssyncmldm in my Google activity?
Ans. The majority of wssyncmldm instances occur on Samsung Android smartphones. Due to this, Android uses it as a pre-installed system software to check on and monitor the system and other apps. On Google activity, it represents the process of updates running in the background.
Q2. What are the security risks involved in pre-installed apps?
 Ans. Pre-installed programs frequently contain third-party libraries that are offered by advertising networks, analytics services, or social network providers. These libraries are challenging to reverse engineer and analyze for security vulnerabilities because they expose the provider and its clients to sensitive data and meta-data. It can be challenging to determine who created third-party libraries and preloaded apps. Only two methods—rooting the device and reflashing the system partition, or an OEM firmware update—can remove pre-installed apps.
Q3. What is Incallui in my phone?
Ans. All the necessary files and codes that are required for the calling interface are included in the Android software called com.android.incallui. You may manage your cell phone and other calls using this interface. The UI has options for recording the call, holding the call, adding another Call, Disconnecting calls, Video calls, speakers, and many more. You need all of these buttons, as you presumably already know, to manage various facets of a phone call.
Com.android.incallui is a significant component operating system as it performs major tasks related to calling apps. The majority of Android devices are cell phones, therefore they must occasionally handle phone calls. All the minor and major tasks are made possible with so much ease, all thanks to the incallui interface. The in-call User Interface's various features are displayed using the incallui app. When you use your Android device to make a call, you can see the User Interface displayed on the screen of your phone. The Call button, Record button, Add call button, Hold button, End button, etc. are the basic components of the program, despite the fact that the details and design may differ from manufacturer to manufacturer.