Want to learn all the services that are provided in Apple TV Plus? Want to find out if the Apple TV Plus is good enough or worth the money? Want to know what are the goof shows in Apple TV Plus? Click here to find out the complete guide of detailed knowledge about Apple TV Plus.
Apple has grown a lot as a company. From the company that started as a garage that made computers to the revolutionizing the modern smartphone industry. In these years, Apple has grown into such a multi-billion-dollar empire that it is even setting its foot in other industries and platforms, where it is a relative newbie.
Apple TV is a streaming platform that introduces users to hundreds of Apple TV Plus original content and shows. It was introduced in December of 2016 and was given in iOS and tv OS. It was the first step of Apple stepping into the widely popular streaming services competing for the bigger names like Netflix or Amazon Prime Video. Although it has yet to become that big.
Apple is long past the company that made just iPhones and iPods, they are growing to build up a bigger more powerful market. The unique point of Apple's services is that they are not limited in the set of devices that you buy them in. It will be part of the Apple Ecosystem. If you have or own multiple Apple devices you will be able to enjoy multiple services across platforms and live up to their fullest potential. When you buy Apple TV Plus you can enjoy it across platforms like on your iPhone, iPad, Mac, and if you own an Apple TV.
In this article, we will answer all of your queries and inform you about Apple TV services and the new Apple TV Plus subscription services. Let us see, what the Apple TV service provides us with and how to get them on our iPhone or iPads? Excited? Let's see the details.
What is Apple TV Plus?
Apple TV plus is a streaming subscription plan produced by Apple which holds unique shows and movies that are named Apple Originals and cannot be found or streamed anywhere else. You can find the Apple TV app on your iPhone or iPad, be not confused as the names of the apps are somewhat similar but they are there for different purposes. It is evident that there is confusion in the services so we will explain all the services in the Apple TV later.
Apple TV Plus is a direct competitor to popular streaming services like Netflix, Amazon Prime Video, and Hulu. Its shows are awarded multiple Emmy awards in the first year of its production. It does not have any in-app advertisements or promotions other than Apple's ads. It has an overall cost of $4.99 for a month in the United States. You can also get a 7-day free trial with this, if you need a better more rigid plan for your Apple TV plus then you can opt for the more pleasantly available annual pack of $49.99.
Apple TV plus does not have any other content or shows or movies other than Apple originals. Don't be alarmed there are some great shows in Apple Originals and all the shows are high budgeted with extremely good critical reviews. But you won't find the latest movies of your liking here. You will not get to use it like other popular streaming brands like Netflix, Hulu, or Amazon Prime Video. There is a large number of shows and movies which are unique and never seen before in any other streaming service. This is why you might want to invest in the Apple TV plus.
What are the Apple TV Services?
Apple introduced the Apple TV app back in 2017 on the iPhone and introduced many new features over the years. Apple added the Apple TV plus service in the year 2020, and since then has made changes in the same app to keep both the features interactive and workable. There is also a physical Apple TV that Apple sells so there is a broad spectrum of products and services that Apple sells so you might get confused in this, but don't you worry, we will show you the detailed differentiation and description of each of the Apple TV Services:
1) Apple TV (Set-top-box product):
This is a physical TV product that Apple introduced to the market through the household cable channels of the world. It is a set-top box type device that gives users cable and TV channels that are broadcasted worldwide. It runs on tv OS and can only be controlled by Apple Remote and Siri remote or some of the other third-party infra-red remotes or applications. Its most unique feature is that it allows you to play other streaming services and popular services on itself.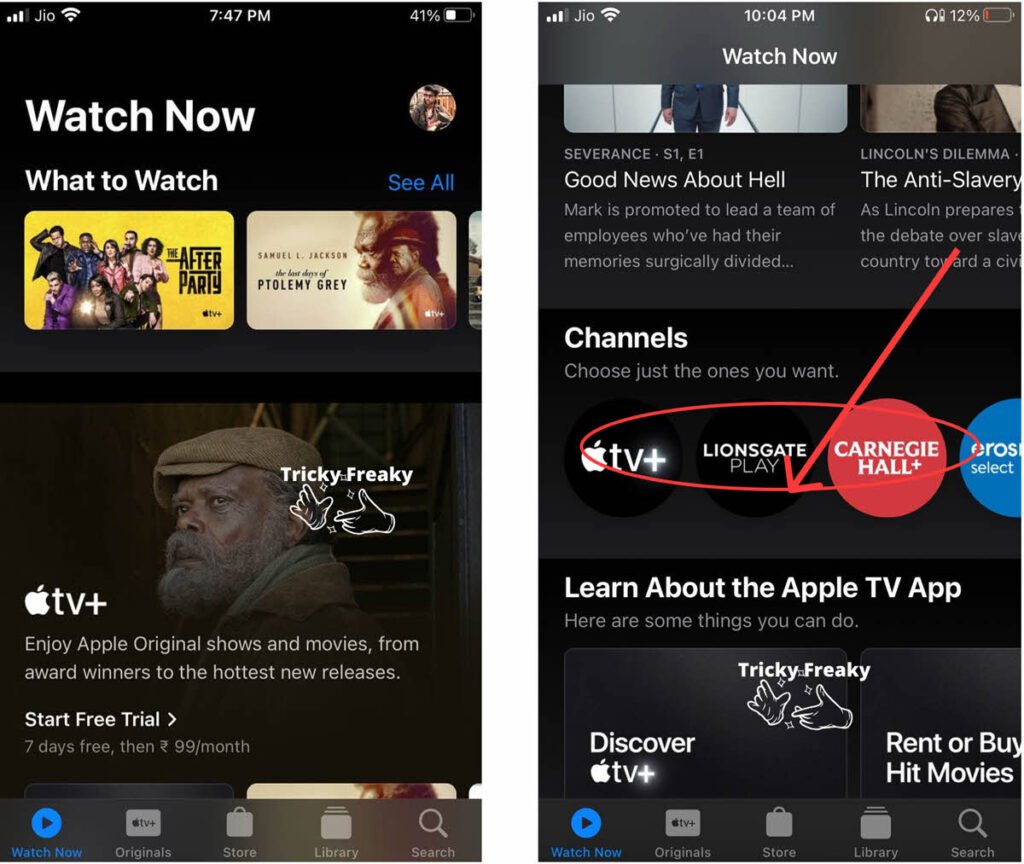 This is to popularize and bring all your streaming services into one roof so you can play them as you like them. You can use this set-top box to stream videos and songs from iTunes, Netflix, Hulu, Amazon prime video, or any other streaming service that it may allow streaming on it. There is an HD model and a 4K model available from which you can choose from and buy from the nearest Apple Store. You can also play both Apple TV App and Apple TV Plus on the set-top box.
2) Apple TV app:
This is the App that you can find on your iPhone, iPad, or other Apple products. It is a free app or service that allows you to stream through a variety of content or channels from different platforms and services to be played in them. You can also enter or use Apple TV Plus and get all the Apple original content and shows from this app. It has several very popular channels like Lionsgate Play, Carnegie Hall Plus, Eros Now Select, Taste Made, and many more from which you can subscribe and play them to watch live.
You can pay for them monthly and be available for them right from the Apple TV app which will automatically deduct the channel fee every month. You can also rent popular movies and shows for a month or you can buy them to get them permanently in your library. The app will already be present in the Apple TV set-top box and all newer iPhones, iPad, or iPod Touch.
3) Apple TV Plus:
This is the add-on subscription service model that is provided by Apple on the Apple TV App. You can use this to browse through the various Apple Original Shows and Movies. New shows and movies are added every month and growing every day by day. These shows are produced by Apple. You can access movies and shows of every genre and with very famous actors.
What are the countries where Apple TV Plus is available?
Currently, Apple has the Apple TV Plus streaming service available in over 107 countries across the globe. The companies that it is not available in have been streamlined with Apple TV app where they might be able to see other content or channels. If you are from the countries that have Apple TV app but do not have Apple TV Plus then you will not be able to get the streaming service.
Apple does claim that it will subtitle every Apple Original Show to almost 40 channels and will try to make dubbed versions to be available too. For people who are physically disabled like Deaf or Hard Listeners, they will provide closed captions. Some of the countries that do not have Apple Plus available in them are Turkey, Romania, South Korea, etc.
What is the Price for Apple TV Plus?
Apple TV Plus is the streaming subscription service of Apple which you can use to stream Apple Original content right on your iPhone or any other Apple device. Naturally like all other Apple devices, they are deemed to be expensive and come with a decent charge that is available to you. The Apple TV plus monthly plan cost you a price of $4.99 and if you choose to buy a subscription with a one-time payment that will go on all year round then you can choose the annual pack of Apple TV Plus for the price of $49.99.
This will get you all the Apple TV Plus original content and shows at a jam-packed price. But if you want to buy the channels that are given on Apple TV app then you will be needed to buy them individually. You cannot get those in the packs. This is also for the movies and shows that are available for buying or renting on Apple tv App.
The Apple TV Plus is generally available at the same price as given above for around the world. But in some countries where price ranges are different there the Apple TV prices are a bit different than others. Here are the some of countries with different apple price points and their costs:
For the USA $4.99 per month.
For Canada $5.99 per month.
For India, it is Rs. 99 per month.
For Europe, it is 4.99 Euros per month.
For Australia, it is 7.99 Australian dollars per month.
Is the Apple TV Plus Worth it?
As Content:
Well, this depends on you and how you are as a user. It depends on what your needs as the user is if you need immediate fresh content which is made by one of the best people out there in Hollywood with high production budgets. Also, to notice that Apple Original content can be found nowhere else but Apple TV plus. If you are looking for something like this or if you have an eye on some of Apple's new original shows, then maybe Apple TV Plus will be useful and engaging to you.
But you will not find any new blockbuster movies and shows here. You will not find popular shows like The Office or FRIENDS here because this is a place of only Apple Original content. This might be a big turnoff for some people as they like some diversity in their content and sometimes just want to rewatch old classics that they find enjoyable.
As Price Point:
The Price point of Apple TV Plus is Ok, to be honest, you will find some great content here but the appealing part is the media sharing. You will get for the price of $4.99 media sharing with 6 of your family members. This means your 6 friends or family members can also use the Apple TV plus with the same account. This is a good thing and appealing to the masses.
If you use other Apple Services like Apple Fitness or iTunes, we suggest, that you should go for the Apple One plan instead of Apple TV Plus. Apple One is a bundle of all Apple Services under one plan and gives you iTunes, Apple TV Plus, Fitness, Apple Arcade, and even services with large iCloud storage. Apple One is available in three plans. The Plan with iCloud 50 GB costs $14.95, and the prices and services go up accordingly.
How to get a free trial of Apple TV plus:
Let us see how you can get a free trial of 7 days in Apple TV Plus:
Steps: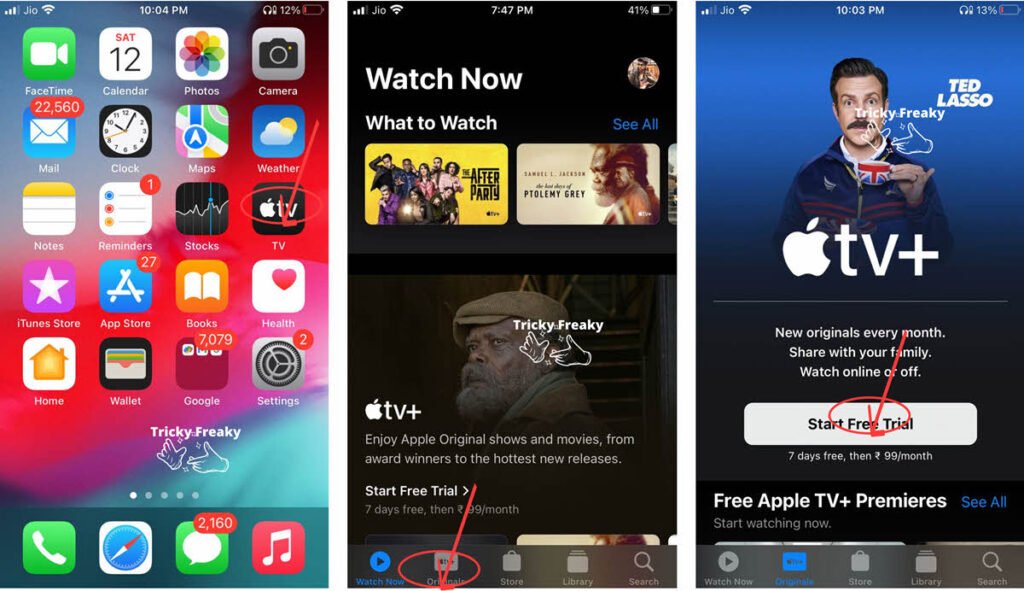 Go to the Apple TV app.
Click on the Originals quick Access bar given below the app.
Click on the Start Free Trial button.
Make your Payment options and Touch ID.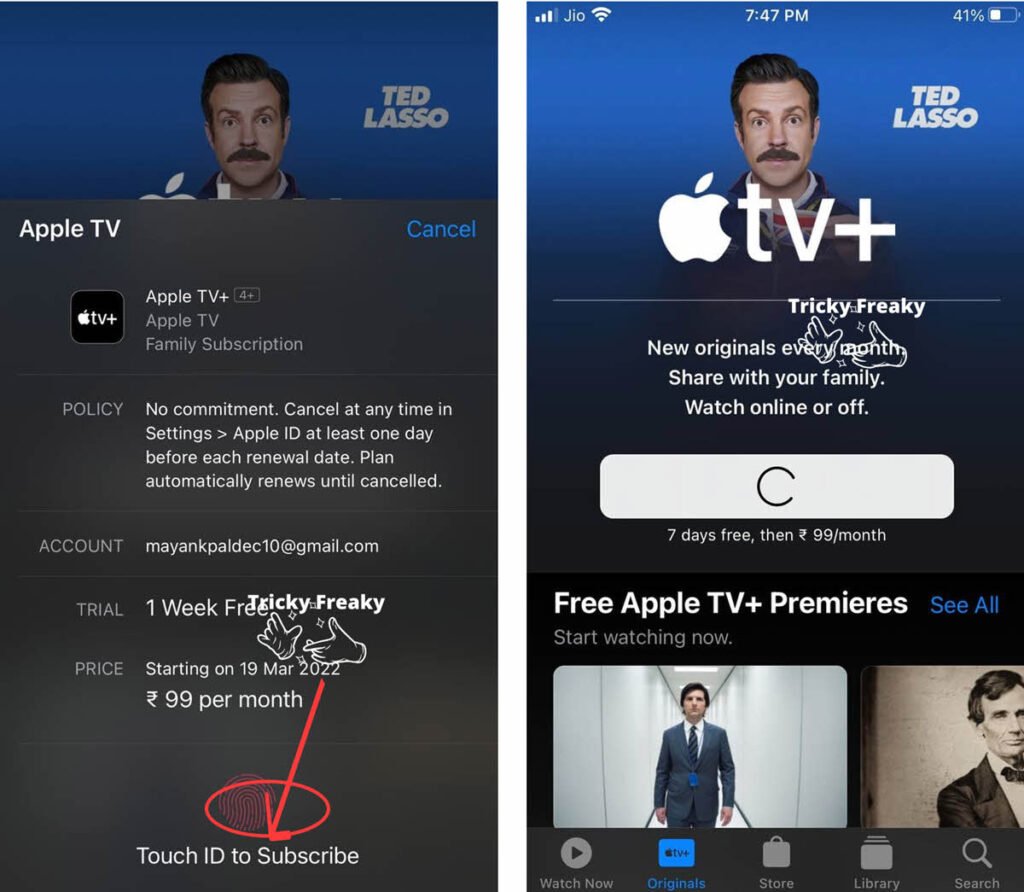 By Following this you can successfully be able to get Apple TV Plus for free.
Conclusion:
I hope this article explained to you everything about Apple TV Plus. Check out the FAQs given below for more details.
FAQ:
Q.01) Can I download content in Apple TV Plus?
A.01) Yes, you can download all the shows with all their subs and dubs.

Q.02) Is Apple TV Plus available on Amazon Fire Stick?
A.02) Yes, it is available for Amazon Fire Stick.