Widget is typically an extension of the software app. It is the most popular function developed by Apple for its users. The user also likes that widgets before these software developers add useful, attractive widgets to a better experience of the iPhone. Nowadays, multiple widgets become available free of cost. Health, weather, sports, stocks, finance are a few examples of existing Best iOS widgets.
Widgets give extra volume to your iPhone. You can customize the screen, increase the functionality of the iPhone, and obtain relevant information without launching an application. We have found some issues on the widget: Black Widget on iPhone, check it out if you want to fix it.
Widgets make our life easy, and you don't have to remember anything; your iPhone gives a reminder for everything. Our iPhone has become more attractive, beautiful, and easy to handle due to hundreds of widgets developed by apple.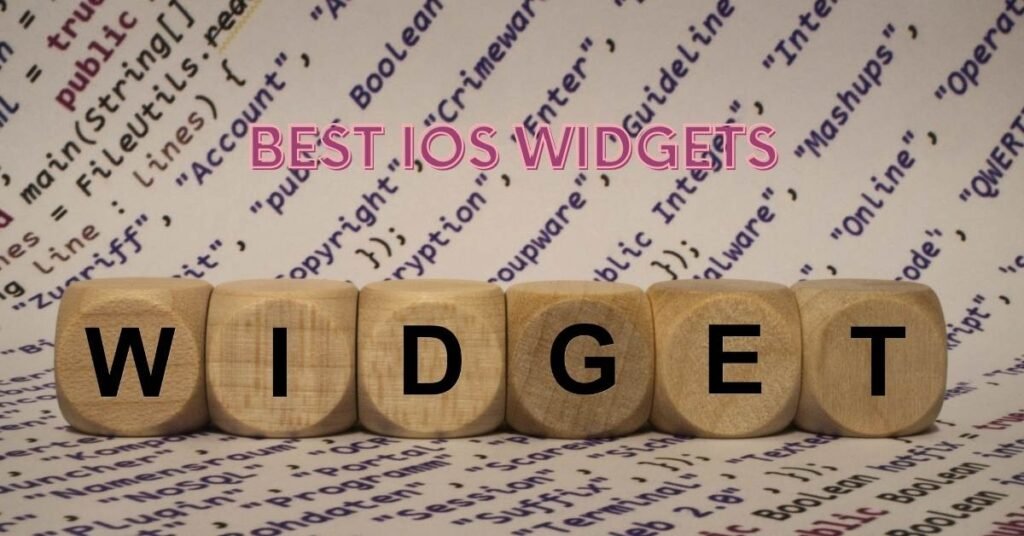 In this article, I'll explore the best 40 Best iOS widgets for your iPhone, iPod, or iPad that will give you a fantastic experience. These all widgets should be on your device to make your life easy. Also, learn How To Add Widgets To iPhone.
1. Freeletics
If you want to maintain fit and healthy, you should do some yoga or workout. So, you should have at least one app on your iPhone. Freeletics is the best fitness app for fitness lovers. During this covid, all people become more caring about their health. So, work out and stay healthy.
2. Calm
During stressful life, you have to relax your mind to be happy. So, a calm app is developed for relaxing from stress by meditation, and it gives inner peace and keeps you optimistic.
3. Sports alert
Sports is the most common hobby of youngsters. Sports include hockey, cricket, football, volleyball, tennis, etc., so, you may love to be updated about your favorite sport. For this reason, you can put a sports alert on the iPhone for easy tracking of sports news.
4. Launcher
Launcher is an app launching widget, and the launcher mainly organizes the home screen and app icons. Many launchers are made available by apple-like launcher os 11, launcher ios 13,x launcher, etc. These launchers are pretty similar. The latest launcher update is launcher 5, which gives a fantastic way of handling your home screen.
5.Triplt
Every person loves traveling, but they become irritated by the processes of reservations, confirmations, tickets, etc. Triplt is the best option for you because it organizes, manages, and tracks itineraries without creating any trouble in your whole trip. If you want multiple trips in a short interval, Triplt is a treasure.
6. Color – Best iOS widgets
Color widgets arrange the date, time, battery percentage desirably and beautifully. This widget comes with free icon sets, which can be edited, and we can change fonts, designs, and background photos of icon sets.
7. Heyweather
It is a weather detecting app. you can get weather information from any desired location. It is not similar to other weather detecting apps; it gives you accurate weather with lots of customization on the widget.
8. Calorie
A "Calorie" is a health app that can be downloaded from the iPhone's App Store. Calorie burn calculations are the most crucial factor if you wish to lose weight. Calories suggest calculating calorie burn depending on your height, weight, and daily activities.
9. Sticky Best iOS widgets
The sticky widget is the most notable feature of ios 14, and it beautifully customizes your home screen.
Press and hold on to the empty part of the screen, so you enter the home editing page. Now, press the "+ "button and select "sticky widgets" from the list.
10. FindMy
By using the find my app, you can easily track the location of friends or family members. You can share your present location just from your home screen easily.
Do not miss: Can You Hide Apps On iPhone?
11. Streaks
Streaks app tracks your work or goal in step by step manner. You have to collect all your tasks in a list, and streaks will keep an eye on all your assignments. It also sets timers for your task list.
12. Health app sleep widget
To keep your body healthy, you have to get sufficient sleep. This app monitors your sleep activity and keeps track of your respiratory rate, blood oxygen level during sleep, and it also indicates how many hours you spent during sleep.
13. Overdrop weather
Overdrop weather gives weather forecasts in detail from weather experts like Accuweather and weatherbit.
14. Apollo for Reddit
Apollo can help save time and give a better experience of browsing. It allows the facility to move from one subreddit to another using the jump toolbar feature.
15. Motivation -daily quotes
During a struggling time of life, we require positive thoughts for getting confident and happy. It gives daily inspirational quotes of celebrities or historical figures depending on your selection of quotes. we need support and courage to hang on and breathe during tough times, so it is a helpful app
16. Yahoo finance
Nowadays, the stock market is tempting youngsters. The stock market gives more money without hard work, but you have to invest smartly. Yahoo finance is a better widget for these youngsters, and it offers ideas about the current market share value and helps you make more profit.
17. Daily budget original
As per the name, the daily budget initially keeps records of your income, expenses, and savings.
18. Usage
Usage shows requisite information about storage, ram, data usage on the screen of your iPhone. It is a suitable app for checking storage only by looking at the screen instead of going to settings and scrolling.
19. Shazam
It is a music app. you can discover new songs and add them to your library by tapping on the screen. You can also listen to trending themes in this app.
See also: Add folder to iPhone
20. Photo Best iOS widgets
Photo widget is generally a slide show of your images. Put all your favorite pictures into a photo widget, select a timer and then put the widget anywhere you want. You can see your favorite photos without going to the gallery.
21. Minimonth
Minimonth is simply a calendar that shows dates attractively and colorfully. You can alter the theme dark, mode, light mode to make the calendar as you like.
22. Vocabulary
Vocabulary is the most common app used by students. This app gives each day a new word with its meaning, which increases our knowledge of the English language. If you are weak in the English language, this app will help you. More understanding of words and better sentence framing can be possible.
23. Foodnoms
Working out is not enough; you have to eat nutritious food every day. foodnoms is a meal tracker app, and it measures the amount of alcohol, caffeine, and water you take. If you want to stay healthy and fit, this app gives you weekly and monthly meals charts.
24. Night sky
If you like to journey into the world of the planet, then using the night sky can be possible. The main objectives in this widget are the sun, stars, and the satellite. We can learn about all the planets only by clicking on that planet. This widget is handy for students who love to study at night guests. You can also check the rise and set time of the sun and moon.
25. Screen Kit
Screen Kit gives hundreds of themes and thousands of icons to customize your home screen. You can also make changes to your screen as you love.
26. Habitminder
Habit Minder is the best app for forgetful people. Hamid minder is a reminder for your activities. It gives you information about a healthy diet and offers many positive habits that you forget during your busy life. It also calculates your hydration status, breathing, calorie burn, etc.
27. Headspace
Headspace displays various mindful activities during different times of the day. For example, the morning demonstrates meditation exercises, and in the evening, which is a mood changer for us. If you are feeling stressed, then activities given by headspace make us relax and happy. Headspace should be in your iPhone.
28. Waterlama-Best iOS widgets
Water is an essential ingredient for human life. Dehydration causes many health issues. During busy life, we forget about drinking sufficient water, and we only drink water after meals and forget other times. So, waterlama is a reminder for you. It ensures that your water level is as high as possible.
29. Noted
Noted is a collection of your thoughts and ideas. If you are a writer, this is a helpful app. It saves all your data neatly and saves your time.
30. Subtract
Subtract manages all online subscriptions and sets reminders to avoid missing any due date. Subtract has 300 pre-listed services
31. Siri suggestions–Best iOS widgets
Siri's suggestion is the most useful widget for users. It arranges the most used apps by users into two rows on the home screen. So, users can quickly access them. It is the most loved gadget of the iPhone.
32. Didgeridoo
Wingerd is most important in the creation and customization of a widget, and it arranges devices in a very good manner.
33. Spotify
Spotify is a music app. You can listen to your favorite song anytime, anywhere without downloading it. You can also make a playlist of your favorite songs.
34. Widgetsmith
WidgetSmith gives you the freedom to customize a widget based on your preferences. It can create a device that displays different data types in the afternoon and health data at night.
35. Screen time
Screen time gives a simple way of tracking activities running on your screen. It is pre-installed on iOS 14 and above devices, and screen time displays how much time you spent on a particular app.
36. Good task
The excellent task has advanced technology of managing daily and weekly projects. So, you need not worry about remembering it. It offers a checklist for all your tasks exquisitely and neatly with a calendar.
37. Merriam-webster word of the widget
Merriam increases your vocabulary to the next level. It displays each day a new word. If you installed this widget, then it will be worth it. You will never delete this widget because of its usefulness. So it is one of the Best iOS widgets.
38. Fantastical
Fantastical is a calendar with advanced features. It indicates day, date, weather forecast on only one screen. You can also add your upcoming event into that calendar to remind you to prepare. It is the best widget to keep in your widget list because of its simplicity and usefulness.
39. Spark mail
Spark mail collects all email accounts together for easy management of emails. Handling mail becomes too easy and fast by using this widget. It also highlights the newest mail, so your time saves.
40. Things 3
In the "Things Three" widgets, you should mention your to-do list. Things 3 highlights essential work first and after that other work to do. Nothing will be missed if you include item 3 in your widget list.
Conclusion
Nowadays, widgets are an essential part of the iPhone. Due to the innovation of intelligent widgets, our lives have become more and more straightforward. For example, generally, we may forget about our health during busy schedules, but these widgets remind us every time; so, we need not worry about that.
The above Best iOS widgets are very convenient and contain valuable features. You should install all widgets into your device for a fantastic experience. And do not miss: How to change the color of your Apps iOS 14?
All the widgets mentioned above are free of cost and can be easily downloaded from the app store without any investment.