Want all those games you played in your childhood again! You can play all of them and the ones that you missed, right on your iPhone. Click to see how to download emulators for iPhone and also find the list of the best emulators in the market.
Remember those good old days, when you rushed home after a long rough day at school to play your favorite video games sitting on your couch, Nostalgic! Right. With us growing up we lost that feeling, we got busy with our work, responsibilities, and family. But that feeling of making the jump on Crash Bandicoot, stomping on the Goombahs of Mario, and catching all of those legendary Pokémon will stay with us forever.
But what if we told you, that you can play all of your favorite retro games right on your iPhone. It would be amazing right? Well, you can do just that with the help of emulators and ROMs. You can play all your favorite games on different platforms like N64, PSP, Sega, Atari, etc. on your iPhone for free. Excited? Then Let's dive in to see the details.
What is an emulator?
An emulator is a piece of third-party software that imitates a video game console. It can run multiple games on different platforms without the physical need of a console's hardware. It also doesn't need physical copies of video game disks or cartridges to play those games, just a software version of their data is enough.
An emulator is third-party software and is not licensed by the company of the game console it emulates. It is not illegal to have an emulator or to create emulators. But that does not mean they are as easy to get as to download just from your Appstore. Don't worry, you don't need to Jailbreak your device or compromise your iPhone's integrity, it's pretty easy to execute.
What is a ROM of a video game?
A ROM is a software version of your video game disks or cartridges. They are used in emulators to emulate that game and play it. Distribution and holding of ROM of video games that you do not own are illegal.
But many websites use ROMs very freely and also promote them, ROMs of the video games that you don't own or have not previously owned are illegal and we advise you not to do it. But if you own the game and just want to play them on your iPhone, then you can get them from any website that distributes free ROM files.
How to get emulators for iPhone?
Apple does not allow to keep emulators on Appstore, but there are other ways to download a video game emulator on your iPhone. Let's see some of the techniques you can use to download emulators on your iOS device.
Note: Trickyfreaky's site content or the author is not responsible for any type of loss. This article is only to gain knowledge of emulators for iPhone. Every site has its disclaimer, we too, go through it before taking any risk.
Download iPhone Emulator from other App stores:
There is a multitude of other websites that allow you to download any emulator you want on your iPhone. You will have to trust the downloaded file's developer in your settings to continue the installation. But Apple does not allow apps to be present on your device without them occurring in the Appstore first, thus they more than often revoke these emulator apps.
Revoking an emulator app means, stopping the app from working by revoking the developer's "enterprise certificate". This is troublesome as after the app gets revoked, you might have to reinstall it and your progress in the games you played on the emulator might also get deleted. Also, sometimes it takes weeks before the developer can get back a new enterprise certificate. During this period, even if you reinstall the game, you might not be able to run the app.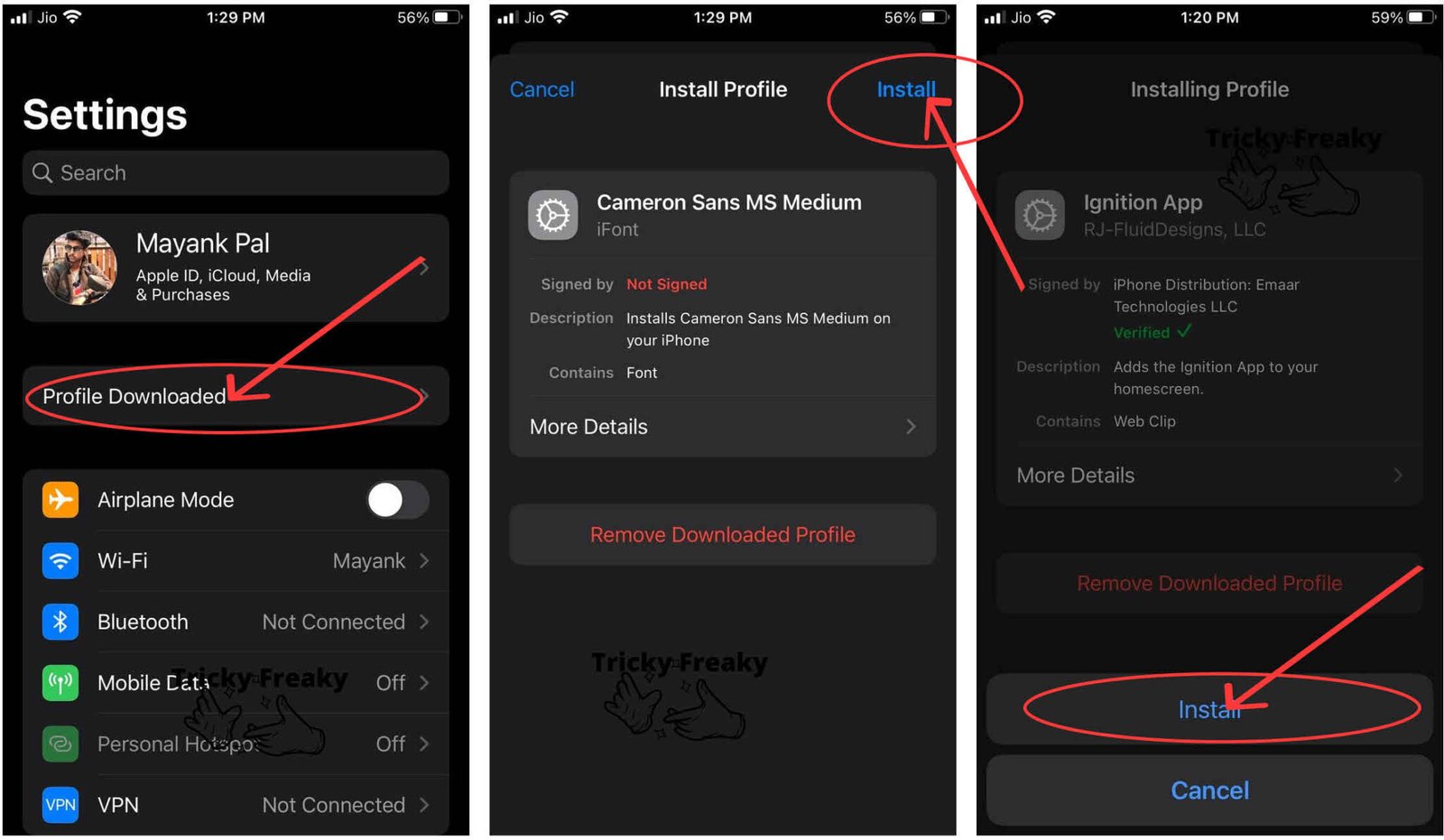 But anyway, using third-party websites for emulators is the best option for you, if you want a free and quick alternative to playing these video games on your console. Go to any website named below, search the emulator you want and download the app from there. Here are some of the famous third-party Appstore websites:
Ignition.com
TweakBoxApp.com
OPERATIONiDROID.com
iEmulators.com
You will be asked to allow the profile of the emulator to make it work on your device. Click on the Install pop-up and go to your Settings > General > VPN & Device management, select the emulator with its developer, and then click allow or trust this developer. Your app should now successfully be installed on your iPhone. If the app is unable to install it might be revoked, try another emulator then.
Download Permanent Emulators using AltStore:
So, this is a very cool way, with this way you might be able to get the emulators for free and without stressing about the app getting revoked. This technique is done by using the AltStore app, it acts as a code compiler that makes you compile apps on your iOS device as you as their developer. In simple words, you will be stated as the developer of the emulators and thus the app cannot be revoked.
You will need a computer or Mac and an internet connection to do this step though. So, if you're ready let's see how to do this:
Steps:
Download and install AltServer on your computer or Mac from the official website.
Keep your Pc and iPhone connected to the same Wi-fi network.
Use the iPhone charger cable to connect it with your PC.
Open the iTunes app on your computer (Finder in macOS Catalina) and switch on the option of syncing your iPhone over Wi-fi.
Launch AltServer and then from the menu bar install AltStore on your iPhone.
Then you will have to log in with your Apple Id and Password
If you are using a Mac, then follow the prompts to activate the mail plugin
After a while, the Altstore app should be installed on your iPhone.
Go to your Settings > General > VPN & Device management, select the emulator with its developer, and then click allow or trust this developer. Your app should now successfully be installed on your iPhone.
Use the AltStore app to download any emulator you want. We would suggest you install Delta as it is a powerful multi-platform emulator.
How to download a ROM file on your iPhone?
Downloading ROM files that you do not own is illegal and we strongly advise you to not do it, as it supports piracy. But if you want to download your favorite games that you already own on your emulator to play on your iPhones. You can do it by following these steps:
Steps:
Go to Safari and search for the ROM of the game you want (For example Pokémon Advanced).
You can choose from different sites like freeroms.com and gameroms.com to get your video game's ROM file.
Download the file and share them with the emulator file of your emulator.
Play the game.
What are the best emulators for iPhone?
Now that you know how to download your emulators, Let's check out the best of the best emulators that are present currently in the market for your iPhone. These emulators can run games on multiple platforms and are very convenient to use. We have selected the top emulators and presented them to you. Thus, these are the best emulators for your iPhone: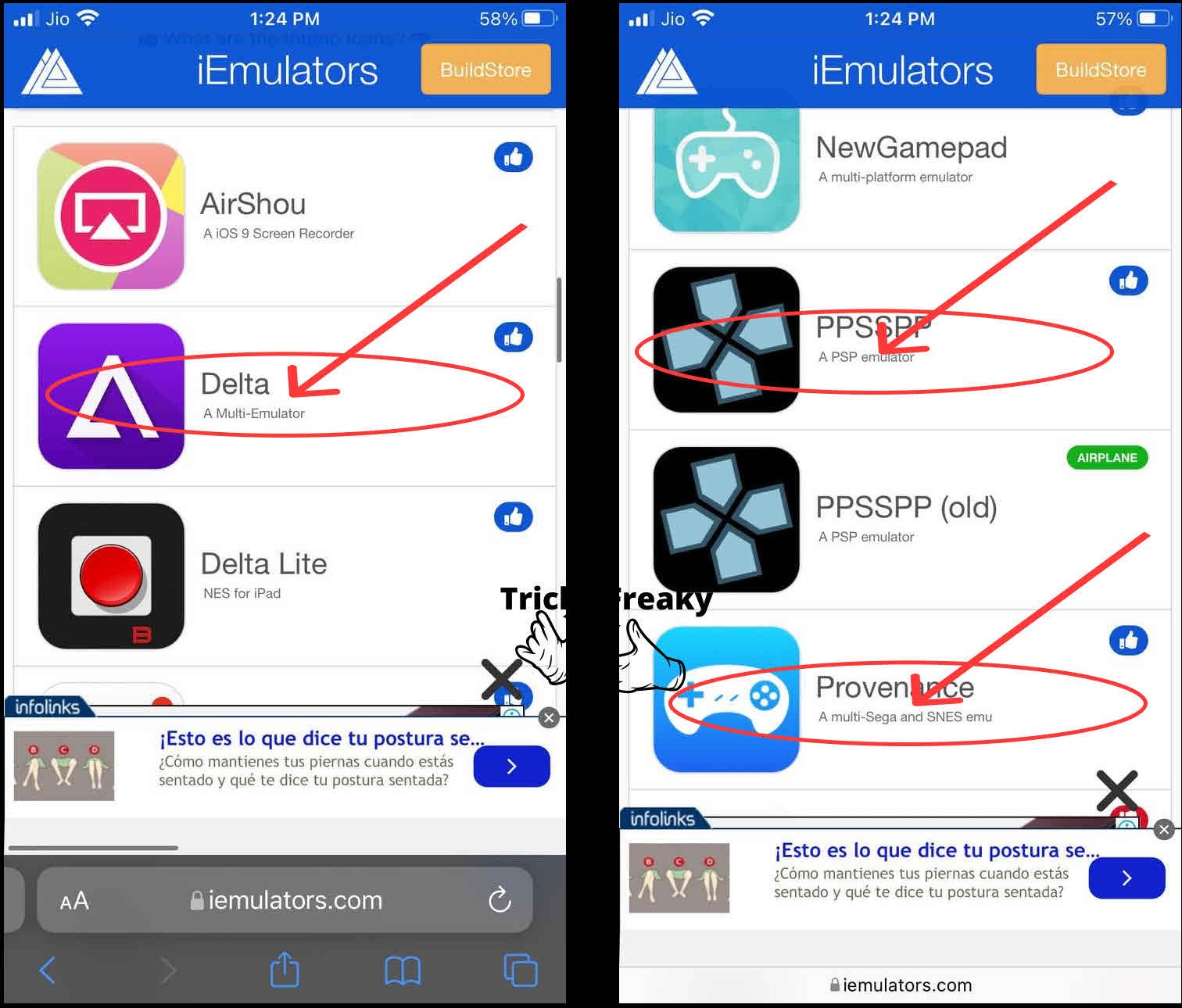 1) Delta Emulator
Delta is the emulator for you if you are an old-generation Nintendo player. It is a multi-platform game emulator that supports almost every old Nintendo console from Gameboy to Nintendo DS. Nintendo games like Pokémon, the legend of Zelda, and Mario titles play flawlessly on this beautiful application.
It can easily be downloaded by using AltStore, it is a very stable application with almost none to very fewer revoking problems. It has a very awesome interface and an impressive design. As it is the descendant of the incredibly popular GBA4iOS emulator, it holds quite a lot of its features.
You can add cheat codes and save your game at any point. It is a very useful feature as you can link your dropbox or google drive to them and load your saves directly from there. It also allows you to use PS4 and Xbox One controllers to connect to your device and play as much as you like. You can also customize your HUD of the layout of onscreen emulator buttons to your liking.
Following are the Consoles that the Delta Emulator emulates:
Game Boy, Game Boy Color, Game Boy Advanced.
NES and SNES
N64
Nintendo DS
2) Provenance
This is the emulator which can make your day. It is a multi-platform emulator emulating more than 30 plus platforms. Which makes it a deserving candidate to join our list. This list of platforms goes on from PlayStation 1 to the latest Nintendo models. It is a very solid emulator with inbuilt save and load features, where you can save your progress directly from the emulator without giving a lot of thought about saving in-game.
You can connect controllers from iCade to MFi controllers to play on your screen while enjoying the seamless gameplay. Provenance has to be compiled from a computer; thus, you can also use the AltServer method to download this, you can find the process to download on the Provenance Wikipedia.
These are the Consoles that the Provenance Emulator emulates:
Atari Consoles
Bandai ProSystem
NEC
Nintendo (Gameboy-DS)
Sega
SNK
Sony (PlayStation)
3) PPSSPP
This is one of the most influential emulators for iPhone of the current generation. It is one of the most popular emulators existing in the market. It is especially popular in the Android market as it plays the awesome games of PlayStation Portable, the very popular handheld console by Sony. It exclusively emulates PSP games on your iPhone.
It also has a dedicated save and load feature, where you can save your progress directly from the emulator without giving a lot of thought about saving in-game. It makes playing PSP exclusive games like God of War and Persona very smooth without the hassle of autosaving of the games. It has a cheat section, where you can add your favorite cheats to make the most of your games, helpful with games like Grand Theft Auto: Vice City Stories, and many more.
It allows users to set up their HUD options and make many customizations according to their playthrough. You can download PPSSPP from the Alternative Appstore method.
Conclusion:
With this, I hope you can now understand how you can download and play with emulators on your iPhone or iPad. Always remember that piracy is a crime and only download the ROMs of the games that you already own.
If you face any other problems, you can check out the steps and redo them. Below are some frequently asked questions (FAQs), you can check on them if you have any other problems.
Thank You. Hope you have a nice day and keep gaming.
FAQs:
Can I use an emulator on my iPhone without Jailbreak?
Yes, you can use emulators on your iPhone without jailbreaking or rooting your device. Most of the emulators will work perfectly on your device without jailbreak but if it is an old generation emulator it might cause some problems. In case of your emulator gets revoked you can simply download another emulator on your device which can play the same game.

Can I play online multiplayer on these emulators?
No, all of these emulators are local gameplay only. It has the feature of wireless gameplay but it may require two devices to be connected to the same network or in-game features like PvP battles and trading is not possible. Most of the consoles for example PPSSPP has a networks option where you can connect games like Tekken 6 or Dragon ball, on two devices and play a local multiplayer match.

What to do if the game is running choppy or laggy?
You can see to the settings menu, and increase the frameskip to 5 or 6, this might help to smooth out the experience.