If you're not in a remote or forest area, "no service" displayed on your iPhone does not make sense and could be annoying. Inability to receive messages, make calls or access mobile data in today's connected digital age can be extremely frustrating. The iPhone's message of "no service" means a few things. From settings in the carrier to hardware or software problems, or could be as simple as a mistake in configuration. Don't worry In this article, we have tackled the same issue with certain steps to determine the cause and, hopefully, fix the issue.
Even though you have the option to use these features, such as texting, calling and browsing the internet via an internet connection but having your mobile phone network down can be difficult. Before proceeding through the various steps, you need to ensure that you are making use of your device in the coverage area of your particular SIM card provider. To confirm this, check the signal bars located in the upper right-hand part of the iPhone. If the device displays several bars in another location, however, it does not display them in the current location, it is working fine. Your location could be in inadequate coverage for your network.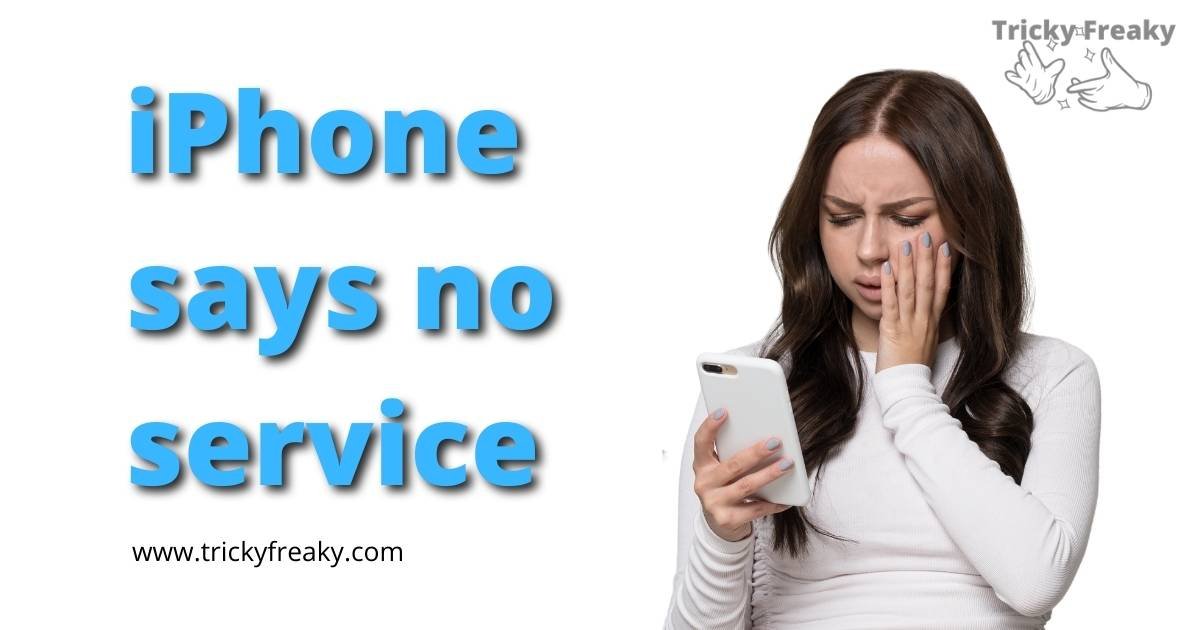 What could be the cause?
If network coverage is not part of the factor, there are two reasons your iPhone does not offer service. It could be because of a damaged or missing SIM card or a software glitch or misconfigured configuration, hardware problem, or even an iOS upgrade. You can also verify the status of your carrier using you SIM card by calling the carrier's customer service to confirm that your account is active.
It's worth noting it has been numerous problems reported by iPhone model 7 users regarding "No Service" error. The phones that are accused of the error were made between 2016 and in 2018. The phones were reported that they displayed " No service " after just a few days after the date of purchase.
However, there are a couple of steps you can follow to attempt to resolve the problem. As you attempt to identify the issue and fix it, attach your mobile to the closest WiFi to ensure that the issue doesn't affect the efficiency of your device in any manner. Since, aside from phone calls, additional features such as emails, messages applications for social media, and other applications that are network-connected may not be functioning in a proper manner. Let's start identifying the problem by experimenting with the simplest and most likely scenarios first.
The older iPhone version?
Unfortunately old iPhone models that don't allow 3G or the most recent versions may be affected by these issues and only be advised to upgrade to a newer model. You can determine whether your iPhone model is compatible with 3G by visiting Apple's site.
Verifying whether the gadget is Airplane mode
Airplane mode on the device may impact your device's network services. You can see this on the upper right corner of your iPhone's display. If you've got the airplane symbol, it is possible to remove it from the control center. To accomplish this, clean the display from the left or top area of your display. You can perform the same thing using Settings App. Settings App.
Have you received any recent iOS update?
Usually, following an iOS update typically, the iPhone adjusts its settings automatically. It is therefore recommended to give it time to adjust. However, your problem will persist for a long time You could also test a couple of methods.
The ability to toggle between mobile data.
Switching between Airplane and Flight mode.
Restarting your device.
Verify your date and hour settings.
Changing Voice and Data.
Carrier settings update.
SIM card fix.
Resetting network settings.
All of these techniques have been explained in depth within this piece.
Switching between cell data
This method of switching off and back on your cellular data can be used in a variety of situations especially when you're near the edge of a service zone and are waiting for the network service you need. To find it, you must locate the mobile data in your phone, either via the settings or control panel. If this bar appears green, it's activated, while if it's grey, it's disabled. Switch this switch off then on and you'll be able to solve the problem.
Make a note of in the event that your travels are international. You'll need to enable roaming internationally within your mobile device. This can be done by clicking on mobile data options and then enabling these.
Switching between Airplane mode
Try the same process of cell data using your Airplane mode. You can turn off and activate it after a few minutes, either through your control centre or via settings. It's displayed as the plane icon. If it's yellow, then it's activated and if it's greyed out, then it's disabled.
Check the coverage of your network
In addition to being in forests and in remote locations it is also possible to be without signal operating your device in underground structures, undergrounds or even no-signal zones. There are buildings secured with jammers which could disrupt the service of your network.
Tips to encounter dead zones
There are a few ways to combat dead zones. Signal boosters are the most popular choice. Try different locations within your current area to discover any spots that have good coverage for networks.
Enable Wi-Fi calling
Are you having issues making calls using data from cellular? If so, you'll have the option of enabling wireless calling from your iPhone. It will require access to Wi-Fi, which can be found even in areas with poor connectivity. Signal boosters can be used to boost the signal.
Restarting your device
Another quick fix option to try is to initiate a restart of your device. There's no obvious reason for this, but it's not a huge effort and can work! It could be due to refreshing the RAM on your device, leading to the correcting of any configuration issues.
Press and hold the power button, and then either of the volume buttons up or down an off slider appears Slide it down to turn off power. Wait until the phone is turned off. hold and press the power button until Apple logo is displayed. Enter the password and try once more.
Checking the date as well as time setting
Sometimes, small things like making sure you have your date and time settings are correct can help to fixing your iPhone. If your time and date have been set for different time zones, the issue could result in your iPhone not being able to connect. I suggest you enable "Set automatically" to eradicate the requirement to check this frequently.
Navigate to Settings under General, then Date and Time> Set it automatically.
Changing Voice and Data
Another method that you could try, and it will not require more than a few minutes to cut off your work time.
Settings>Cellular>Cellular data option>Voice & Data
If you've used 4G, you can try to get signals after changing to 3G, and vice versa.
Carrier settings update
There is a chance of your service being affected by any updates that have been installed on your phone recently. Network carriers roll out new updates that could alter the connection of the device to the cell network. There's also a myriad of data settings that are available in your device. When they're present, incorrect configurations could affect the connectivity of your device.
Most of the time, changes to the settings for carriers are made by the device. However, they can be missed due to update prompts or installing the fresh SIM card. This could simply be because of setting that is enabled or disabled accidentally.
You can verify the existence of new updates to your carrier by going the Settings menu > General Menu. If you don't see any specific messages or pop-ups appearing, then your settings for your carrier are right. However, if you notice any pop-ups or messages, you may have to change the settings of your carrier. You may also look down and look at what's displayed in the next "Menu". It will display the current version of your phone and can be used to confirm the information with your carrier.
You could also try these steps:
Disclaimer: The settings for cell phones differ depending on the carrier. Check out these two ways to attempt to fix the problem.
Settings > Cellular Ensure data is on.
Try switching it off , and switch it back on.
Settings > Roaming options > Data Options > Voice Roaming is switched on.
Be aware that if you're travelling abroad from the US It is recommended to switch off the voice roaming feature.
Settings>Carrier>Switch off the automatic selection of carriers.
Sim card fix
An SIM card acts as the main element that is what connects to your iPhone to the mobile network. Any problem on the SIM card could trigger your iPhone to stop service. There are only one or two possibilities of physical SIM mistakes. It is possible that you have damaged SIM card or an incorrectly aligned one. To determine this, remove the SIM by using the tool, and examine the state of the SIM card. If you notice any issues, get in touch with your carrier to request an exchange.
It is also possible to verify if the SIM tray is aligned correctly within your SIM tray. If it's not, you should make the required adjustments. It can be cleaned by blowing it up or using a cotton towel. If you've changed your SIM from another device , or the older version of your iPhone be sure to check that it is compatible with the present iPhone model. If not, call your network provider or carrier.
iOS Update
Checking that you are sure that your iPhone is current is essential to ensure proper operation. It is possible to determine if you're running the most recent version iOS. To confirm this, go to settings and then General, followed by Software updates. It is suggested to download and install any latest updates are available. It could contain software updates as well as fixes for various bugs. It's recommended to always enable auto-download to download updates in the future.
It's also been noted that there were a few of complaints about the iOS 8 update, related to the "No service" issue. Although it has been a while since the issue was resolved, frequent updates are necessary to make sure that the improvements are available to your iPhone.
Resetting network settings
If, however, your iPhone is not responding It could be due to a misconfiguration or errors within or in your iPhone settings. The best solution for this issue is for your iPhone to be reset. Setting your iPhone in factory settings is returning it to factory settings that is, setting up the configurations after it was you bought it. Resetting it to factory settings could fix the cellular or Wi-Fi-related issues on your device. Be aware that this will disable all your Wi-Fi connections . It "forgets" them, therefore you must reconnect them later. The same applies to your VPN configuration If you are using one.
For iOS 15: Settings > General > Transfer, or Reset iPhone Settings > Reset.
For iOS 14 : Settings > General > Reset > Reset Network Settings.
Verifying water damage
Did your iPhone subjected to water just before you noticed "No Service" issue? If so it's likely that the issue could be caused by water damage. It's not obvious however they could be hardware issues. Apple can't repair the water damage on your phone, due to their policies however they could repair the phone. If you're covered under Apple Care Plus, then the cost are affordable. If not, consider getting assistance from trusted third-party iPhone repair service.
Contacting your service provider
After trying all the suggested fixes, you aren't getting any response from your iPhone shows no service? It may be a good option to call your provider of network or service provider. There are some questions they can investigate concerning this problem. They can inquire about your account's status ( either active or non-active ) as well as your network plan and any outages locally or blockages to your device from receiving or sending data, etc.
There have been instances of companies cancelling accounts of customers due to various reasons. For example, in the case of late payments, expired plans, SIM cards, suspicions of fraud or other suspicious activities. The best answer is to make a phone call to your provider. If you're having issues with a specific provider within your area You can think about changing your provider of choice for good. There are a number of specific activation codes provided by carriers that could help you resolve "No service" errors. These codes can change over time and their customer service will be able to assist or guide you when faced with this issue.
Conclusion
However, even after trying the different methods listed and tries, do you still find that your iPhone isn't working? Then you should think about contacting Apple. Being disconnected from the network could be extremely frustrating. So, call AppleCare immediately at the first opportunity and they may solve the issue. They can also ask for you to bring your device at the nearby service point to be examined with an approved iPhone technician. Try the less costly option of contacting an external third-party iPhone repair facility. Make sure you choose an established service provider to protect your security and privacy.
FAQs
How to repair water damage problems
Apple does not repair water-damaged iPhones. However, users who have Applecare+ have the option of changing their device. It's a reasonable expense compared to the time that it would cost to repair the damage to the hardware. If you're not covered under this program, look into the use of third party iPhone repair tools and services that are near to you. Be sure to find reliable tools.
My iPhone wouldn't install or download the latest updates?
It could be due to not enough storage space on the iPhone. You can free up some space by either manually or activating "Offload unused app" from Settings under General, Storage. It could be due to a inadequate network for downloading the update. Infrequently older iPhone models don't work with the latest iOS versions, so installation will not be possible.
Should I allow voice roaming while traveling abroad?
Yes, when you're in international destinations coming from the States it is necessary to enable voice roaming. You could be paying massive charges for phone calls based on the rates of the respective countries' data. This can be done by going into Settings, Cellular Roaming and data options on the cellular network and enabling voice roaming.