Are you a smartphone user? Have you been troubled lately by the 'TFW' notification on your iPhone or Android device's status bar? Do you think it is a virus or malware? Are you facing phone network difficulties? Are you getting the error "TFW data not working" and wondering what is TFW Phone Carrier? Well don't worry, this article has got you covered. The following article will discuss everything about the TFW phone carrier, starting with what is TFW, what are other alternatives of TFW, its merits, and its demerits. Finally, we will take a look at some causes and fix the "TFW data not working" error.
In the world of technology, Apple is a big bull. Apple products are indeed revolutionary in terms of security, features, and much more. Nearly, about 1 billion people use iPhones all over the world. The security, performance, speed, camera quality, videography effects, etc. are what make iPhones legendary. However, you might come across certain things which you do not know about. The TFW notification in your status bar is one such thing. Today, this article will let you know everything about the TFW carrier in your iPhone.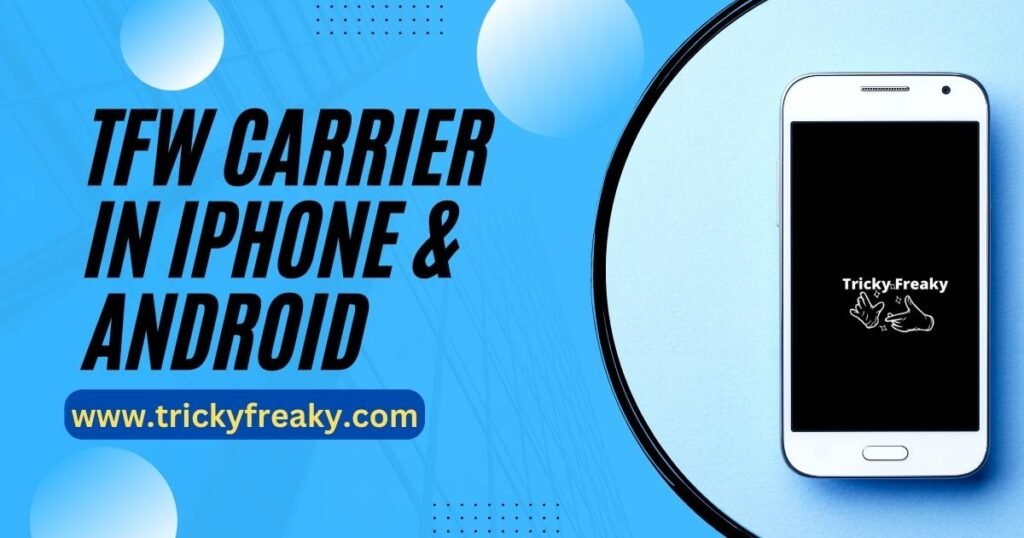 TFW can also be seen on Android devices if your android phone is connected to any of the TFW networks. Mobile careers and network providers have always been important topics in the networking field. You might have heard terms like MVNO, LTE, VoLTE, GSM, CDMA, etc. The article also focuses on explaining these terms in short. So, without any further delay, let's get started.
What is TFW?
TFW stands for 'TracFone Wireless.' TracFone Wireless, Inc., a subsidiary of Verizon Communications, is a US-based prepaid and no-contact mobile phone provider. TFW acts as an MVNO (Mobile Virtual Network Operator) to provide service, in agreement with AT&T Mobility, Verizon, and T-Mobile US, which are the largest mobile network operators in America.
What is MVNO?
Before moving on to knowing more about TFW, it is important to know what is MVNO. MVNO is the short form for Mobile Virtual Network Operator. It refers to a smaller wireless carrier, which broadcasts the services of a bigger wireless network provider. The United States of America, as already mentioned above, has only five big companies whose towers operate at a national level. They are AT&T, Sprint, Verizon, T-Mobile, and US Cellular. However, it has over 100 wireless carriers.TWF does not possess towers of its own, as an MVNO. What it does is, borrows the hardware of these aforementioned companies to broadcast its own mobile network signals. Since TFW borrows signals and hardware and other equipment from multiple equipped companies, the network services it provides are pretty stable.
Why does TFW Carrier show up on my phone's status bar?
If you are worrying that this is an error, then we assure you that it is not. Getting TFW on your status bar simply means that you are connected to any of the TracFone Networks. If you use any of the networks that is owned by TracFone Wireless, the TFW symbol will appear on your status bar. It appears on both iPhone and android devices.
TracFone Wireless (TFW) Owned Networks
The following are some of the network carriers owned by TFW. If you use any one of them, what is displayed on your status bar is "TFW", instead of the respective network carrier names. They are nothing but some very important signs of TracFone Wireless. Hence, 'TFW' replaces their names and appears on your status bar. They would not exist at all if TFW didn't exist. All of them have the same network bundle specifications: Straight talk, Simple Mobile, TracFone, Total Wireless, Net10, etc.
Renaming TFW to the actual network
As we have already discussed, the above network carriers are owned by TracFone Wireless. So, if you own an iPhone then you cannot change the carrier names. Due to various security purposes, Apple stopped allowing its customers to manually install or update carrier settings files in 2014. Changing the network carrier names is not allowed in android devices either, especially the non-rooted ones.
Is TFW Carrier CDMA or GSM or LTE?
Whether the TFW carrier is GSM or CDMA or LTE, is another popular question among iPhone users. To answer this question, we shall first look at GSM, CDMA, and LTE in short detail.
GSM
It is the short form for Global System for Mobile communication. GSM is used as a mobile network in a number of smartphones all over the world. It is a technology that has emerged to be quite famous in the market. It operates at 900 MHz or 1800 MHz frequency bands. Revolutionary technologies like the GPRS (General Packet Radio Service), High-Speed Circuit Switched Data (HSCSD), Enhanced Data GSM Environment (EDGE), and Universal Mobile Telecommunications Service (UMTS) use GSM along with other technologies.
CDMA
CDMA stands for Code-Division Multiple Access. It refers to any of the many technologies used in 2G and 3G (2nd and 3rd generation) wireless communications. For optimum use of the available bandwidth, CDMA allows a large number of signals to occupy one transmission channel. So, it is a form of multiplexing. CDMA technology is mainly used in UHF (ultra-high frequency) cellular phone systems in 800 MHz and 1.9 GHz bands. It is impossible to transmit data and make voice calls at the same time with CDMA networks. CDMA network-powered devices are generally costlier than GSM. However, nowadays companies manufacture devices that can work both on GSM and CDMA networks.
LTE
We all know that 4G is way faster than 3G. Here's where LTE comes into play. LTE is the short form for Long-Term Evolution, which has been brought into the picture by a 3rd Generation Partnership Project (3GPP), which is a 4G wireless standard. It provides increased network speed and capacity for smartphones and other devices capable of 4G. LTE offers a much higher peak data transfer rate than 3G. The speed can go up to 100 Mbps (download) and 30 Mbps (Upload). Other features that LTE carrier provides include reduced latency, backward compatibility, and scalable bandwidth capacity, with the existing GSM and UMTS technology. LTE is playing a major role in the development of 5G New Radio.
Let us now come back to our original topic of discussion – is TFW carrier LTE or GSM or CDMA? Let us come back to the four largest networks in the United States. AT&T and T-Mobile use the GSM network. Verizon and Sprint use the CDMA technology in the case of 2G or 3G devices. With 4G, they use LTE, and GSM and CDMA are obsolete with 4G LTE and 5G. Your smartphone on TracFone Wireless uses either of the four aforementioned networks. This depends on your location and generally, the carrier with the best signal is chosen for you. Thus, in short, TFW is a mixture of both GSM and CDMA networks.
Activating TFW SIM Card on your new phone
If you have bought a phone sold by TracFone, you may have received a TFW SIM card along with it. Thus, you do not need to go buy a new SIM card and simply use the SIM that has come with it. On top of that, you can transfer any call-time or data validity plan on your new SIM seamlessly. The activation process is very simple. Use the SIM ejector pin to eject the SIM tray. Insert the SIM card properly into the tray and push the tray back into its position. Now, it will automatically appear on the status bar of your phone as it gets activated. Open Settings > accept the terms and conditions of the company. Here you can choose if you want to make this SIM default for calling and messaging.
How to fix the 'TFW data not working' error?
This error is very annoying and frustrating because it restricts you from using your internet, even after having a valid data plan. However, we've got you covered. You can follow these simple techniques that will fix the error.
Restart your device: Restarting your device would be your first choice to fix the TFW data error. Long press and hold the power button of your device. When the menu appears, click on 'Restart' or 'Reboot'. Then wait for your smartphone to restart. Check if the problem persists or is gone.
Check for firmware updates: You can turn on the auto-update feature. Performing an update of the system software may solve the TFW data error problem in no time. This is mainly because sometimes, this problem is caused due to system-related issues. So, updating the system software may install patches to any bugs that might have been the root cause of the error.
Turn off VPN: If you have turned on VPN, it may clash with your current network carrier which makes you unable to use your data. Try switching it off and see if the problem persists. Also, please note that using free VPN services is not at all safe. They may be storing your search activities and data and selling it to third parties. It is always advisable to use paid and trusted VPNs. It is also seen that such network-related issues are more common in the case of free VPNs than paid or premium VPNs.
Remove and re-insert SIM card: If the SIM card is not inserted properly, it may be the cause of a TFW error. Eject the SIM tray, pull out the SIM and re-insert it. Then restart your phone and check if the problem is solved.
Reach out to customer care services if none of the above-mentioned methods works for you. You may visit your nearest service center or launch a ticket complaint online.
Factory data reset: You can perform a factory data reset on your device in case none of the above-mentioned methods work. Factory resetting erases all data from your phone, so make sure you have a backup of your important data before proceeding. This is the last method you want to try to fix the TFW error. Go to Settings > Backup & Reset > Factory Data Reset. Click on Erase all data and confirm. Make sure your device has a sufficient amount of charge in it because the process takes a long time to complete.
Conclusion
Hence, we conclude here by discussing all the details about TFW (TracFone Wireless). We came to know what is TFW, that it is an MVNO, and how it is a mixture of both GSM and CDMA. We also discussed a common TFW-related error and how to troubleshoot it.
Frequently Asked Questions
Is TFW Carrier reliable?
TFW carrier is not 100% reliable, just like other network providers. Although it provides quality services, is cheap, and has many other merits, network issues are frequently reported by smartphone users. One of the main reasons why it is not 100% reliable is that it is not an independent carrier. It is an MVNO and hence depends on the four US companies for broadcasting signals and providing its services.
 Is TFW Phone Carrier Services Locked?
The concept of locked and unlocked here is that – if a carrier service is unlocked, you can enjoy the mobile services of the carrier in other countries. Initially, TFW used to lock the phones it used to sell. This means that anyone purchasing phones sold by TracFone was not able to enjoy the services of another country while he was out. However, recently, smartphones using TFW phone carrier services are unlocked and you can use the services of another country without any problem.
What is the 'TFW data not working' error? What are the causes of the TFW error?
Being an MVNO, TracFone Wireless has a lot of limitations on the services it provides because it is not independent. It does not have its own signal broadcasting towers. Hence, there are many common issues that users face with this mobile service provider. 'TFW data not working' or 'TFW data services has stopped' or 'iPhone is not activated, contact your network carrier', etc. are some of the common errors that users face. The errors are mainly caused due to minor bugs and glitches. The most common cause of such errors is when the TracFone wireless device does not get a data signal. If you are in a remote location where the network reception is poor, you are prone to get such network-related errors. These errors may also originate from system-related problems. We now discuss a few ways to fix the 'TFW data not working' error.