Whenever we go to buy a TV, home theater, or any kind of display device we hear the words FHD vs UHD from the salesman. These words matter a  lot if you are getting a display. Because they decide the price and quality of the display (product.) And it will be kinda awkward to ask the salesman about them. To explain in short you can say that FHD and UHD are screen resolutions but there is more to it than that.
So, here in this article I am gonna cover up what are the terms FHD and UHD and also the comparison (FHD vs UHD) and which one you should go for. So, you can choose the right one for you. Getting the best one is important after all you may spend a lot of time looking at that display. You don't want to regret buying it, don't you? So, make sure to give this article an excellent read. Let's dig right into it. 
What is FHD
First of all, know what FHD stands for. It is Full HD or Full High Definition to be more precise. We download and watch many movies in 1080p, yep it's the same. (don't know what the "p" means. It is called progressive scanning,.) FHD is a video quality of 1080p. Now, it might have rung a bell about the quality you will get in FHD. FHD offers a screen resolution of 1920 (columns) x 1080 (rows) pixels, we are all familiar with it, aren't we?
It's the same resolution we get on blu-ray releases of movies or web series. The good thing about FHD is it is more used in display devices as it is cheap and it also does not drain a lot of power/battery. You may also see people referring to FHD as 1080 progressive, and they aren't wrong. Most of our mobile screens are 1080p resolution. FHD is surely better than HD but when compared with UHD. The result of the comparison can go either way. It has a picture aspect ratio of 16:9 (in widescreen).
What is UHD
The term UHD stands for Ultra HD or Ultra high definition. To get you familiar with this resolution, we have seen the 4k videos. Remember them. UHD is also referred to as 4k but a UHD display does not necessarily mean that it is 4k. It can also be 8k. 4k and 8k are two types of UHD available out there. Let's continue with 4k here because it is more used and also cheaper as compared to the 8k. Unlike the FHD. UHD has a resolution of 3840 (columns) x 2160 (rows) and which leads to 8294400 pixels. Or you could say 8 megapixels. This is four times the FHD.
Therefore I guess it is called 4k. Whereas the resolution of 8k UHD is even more. It is 7680 (columns) x 4320 (rows), equaling to 33 megapixels. All these big numbers are perfectly suited for a big display device. UHD is more used in large display devices like LCD, LED, QLED or OLED. Since it is hard to manufacture as compared to FHD, UHD is expensive and less used. The bigger resolution does not always mean that it is better than the FHD. Let's move to the comparison part to see what both offer. 
Now, let's see what both things offer. This will also cover the FHD vs UHD which is the difference between them.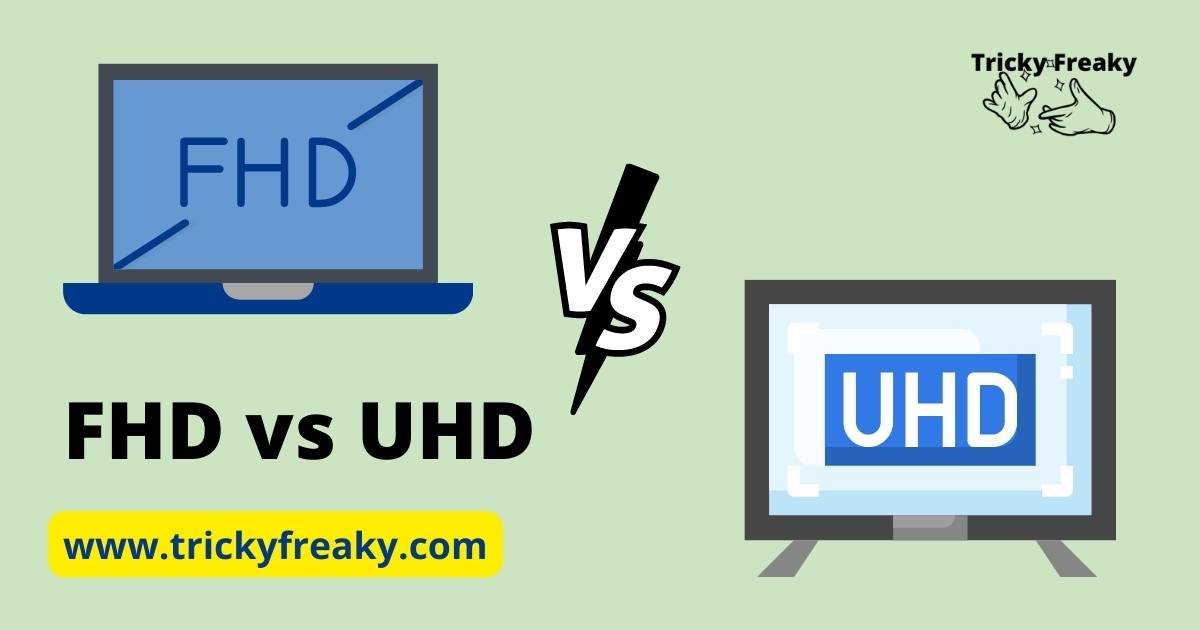 FHD offers vs UHD- 
It provides a full high definition resolution of 1080p which is why its other name is 1080p. This means that in the resolution in the columns or width it has 1920 pixels and in the rows or height, it has 1080 pixels. You also get progressive scanning in it. For fast-moving content, progressive scanning is better as compared to 1080i. The 1080i uses the same pixel resolution which is not good for motion content. And FHD also supports streaming platform services like Netflix, Amazon, and Hulu.
FHD is found/available in –
Full high definition is used in these kinds of places-
Streaming platforms: almost all streaming platforms support the FHD. Such as Netflix, amazon prime, and Hulu
All the blue ray content released is in 1080p which is full of high definition. 
Our smartphones and tablets also have 1080p resolution in them. Not in every one of them, that depends on the manufacturer.
Our beloved video games also support full high definition. Every video game console supports FHD but some games might render depending upon the resolution they require.
Our TV and desktop or laptop displays are equipped with 1080p resolution. You can get these displays that support 1080p at a very cheap rate nowadays.
Our phone's and tablet's digital cameras are also featured with 1080p (and even higher.) The DSLR, webcams, and built-in laptops or desktop cameras are also equipped with 1080p. 
FHD is mostly used/found in small display devices.    
UHD offers vs FHD-   
It provides ultra-high definition resolution of 4 K or 8 K. Far more superior than FHD if we compare by resolution alone. The 4 K UHD has 3840 pixels as column or width and 2160 pixels as rows or height. Whereas 8 K UHD has 7680 pixels as column or width and 4320 pixels as rows or height. Both the resolution provided by UHD beats the resolution of FHD. it literally provides you four or two times the resolution of FHD. UHD also uses the progressive scan display feature for that fabulous motion rendering.
Note – don't get confused, 4 K UHD is not equal to 4 K resolution. Although it is pretty close. If we compare the 4 K resolution and 4 K UHD then we will find that the height is the same. The difference is in columns/width. The 4 K resolution provides a little more width, as it is 4096 x 2160 pixels. 
UHD is found/available in –
Streaming platforms: just like the FHD, UHD also supports streaming services. And you get a lot of options here like Netflix, Amazon prime video, and Hulu. But to enjoy the ultra-high definition content you need to have a good internet connection. An internet connection of 15 to 25 mb/s, this much will be enough for a stable viewing experience.
There are UHD Blu-ray players and discs in order to view the 4 K content. 
UHD content on cable is only provided by two services. Those are the Altices and Comcast. The dish network and DirecTV also make available the UHD content. But the UHD content in cable, direct TV, and dish network is very limited. 
The ultra-high definition is mostly used/found in bid display devices such as LCD. 
Now, let us take a view on what type of connection you can use with your TV. The connection can be cable, wi-fi, any TV stick, ethernet, or a USB.
4 K/UHD- 
Ultra-high definition supports connection over ethernet, an HDMI cable (one capable of a high-speed connection.), USB, Wi-Fi, and amazon fire tv/Chromecast both require an excellent internet connection.
FHD/1080p-           
Full high definition support connection over Wi-Fi, Chromecast/Amazon fire tv stick with high-speed internet. Ethernet and an HDMI cable too, that is also capable of high-speed connection. You can connect over a USB too.
Many UHD and FHD display devices may come with various other connection modes. Doesn't matter what you are pairing with, A wired or wireless connection. Just make sure that you get a proper connection because it is a must for video signals.
What's the difference between UHD vs FHD and 4K video quality?  
Someone who watches tons of movies may know very well what is the difference between both of them. You can easily tell by looking at both the videos of UHD or FHD quality. You may find out that the 4 K UHD one is sharper. I mean you will find it more detailed as compared to the FHD one. You can do one experiment to quickly know the difference. Play a movie on both the UHD and FHD screens. Then get really close to the screen (make sure the screen is big enough, use a TV or laptop.) you will find that the 4 K UHD display is clear and detailed and is not affecting the movie quality even from this close. Sometimes the 4 K UHD quality doesn't even provide the feeling of being real. Like a computer VFX or something. In very rare cases though.
Pros and cons
Nothing better than knowing both (good and bad) the sides of the products that you are going to purchase. It is like a detailed analysis of FHD vs UHD. let's find out the pros and cons:
Pros of FHD display-
The first thing to highlight is that it is affordable. You will get products of FHD display in your budget. There might be any hardly of crossing your budget
It is a low-end display so it won't cause your electricity bills to reach the sky. It consumes less power as compared to the UHD. I know that the power factor won't be a pain if you are getting a smartphone or some smaller display device. But in the TV or laptops list, this can be the deciding factor too. 
There is more content available in FHD as compared to the UHD. and this is more preferred too in digital content platforms.
The display screen size of 40 inches or smaller works perfectly fine with the FHD content.  
Most digital devices such as mobiles or consoles for video games are more compatible with the FHD. 
Blu-Ray discs are also compatible with the FHD. 
Comparably better for your eyes. It will cause less strain on your device when playing or watching.
The display size is small so it is easily installable.  
Cons of FHD display-
Yep! There are some parts where the FHD lacks. Some of them are:
The quality provided by FHD is great but the quality of UHD is far superior.
If the display size is more than 40 inches then the FHD will not be compatible with it. If it is still used, I will have to sacrifice the quality of the video or image played. I mean the image or display will be less clear as compared to being in a smaller display
Pros of UHD display-
The video and image quality is next level compared to the FHD and even colors are more vivid. Once you switch to UHD resolution every other resolution feels less and less okay each time.
Big display devices such as TVs and Desktops pair greatly with a UHD screen. Your games and all the high-quality movies won't render in UHD display. Also nowadays TVs and high-end laptops are coming up with UHD screens for a smoother experience for users.
It is four times better than FHD if we talk about the specifications.
People like content creators, gamers, professional videographers, and photographers would rather go for the UHD display. And honestly, this option is best for them.
Cons of UHD display
You are paying a high price for the UHD display but is it really worth it? There are so many disadvantages you will face, some of them are:
Blu-Ray discs are not compatible with the UHD. Some compatible Blu-Ray discs are there but they are very limited. 
If the screen size is less than 40 inches then UHD will give you trouble there. It is not that, it will not play that. It is just that it will degrade the quality level of images or videos to make them more suitable for small screens. 
They are not pocket friendly at all. Some of the UHD display devices are hella expensive.
All that high lightning can probably affect your eyes. Your eyes may get tired early. This is not good if your work requires sitting in front of the screen for hours.   
UHD displays are mostly of big size so they are not easy to install. 
UHD is a high-end display so, it will surely cause your electricity bill to rise up. It shouldn't affect too much though, depending on how you use it.  
The UHD content is so less compared to the FHD. Probably it won't even be half of what FHD offers. UHD is less preferred in digital media services.  
You must have a good internet connection. An internet connection with a speed of at least 15 to 30 MB for a smoother streaming experience.
FHD or UHD which is better?
It honestly, depends on for what purpose you are getting it. Like if you are a gamer who plays dozens of high-end games then. Then you should buy an FHD display. Now, you must be thinking that I will have a resolution disadvantage. You won't. If we talk about the resolutions alone then surely UHD is the winner. But the FHD screen offers you a better refresh rate. And as a gamer, you do know how big an impact refresh rate has in gaming.  And an FHD screen is more balanced for gaming. It is also better if you want to do everyday tasks using it. Furthermore, it is also way cheaper.
But the tables would drastically turn for you if you are into streaming, web development, graphic design, professional photography, or videographer. Then you will need to have high-quality on your videos or images. The more resolution you go for the better. You can even go for a 4 K resolution device. Buying a good UHD panel will be kind of a must for you. And if you just want to enjoy high-quality movies and have the privilege to buy a UHD TV. Then you should definitely go for it. If you can't afford a UHD tv and still want to binge high-quality movies. Then just simply buy an FHD. Its quality is perfectly acceptable and for sure you won't complain about the quality.
Read Also: QHD vs 4k Display
Bottom line
So, this was all in the FHD vs UHD debate from my side. Hope this article was helpful and made making choices easier for you. Do you recommend an FHD or a UHD display? Do share your thoughts on this topic with us. Just toss them in the comment section. FHD is also common nowadays, the PC I am using to write this article also has an FHD screen. If you liked the article please consider sharing it with your friends and family in need. I have also used a UHD device and honestly, I couldn't notice the difference in the first watch. But when I paid attention I began to know the differences.
Well, before buying an FHD or UHD make sure to know about it all. Read the pros and cons of them and also do not always go for better resolution. I know, we mostly care about the resolution when buying these kinds of things. (especially those who don't have much technical knowledge.) but also pay attention to other technical things that a product has to offer and then make the final choice. For example, the 1080p provides a better refresh rate as compared to the 4 K UHD.     
People also search for (FAQ)
Should I only look for better resolution when buying a TV?
First of all, the resolution is surely important but it is not everything you should look for when buying a TV. We all know that a TV's price gets a huge buff if it has good resolutions. It surely is a deciding factor when buying a TV. However, you should also look for other technical stuff that the TV is going to offer you besides the resolution. One could have a higher resolution TV and it would still perform inferior to some low-resolution TV. The TV should also have better contrast and color. The balance in the contrast is the real deal nowadays.
TVs are getting smart just like our phones. Manufacturers are including dozens of features in them. So also look for those features. Having a higher resolution TV without the new features is not cool. Because it is just like you are seeing more details and nothing else. And besides most of the TVs nowadays are at least coming up with 4K or 8K displays. So having higher resolutions is pretty common nowadays. It is easier to find good resolution TV,  better to look for the features that most TVs are lacking.     
How each resolution is different from one another and how do they affect the image quality?  
Resolutions are nothing but just some horizontal and vertical pixels. But these pixels make a huge difference in the quality. The more pixels, the better the clarity and sharpness of the image. For example, the 4K UHD offers about four times more pixel count than the FHD. so at the same dimensions you are getting a large angle of coverage. That too without the image getting any extra blurry. And the pixels are also the reason for resolutions being distinguished. How many pixels a resolution can cover in a respective area decides which resolution is different.  
How can I play UHD content on my FHD screen?
Yes! You can really play 4K or UHD content on your FHD screen even when it is not compatible. You don't have to go through hard trouble too. Just play the content on your FHD screen and it will play it. And if you want to know how it plays that content even when not compatible. Then you should know about the process known as downscaling. With the help of downscaling it is able to modify the content to FHD level, that is 1080p. But this process will affect the quality of content and the quality that will be served to you is not actually 4K. You will get the 1080p (although it looks finer than that.) 
Similar to this there is also a process called upscaling. With it, you can play lower-quality games such as FHD on your 4K or higher screens. But here it will seriously affect the quality of the content. You will view a little blurry content but you will have to make this sacrifice for viewing.
We are familiar with both these processes but not aware of them. Our smartphones use them whenever we play something that is of high or low in content quality.