Did you know that Waves MaxxAudio could be operating in the background of your computer without your knowledge? If you're curious to know more about the Waves MaxxAudio Service Application, including what it is, whether it's dangerous, how to update it, and how to turn it off, then you've come to the right place. You may have many questions, but rest assured that we have the answers you need.
It's possible that certain applications that run at startup could be causing the Waves MaxxAudio service application to run, which could be consuming excessive RAM and slowing down your device's overall performance. If this is the case, it's recommended that you remove the Waves MaxxAudio service application and enjoy a smoother computing experience.
In this article, we'll delve deeper into the topic of Waves MaxxAudio, discussing how it can impact your device's performance and providing guidance on how to completely uninstall the extension. So, read on to discover all you need to know about Waves MaxxAudio.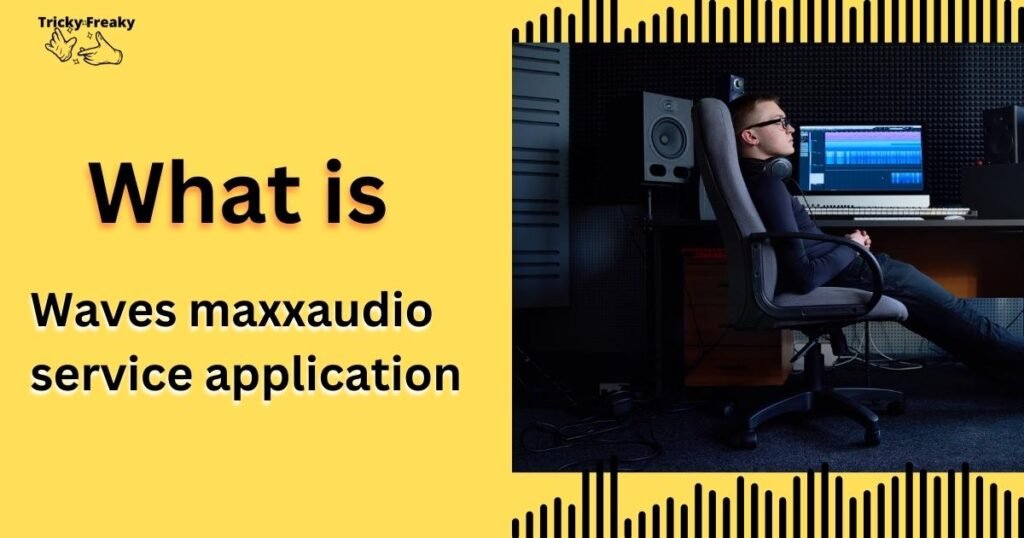 So let's start working on it right immediately!
What is the Waves MaxxAudio Service Application?
MaxxAudio is an audio technology that offers a vastly improved, immersive, and dramatic audio experience. Whether you're watching movies, listening to music, playing video games, or anything else on your PC, MaxxAudio provides the most satisfying audio experience, allowing you to listen to any audio-only media using headsets or speakers.
MaxxAudio also offers a range of audio enhancement features, including MaxxDialog, MaxxBass, MaxxTreble, MaxxEQ, MaxxVolume, MaxxStereo, and MaxxLeveler. Its goal is to continually provide you with an excellent audio experience.
The Waves MaxxAudio service application, WavesSvc64.exe, is responsible for this audio technology. Although it is not a Microsoft product and is not a component of Windows, its significance is nonetheless significant. Furthermore, the device document call for Waves MaxxAudio, WavesSvc64.exe, is a model that may be outdated or malfunctioning, causing significant issues for your laptop, ranging from simple slowdowns to an overabundance of error alerts.
In most devices, WavesSvc64.exe is usually found in the "C: Program Files" subdirectory, typically on Dell laptops. Despite being rarely a part of Windows, it is a critical system element. This service has a cryptographic signature from Verisign.com, ensuring that it will not harm your computer. However, this process does not have a readily visible window, nor can you see it displayed on the Taskbar.
Does Waves MaxxAudio pose a threat?
The Maxx Audio Installer is bundled with the Waves MaxxAudio Service program, which is sometimes referred to as the Realtek High-Resolution Audio Driver. While it typically does not cause any issues, there are a few exceptions where it may occasionally affect the device's audio using the Andrea Audio Commander driver.
To check the CPU consumption of the programs mentioned above, you can open the Task Manager application and select the Disk tab at the top to list all the programs. You can also examine Task Manager to see if you are using the same method. In some cases, Trojan software may try to hide its true identity by pretending to be WavesSvc64.exe. However, you can identify its origin and determine if it is a malicious version of the software using tools such as Security Task Manager.
Why do manufacturers of devices pre-install certain apps?
Over 95% of smartphone users worldwide use Android devices, and while some technologies may not seem useful to some, they may be important to others. As a result, your device comes with some pre-installed programs, such as Waves MaxxAudio. While this app may not be beneficial to some and can become irritating and useless, it may be valuable to others. However, there are some drawbacks to this application, and it is safe to remove or deactivate it without affecting your phone's stability.
Cons of using a program like the Waves MaxxAudio Service
This app has several problems that could harm your device's performance. Among them are:
Use of Storage
Waves MaxxAudio software utilizes a portion of your smartphone's RAM to store its files, which can potentially harm your device. Since this service uses a considerable amount of memory, it may be the cause of storage-related problems when external memory becomes full. This can be frustrating for individual users who become annoyed with excessive storage consumption.
Memory Usage
As this application requires CPU usage, it also utilizes a portion of your smartphone's RAM. This unnecessary consumption of RAM may slow down your device due to the program's demands.
Ongoing use of the CPU
This software uses the CPU continuously because it is frequently a font app. Due to the CPU being awakened by this tiny software, battery life may suffer.
Do I need to turn off MaxxAudio waves?
The Waves MaxxAudio software is designed to enhance the audio experience on your device. If you want to prevent Windows from running this program, you can disable it from the device manager. It is safe to do so, and if you notice any negative effects on your computer's sound, you can easily re-enable it.
How Can I Remove or Uninstall The Waves MaxxAudio Service Application?
If you've decided to remove the Waves MaxxAudio service application from your device, follow these simple yet comprehensive instructions:
Press Ctrl+Alt+Delete to launch the Task Manager. If you can't find the top-level tabs like Tasks, Performance, etc., look for the "More Details" option.
Click on the "Startup" option.
Right-click on "Waves MaxxAudio Service Application" and select "Disable." If you couldn't find the "Waves MaxxAudio Service Application," you can skip this step. For added security, run antivirus software as well.
If you find that the service or function is already disabled, select "Open Services" from the list of options under the Services tab.
Right-click on WavesSysSvc and select "Properties."
Change the Startup type to "Manual," click Apply, and then click OK.
Press the Windows key and X simultaneously, then select "Device Manager."
Expand the "Sound, video, and gaming controllers" option.
Make sure that no USB devices or microphones are connected. Select "Andrea PureAudio USB-SA" from the "Sound, video, and recreation controls list," then click "Uninstall device."
Check the "Remove the driver software for this device" box on the pop-up screen, then click Uninstall.
Restart your device and check if the audio is still working.
If the issue persists or your audio stops working, repeat the process of disabling startup programs, and you can re-enable them later.
What occurs if I turn waves MaxxAudio off?
What occurs when MaxxAudio Waves is disabled? Disabling the Waves MaxxAudio service could result in the loss of audio functionality on the device and the elimination of the applets at startup.
Is the Waves MaxxAudio service required upon startup?
During setup, is Waves MaxxAudio mandatory? Since it is not an essential component of the software, users can easily prevent it from starting up.
How Can I Stop Waves MaxxAudio from Starting Up on Windows 10?
In case of any crash in Waves MaxxAudio, it may flood your inbox with error notifications, causing inconvenience. Furthermore, it can consume a significant portion of your computer's RAM and increase CPU usage, leading to discomfort.
To address this issue, it is advisable to disable Waves MaxxAudio. However, disabling it from the Windows 10 Startup menu is not possible. As an alternative, you can remove it from the Windows 10 Startup list by following the steps below:
Click on the Start menu or press the Windows key on your keyboard.
Scroll down to the bottom and select Waves MaxxAudio from the list of options.
Right-click on it and select "Uninstall now" from the options.
Waves MaxxAudio will be removed from the PC's Startup list, and the process is complete. You can use this DIY technique to resolve the issue.
Waves MaxxAudio Alternatives
If you're searching for a replacement for Waves MaxxAudio, there are other options available, such as Microsoft High-Definition Sound Interface Version.
To switch to a different option, follow these steps:
Press and hold the Windows key on your keyboard, then press X.
Select Device Manager from the options that appear.
Look for game controllers, graphics, and audio, and click on Realtek Audio.
Try updating the driver now.
Next, choose "Search my Computer for firmware".
Select "Choose from the list of available drivers on my computer".
Uncheck "Show compatible hardware".
Choose Microsoft as the manufacturer.
Select the High Definition Audio Device (latest version).
Click OK.
That's it! You've now switched to Microsoft High-Definition Audio Device Edition as an alternative to Waves MaxxAudio.
How To Install And Run MaxxAudio Pro
If you're experiencing issues with Waves MaxxAudio or it has stopped working on your computer, you may want to consider enabling or re-enabling it. Follow the instructions below to achieve your objective:
Avoid enabling the automatic popup dialog.
If you want to achieve your goal in a different way, you can also use the following strategies:
Press the Windows key and the E key simultaneously.
Once File Explorer opens, go to the following location: /Program Files/Realtek/Audio/HDA
Click on RtkNGUI64.exe to launch the audio manager program immediately.
Select the Advanced option.
Choose the Jack Information option.
Uncheck the box next to the option that says "Enable auto dialog when the device is plugged in."
By following these steps, you can now have Waves MaxxAudio available on your computer.
Obtain the latest drivers
If you encounter issues or freezes during the procedure, it might be necessary to update the drivers related to Waves MaxxAudio. Follow these steps to attempt to upgrade the specialized drivers and reactivate MaxxAudio:
Install DriverFix on your Computer.
Run the program and review the drivers to check for any problems. The software will handle the operation for you.
Obtain the appropriate drivers, follow the on-screen instructions, and let DriverFix set them up on your Computer.
Restart your system for the changes to take effect.
Does My PC Need Waves MaxxAudio?
To achieve a superior audio experience on your PC with speakers or headphones, you may need an additional tool that functions similarly. Waves MaxxAudio can satisfy your needs if you don't have a better alternative. This tool applies signal processing techniques to enhance bass, create a more enclosed sound field, and provide outstanding audio quality. To use this service, Waves MaxxAudio is a must-have on your PC.
The process for running programs is called WavesSvc64.exe, and it comes with a Verisign.com unique identifier at first. Malware may try to pass for anything else with a similar label, so be cautious when signing up and use this method to enhance your audio quality.
Conclusion
Throughout this post, I've provided a thorough explanation of the Waves MaxxAudio Service and how it can benefit you. It's important to note that Waves MaxxAudio itself is not a virus, and any malware using a similar label should be approached with caution. With the information I've provided, you should now be equipped to stop or remove the process, as well as be aware of potential alternatives. Additionally, I've provided steps to activate MaxxAudio Pro if you're interested in using the tool's replacement. I hope this post has been valuable to you in addressing any issues you may have encountered.
FAQs
Where is Waves MaxxAudio located?
One may discover the first result for "Audio" when using the Windows search tool to look for "Audio Wizard." By tapping on it, Waves MaxxAudio can be downloaded.
Is MaxxAudio Pro required?
Even though Waves MaxxAudio is separate from the Windows operating system, it enhances audio quality. It comes pre-installed with this process. It would be nice if you had this for higher audio quality that you may appreciate.
Should I disable MaxxAudio waves?
Users may quickly deactivate or delete Waves MaxxAudio by themselves if they have another alternative to improve the sound experience of their PC. Use the Starting menu's Startup or Task Manager to act.