You might have seen the 'bootrec /fixboot access denied' error when you attempt to fix the Windows 10 boot errors. If you too experience this confusion then today you have come to the right place as all your doubts and questions will be answered in detail and with valid reasons. Today, in this article we will discuss some working and effective solutions to 'bootrec access is denied' for Windows 10. We will also be discussing and explaining all the necessary precautions. So get ready to dive deep into the bootrec /fixboot access is denied issue and acquire much-needed knowledge about the same.
Let us imagine ourselves in a situation where while we are upgrading our Windows, the process fails or we are forced to switch off our laptop/PC, even when it is still in the process of writing to the disk. In such a situation, you are most likely to see a blue screen and many users might start to get afraid or extremely worried and confused about what is actually happening. No need to worry as we will be discussing this very issue. The blue screen error like 'INACCESSIBLE_BOOT_DEVICE" is what would be visible to you in the situation described above. The foremost way to fix such an error is to instantly run the command 'bootrec/fixboot". But, there are times when even after using this command, a message is displayed in front of many users' devices that says "bootrec /fixboot access is denied", as an error message.
Now you may wonder what could you possibly do in such a situation. You have no reason to worry and be confused anymore now as now we will be discussing the exact solution to the problem we described above. We will explain how you can resolve 'Windows 10 bootrec /fixboot access is denied' very efficiently and achieve success.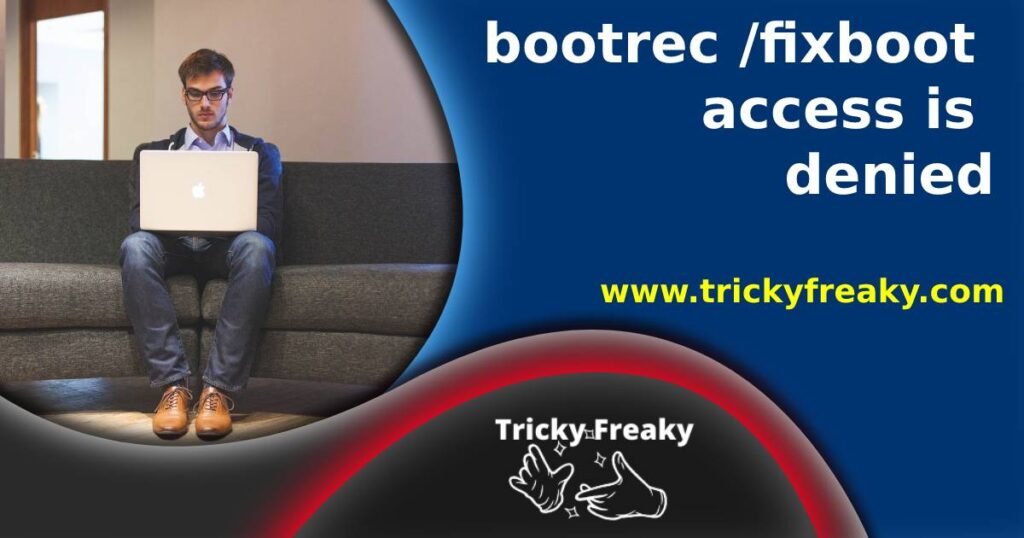 Below we have discussed some very useful solutions for the same. You can choose the most suitable and convenient one for your device and go ahead with it! Before starting please note that some of the solutions have the capability to damage the data on the hard drive so it is highly suggested for you make a backup of the system disk. The MiniTool Partition Wizard Pro now comes into the picture to help you with the whole thing. You can visit Clone Hard Drive for more details and know the procedure.
Fix Bootrec/Fixboot Access Is Denied on GPT Drive
This solution is considered to be one of the best and most effective solutions of all. The only drawback with this solution is that it works only with the GPT Drive. Also, there is a need for you to have a Windows installation media and in case you do not have one then you should definitely create it right away on your laptop/PC.
Firstly, you need to download the Windows Media Creation Tool.
Now, create a USB drive of at least 8GB of space.
Now, you need to connect your USB to your laptop/PC and start the Media Creation Tool that you have just installed or already had. Accept the agreement that is displayed.
Now, select the 'Create Installation Media' option, which consists of a USB flash drive, DVD, ISO file etc, for some other PC and click on 'Next'.
Now, select the option that says 'Use the recommended options for this PC'.
Just select your drive now and proceed forward.
Wait for the process to complete!
When the process is completed, insert the USB drive into your laptop/PC and then go for a reboot. Just when you will see the option to boot from USB, press a key to do that. Also, note that if you have already set your laptop/PC to boot from the hard drive only, then you need to just enter the BIOS setting in order to add a USB drive to the boot list. This should be the first thing that is advised for you to do. Now, please follow the steps given below:-
You need to select the language in order to install it from the initial Windows screen. Also, you need to set the time and currency in the right format too. Also, take care of the keyboard or input method as well. Now, just click the 'Repair your computer' option and not on the 'Install now' option.
Now, select 'Troubleshoot' and then click on 'Advanced Options'. Select the Command Prompt and type 'diskpart' and press enter.
Now, type 'list disk' and press enter. You need to now locate your disk number and identity which one is the boot disk. In most cases, it is 'Disk 0'. If this is not the case with you, then you need to first remember your disk number and then identify the same.
Select 'disk 0' or the relevant disk number and press enter. Now, type 'list volume' and press enter again.
Now, you need to memorize the volume number as well as the EFI partition. Type 'select volume N' and press enter. Please note that N: can be replaced by any other drive letter which is not already taken up by any partition.
Press 'exit' and 'enter' in order to leave diskpart.
Now, you need to type N: (or the drive letter that you have assigned and entered), and press enters afterward.
Type format should be: N: /FS:FAT32. Press enter.
Type 'bcdboot C:\windows /s N: /f UEFI' and press 'enter'.
Now, you have to repeat the process of running the bootrec/fixboot command. 'Bootrec access is denied Windows 10' would be solved for you if you have diligently followed all the steps and procedures described above. This was all about the first solution but there are times when 'fixboot access is denied' displays on your device (on an MBR disk). In such a scenario, you should go for the second solution.
Startup Repair on MBR Disk
For a lot of users, the first solution might not work effectively because in their case 'bootrec /fixboot access is denied no EFI partition' still exists on the boot disk. In case, this situation occurs to you too, you can stay worry-less as here we have the second solution for you.
The foremost thing that is required is for you to take the help of MiniTool Partition Wizard Bootable. The MiniTool Partition Wizard Bootable is an inbuilt tool in the MiniTool Partition Wizard Pro. First, you should get this professional partition manager and then follow a proper guide on how to create a Miniool bootable media and use it to boot your PC or laptop. Just when you are in the interface of the bootable MiniTool Partition Wizard, just follow the operations described below:-
Select the '5000MB around system reserved partition' and go for 'Format Partition' from the action panel. Now, you might receive a warning message which says that ' this is a system partition and formatting may cause the computer to be unbootable'. Click 'Yes' and go ahead.
Now, you need to select the NTFS as the required file system and click on 'OK'. Now, press 'Apply' on the toolbar.
Now there is a need for you to get your Windows 10 mended by 'Automatic Startup Repair utility'.
First, boot your PC or Laptop from the Windows installation media and from the initial Windows screen, select the preferred language to install, and go ahead.
Now, click on the 'Repair your computer' link and not on the 'Install now' link.
Select the Troubleshoot and then go for Advanced Options.
Select Startup repair because it instantly starts to detect and will fix all the possible and fixable errors that are found.
It performs a complete reboot and in case it does not then please do not press any other key in order to boot from the USB drive again. Instead, just wait for your Windows to load.
If Startup Repair displays a message saying that it could not fix the error then you should definitely go with the third solution which is explained below.
Run CHKDSK
Running CHKDSK can be finished with the help of the Windows Installation disk or by using the bootable media which is created on Windows 10 with the help of MinitTool Partition Wizard. Please consider the following options and go for the best and most suitable one for you.
By using Windows Installation Disk
Please follow the steps given below in order to execute this method.
When you are done booting your PC/laptop from Windows Installation Disk, you have to skip the first-screen language selection and go for 'Repair your computer' option
Now, select the 'Troubleshoot' option and then the 'Command prompt' action.
When you select the 'Command prompt' option, type 'chkdsk c: /r' and press enter. This is done so as to create an assumption that Windows is installed on your C:drive. In case, the drive letter of your PC/laptop partition is not the same then you have to type the actual one.
To do this you can follow: Run diskpart→List Volume to check as per the partition size
Now, wait for the process to get completed and then perform a reboot.
Usage of the Bootable Media Created by MiniTool
First, boot your PC/laptop from MiniTool bootable media and then choose ' Partition Wizard' from the displayed options. You need to view the drive letter of your system partition and remember it for the future.
Now, exit the MiniTool Partition Wizard and choose 'Command Console' from the displayed options in the menu.
Type 'chkdsk c: /r' and click on enter. Please note that you would need to replace the drive with the drive that you paid more attention to.
Just wait for the process to complete and click on exit.
Note that after following this method, your PC/Laptop will work normally now but in case you are still facing errors then repeat the 'bootrec/fixboot'.
Save Data and Install Again
Among all the methods described above, if none of them work for you then the only option which is left is to completely reinstall Windows 10. But wait! Before doing that please take a complete backup of all the important files, and documents. Information etc somewhere else.
You can use copy disk feature of the MiniTool Partition Wizard Pro to take a backup of your entire system and then re-format the whole drive the moment you reinstall. You can also go for the Data Recovery feature of MiniTool Partition Wizard Pro Ultimate in order to get back the files and documents that are saved in your device and then go for the reinstallation process to the original system partition.
Some useful tips to make sure to backup data frequently
Backing up your data is never a waste and it is advised that it should be done on a regular basis because we are never aware that what might happen to our device. All the Windows 10 users on reinstalling Windows 10 and getting all the applications ready on their laptop/PC, should then consider making system image backups frequently in order to avoid any mishap. What if someday the operating system of your computer gets corrupted? You should always have an important backup stored somewhere else in order to be always safe. There might be times when you may encounter a blue screen error but the bootrec /fixboot access is denied error appears, just when you wish to fix it.
There is a reliable utility feature available for you to back up Windows 10 and all the relevant data. The MiniTool ShadowMaker can come into use in such a situation and can protect your laptop/PC against losing the important data that belongs to you. It also protects your PC against viruses and other malicious activities. It also makes an automatic system/disk/partition/file backup and allows the users to be able to set a backup strategy in order to be able to take multiple backups when in need.
Read Also: Internal exception java.net.socketexception connection reset
Conclusion
In this article, we discussed all about the bootrec/fixboot access is denied and how to fix it. We discussed various methods and explained them in detail. You are free to use any of the described methods after considering the suitability of the particular method with your system or requirements. You can follow this article and carry out the procedures without a doubt.
Frequently Asked Questions (FAQs)
Q.1: How can I fix 'bootrec/fixboot access is denied'?
In order to fix the issue of ' bootex/fixboot access is denied', you can go through our article and find a suitable method for your problem after considering its intensity. In case a particular method is not working for you, you can go for the next one and keep on trying.
Q.2: How can I run bootrec Fixboot?
Please follow the steps given below in order to run the Bootboc Fixboot:-
-First, reboot your PC/laptop, and then press the F8 key just when the Windows logo appears in front of you.
-Select the 'Repair your computer' option and then select the Command prompt from the options in the 'System Recovery Options menu'.
-In the 'Command Prompt, execute the bootrec/rebuildbcd option.
Q.3:How can I open the sites to which access is denied?
In order to access a site that has denied access, follow the ways listed below:-
-You can make use of the VPNs.
-You can also try to access the site via its IP.
-Also, try to use different browser extensions like Hola.
-Address the Open DNS or  1.1.1.1 DNS.
Q.4: How can I rebuild my BCD on my own?
In order to manually rebuild your BCD, please follow the steps below:_
-Boot your PC/laptop in recovery mode. 
-Now, you need to launch the 'Command Prompt' in the list of 'Advanced Options'.
-In order to rebuild BCD, use the command 'bootrec/rebuildbcd as it will then start scanning your operating systems and let you choose the Operating System of your choice which you wish to add to BCD.
-Just wait for the command to get completed and then you are good to go.